Visit to the Cambridgeshire Collection

This visit was arranged by Shirley Brown. The Cambridgeshire Collection reopened in the rebuilt Cambridge Central Library in 2009.
Report on the visit
Howard Slatter
Thirty members of the Group assembled in the Cambridgeshire Collection (on the top floor of the recently re-opened Cambridge Central Library) just as the Library was about to close for the evening.
We felt privileged to have the place to ourselves, in the care of Chris Jakes, Principal Librarian. Chris gave us an informative account of the breadth of the holdings in the collection: they take any printed works pertaining to the county, including local newspapers back into the 18th century and a vast collection of photographs.
Chris had placed out on display a large number of items referring to Trumpington, including maps, photos and various books. We were free to browse these during the evening, and were encouraged to return on our own to investigate further.
For many of us, the highlight was when we were taken downstairs into the secure storage room where the archives are held. Approximately a mile of shelving holds an enormous array of material, all indexed on the Library's main catalogue. There are state-of-the-art measures in place to ensure that the collection will remain safe even if the building were to burn down. A couple of our more adventurous members were fortunate not to be left trapped between the moveable bookshelves!
At the end of the evening we made a small presentation to Chris Jakes as a token of our gratitude for organising a memorable event.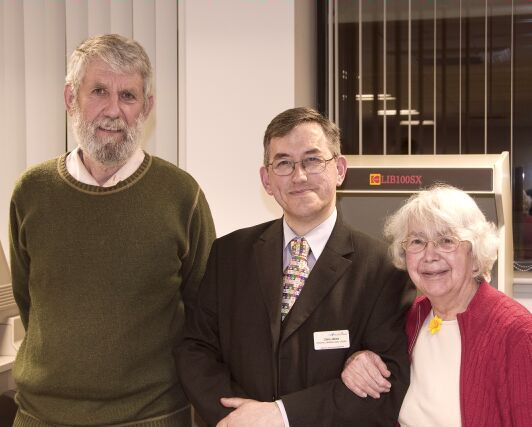 Local History Group visit to the Cambridgeshire Collection, 25 March 2010: Howard Slatter, Chris Jakes and Shirley Brown. Photo: Stephen Brown.