A number of Local History Group members visited the archaeology excavations at the Papworth Hospital and Bell School sites on 18 August 2014. We are very grateful to Richard Mortimer, Oxford Archaeology East, who led the visits. Report by Andrew Roberts, following a visit on 25 July 2014.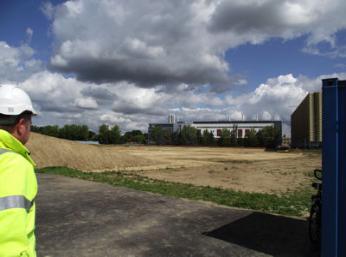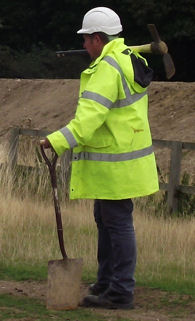 We were fortunate to be able to look around these two archaeological sites at a late stage in the excavations. Work was still actively underway, particularly on the Bell School site, and the archaeologists were still formulating their interpretations. There was an update from the archaeological team at the Local History Group meeting on 26 March 2015.
Papworth Hospital site
The Papworth Hospital site is part of the Cambridge Biomedical Campus, between the Addenbrooke's Treatment Centre and Francis Crick Avenue and overlooked by the new multi-storey car park. The site is within a complex historic landscape and has a complicated pattern of archaeological research, with Oxford Archaeology East and the Cambridge Archaeological Unit carrying out work on a number of sites (including subsequent work by CAU on the AstraZeneca site between Francis Crick Avenue and the railway line). There was a slight spur where Francis Crick Avenue was constructed, and this site was in a hollow to the east of the spur, with accumulated silt.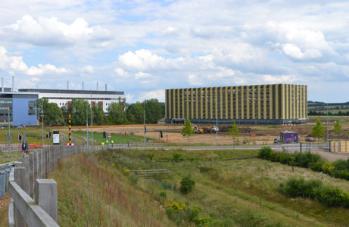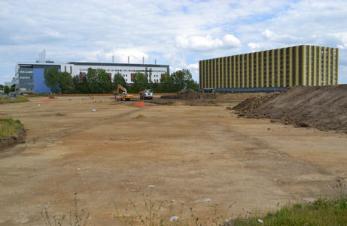 The archaeological evidence included a Bronze Age ditch running across the site, related to an enclosure to the west in the AstraZeneca area. There were also areas of cobbles which may indicate an Iron Age roadway, across the lower wetter ground.
The main evidence was Early Roman. There was no occupation evidence in this area but a number of linear features on a southwest to northeast alignment which may have been a large scale field system with cultivation beds. These seem to have been used for a limited period, perhaps linked to dryer conditions in the 1st century AD. Similar features have been found in excavations elsewhere across Cambridgeshire including on Clay Farm, and ideas for their use include asparagus beds, grape vines, etc. There was also a ditch on a similar alignment to the Bronze Age ditch and a metalworking enclosure (smithy) on the east side of site. The Early Roman community would have been self-supporting and needed the capability to work iron into tools. There were no pottery kilns, in contrast to a number of nearby sites.
The area seems to have been abandoned after the Early Roman period and there was no later Roman or Anglo-Saxon evidence. There was a Post-medieval ditch again on a similar alignment but the area would still have been too wet to plough with the technology available at that time.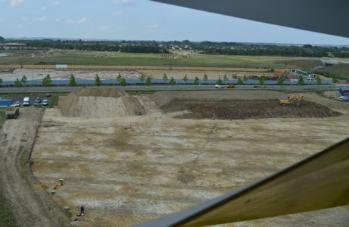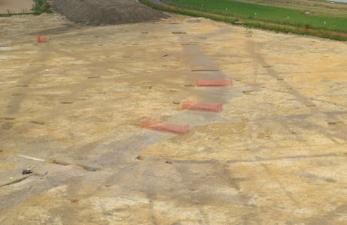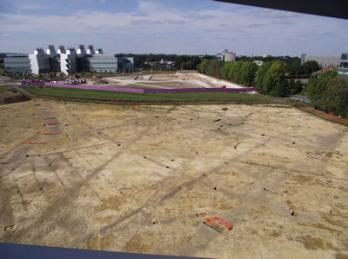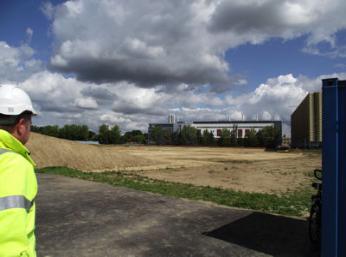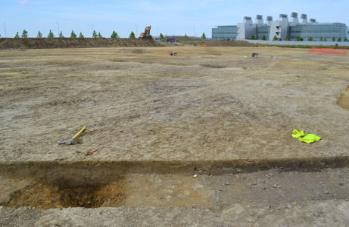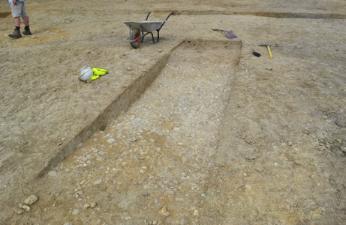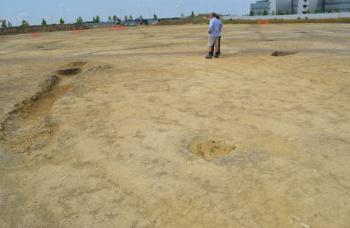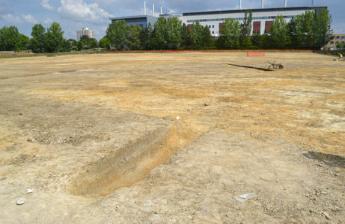 Bell School site (Ninewells housing development)
The second site is a rectangle of land to the south of Addenbrooke's Hospital and west of Barbraham Road, soon to be developed for housing (subsequently named the Ninewells development), part of the same landscape as the Papworth Hospital site.
At the time of the visit, the evidence included around 350 post holes which were thought to be Bronze Age, many of which were in roughly parallel lines, typically in 2 or 3 rows with as many as 30 post holes in each row. There was one example of 3 rows about 25 m away from 2 rows, with a roughly funnel arrangement. The rows seemed to be pointing in the direction of White Hill and the springs at Nine Wells. Richard Mortimer wondered if they were ceremonial, as they seemed to be too elaborate and labour intensive to be purely functional.
Other evidence included a Bronze Age well and a large Iron Age well with some pottery. There were also ditches and cobbled areas, the period of which was under discussion. At the west end of the site, there were additional examples of Early Roman features that could have been cultivation beds from the dry period, as on the Papworth site.