In October 2008, Antony Pemberton gave a talk to the Local History Group titled A Trip Round My Dining Room Walls, in which he told the history of Trumpington Hall and the Pemberton Family. These notes are a summary of the talk, by kind permission of Antony Pemberton.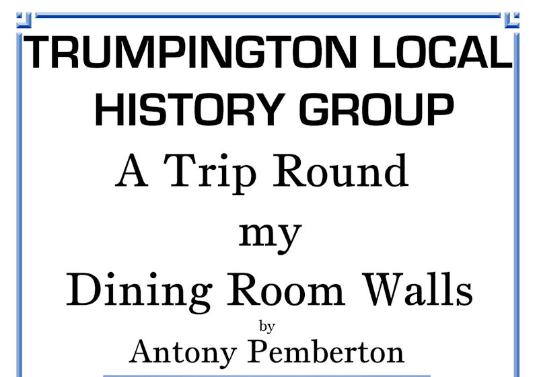 Antony said that the Pemberton family had lived in Trumpington Hall for over 300 years. The long family history had resulted in 17 deed boxes of documents and correspondence (which have been archived) and a series of family portraits.
The Pemberton family originated in Pemberton, Lancashire.
The direct line can be traced to Robert Pemberton who was born in St Albans in 1523. He married Catherine Stokes in 1549 and they had 11 children, only two of whom reached the age of 21. The only surviving son, Roger, was born in 1554 and married Elizabeth More in 1579. Elizabeth lived to the age of 85 in 1645. Roger went to St John's College, Cambridge, matriculating in 1572. He inherited the estate in St Albans from Lewis Pemberton who had himself inherited it from his uncle Sir Goddard Pemberton, who was the High Sheriff of Hertfordshire in 1616. Roger followed as High Sheriff in 1620. He died in 1627 and the family name is remembered in St Albans through almshouses which were endowed by Roger Pemberton and are still in active use.
Roger and Elizabeth Pemberton had three sons who founded branches of the family, John in Bedfordshire, Robert in Peterborough and Ralph in Cambridgeshire. Ralph was born in 1588 and there is little surviving information about him other than that he was Mayor of St Albans in 1627 and 1638 and died in 1644.
Ralph Pemberton's eldest son, Francis, was born in 1625 and became the most distinguished member of the family. He was an undergraduate at Emmanuel College and Peterhouse, entered the Middle Temple in 1645 and was called to the Bar in 1654. At a low point in his life he was held in Fleet Prison, London, for debt, where he was regarded as the most notable prisoner. He was knighted in 1675 and appointed Chief Justice and a Privy Councillor in 1682. He was a lawyer in the trial of the Seven Bishops which indirectly led to the downfall of King James II.
Francis Pemberton married Anne Whichcote, daughter of Sir Jeremy Whichcote, in 1667. The oldest document in the family archive dates from 1328, concerning the conveyance of land in Milton belonging to the Witchcotes family.
Sir Francis Pemberton purchased Trumpington Hall and 1000 acres for 1000 guineas in gold payable in two instalments on 1 and 8 April 1675 (the receipt is in the family archives). Sir Francis never lived in Trumpington as the estate was subject to a life interest of the widow of the vendor, Thomas Pitcher [Thomas Pytcher].
The eldest son of Sir Francis and Anne Pemberton, Francis, was born in 1675. He was educated at Eton and became an undergraduate at King's College in 1693. He had a career as a lawyer, being called to the Bar in 1705. Francis built the present Trumpington Hall, incorporating an Elizabethan manor house and earlier remains. There is a Pitcher crest on some oak panelling in the house and the same crest on a memorial in the Church dated 1603. Little remains of Francis's correspondence. He died and was buried in Trumpington in 1762.
Francis Pemberton's third son, Jeremy, was born in 1714, and has left more evidence. He went up to Emmanuel College in 1732 and became a Fellow of the College in 1736. He married Anne Baron in 1739. She was from a long-established Welsh family with an estate in Carmarthenshire which had descended from John Landre (Muddlescombe Estate). The Baron family were involved in the coal trade and the development of Burry Port as a new port to export high-grade coal. The cost of this project led to the Trumpington and Welsh estates needing to be heavily mortgaged. The family connection with the Welsh estates did not end until 1946, when the final areas were sold to the new Coal Board.
The eldest son of Rev. Jeremy and Anne Pemberton was also Jeremy, born in 1741. He was educated at Pembroke College and Lincoln's Inn and went on to become the Chief Justice of Nova Scotia. He returned from Canada to live in Trumpington and was appointed Commissary to Cambridge University. He died unmarried in 1788 and was buried in the Church.
The second son of Rev. Jeremy and Anne Pemberton was Francis, born in 1742. He went to India to work for the East India Company. Between 1771 and his death in 1794, he wrote 199 letters to his father which provide extensive information about his work, life and the historic events he witnessed. He married Mary Price in 1777 and they seem to have had a stormy relationship. He remained in India with the aim of building up the family's depleted fortune. After some years of problems, he hoped things were improving in 1787 when he thought of purchasing the Anstey estate and owning all of Trumpington. Despite this, he remained in India and was the Customs Master and Mayor of Bombay.
The tenth and youngest child of Rev. Jeremy and Anne Pemberton was Christopher, born in 1765. He was an undergraduate at Caius College and became a physician at St George's Hospital and Physician to King George IV.
When Rev. Jeremy Pemberton died in 1800, the estate passed to his 21 year old grandson, F.C.J. [Francis Charles James] Pemberton, son of Francis and Mary, who was born in India in 1778 and sent back to England in 1781. He was at Eton from 1788 to 1796, then at Emmanuel College, following his great-great grandfather who had been there 150 years before. The estate in Trumpington and Wales was managed at this time by F.C.J. Pemberton's second cousin, Christopher Pemberton, a Cambridge lawyer who lived at Trumpington Hall and then at Bourne Hall. F.C.J. Pemberton moved to the estate about 1810 and made extensive alterations to the Hall, including internal changes and the development of the garden. He improved the accommodation on the top floor and replaced the mansard roof with the present pitched roof.
In 1836-48 there was a law suit with the miller at Grantchester Mill who protested about navigation rights on the River Cam.
F.C.J. Pemberton was Colonel of the Cambridge Militia. He died in France in 1849 and his body was returned to Trumpington the next year. His coffin was lined with leather, presumably to survive the sea journey back to England. His widow died in 1869 and their coffins were the only ones to be placed in the north chapel of the Church.
Colonel Pemberton left a complicated will and family trusts, with the estate passing to his only child, Frances, who had been born in 1818. She had married Captain William Huntley Campbell in 1836, at the age of 18. Captain Campbell died in 1844, leaving Frances a widow with three young children, Francis, Robert and Patience. She married her first cousin Henry Hodgson in 1855 and had a son, Arthur, in 1857 when she was 39 years old.
Captain Campbell's father was Commodore Robert Campbell, who was involved in action on HMS Tremendous off Naples when Napoleon escaped from Elba in 1815.
When her mother died in 1869, Frances took the name Pemberton, as required by her father's will. Although she did not enjoy Trumpington, she left a number of diaries which have entries about the village.
When Frances died in 1899, the estate should have passed to her eldest son according to the instructions in her father's will, but her two sons from her first marriage had already died.
The eldest son was Francis Pemberton Campbell, born 1837. He was commissioned in the 79th Highlanders in 1854 and served as a Lieutenant in the Crimea War in 1855, possibly in Balaclava. During the Indian Mutiny, he took part in the Relief of Lucknow in 1857. He joined the 14th Hussars in 1863 and became Colonel in 1875. He was appointed the Deputy Lieutenant of Cambridgeshire in 1875 and died in Bangalore in 1876.
His brother, Robert Campbell Pemberton, died in 1879.
The estate passed to Frances Pemberton's daughter from her first marriage, Patience, born 1844. She had married Dr Thomas Percy Hudson in 1870. Like her mother, Patience and her husband took the name Pemberton when she inherited the estate and moved to Trumpington in 1900. Patience left many letters including two from the Duke and Duchess of York.
Her husband, Thomas Percy Hudson, was born in 1832. He was an undergraduate at Trinity College and a Fellow of the college from 1856 until his marriage to Patience in 1870. He was appointed Canon of York Minster in 1879. He was a gifted musician who founded the Hovingham Music Festival which took place each year from 1887 to 1906, with performances by world class musicians such as the violinist Joseph Joachim. When living at Trumpington Hall, he rejected the post of Master of Magdalene College on the grounds that the Hall was more comfortable. Canon and Mrs Pemberton made important contributions to Trumpington, including giving the land for the Village Hall which opened in 1908. He took part in the vote to admit women to Cambridge University in 1920, being wheeled to the Senate House in a bath chair. Canon Pemberton died in 1921 and Patience Pemberton in 1929.
The only son of Canon and Patience Pemberton was Francis Pemberton, born 1885. He was educated at Ludgrove and Malvern College and was an undergraduate at Trinity College. He was a keen sportsman, including hunting and cricket. He joined the 2nd Life Guards cavalry regiment in 1907 and married Winifred Worsley from Hovingham in 1912. They had no children before he was killed in action in October 1914, at a time when he was heavily in debt.
The eldest daughter of Canon and Patience Pemberton was Viola. As a young woman, she travelled extensively on the continent and spoke fluent German. She spent much of her life caring for her elderly parents. When Francis was killed in the War, the family doctor, William Wingate, comforted her parents. He was a widower whose wife had died in childbirth. Viola married William Wingate in 1915.
When Patience Pemberton died in 1929, the estate passed to Viola and she and William Wingate took the Pemberton name.
During World War II, Trumpington Hall was used as a hospital for officers who had had motorcycle accidents, with Viola as the Commandant.
When William Pemberton died in 1943, Viola stayed on in part of the Hall. Antony Pemberton said that he remembered his grandmother, Viola, as a formidable lady. She was a founder member of the Women's Institute and County President, travelling abroad, including to WI gatherings in the 1950s and 1960s.
William and Viola Pemberton's son, Francis, persuaded Viola to move to a flat on the top floor of the Hall in 1960, with her maid, Annie, who worked for the family for 79 years. Viola Pemberton died in 1972, aged 92.