Percy Robinson was the Head Teacher at the Church School, Trumpington, from 1908 to 1943, and made important contributions during World War 1 and to local history.
Percy Robinson. Independent Press and Chronicle , 10 December 1943, p. 14. Cambridgeshire Collection. Cambridge Central Library.
Percy Robert Robinson was born on 11 September 1878 in Chesterton, Cambridge. He married Margaret Emma Amps in 1903 and was Head Teacher at the Church School, Trumpington, from 1908, living at the School House, Church Lane. Percy and Margaret both served in World War 1, with Percy Robert Robinson a Sergeant in the Trumpington Voluntary Training Corps, and Margaret Emma Robinson a Voluntary Aid Detachment (British Red Cross) Garment Mender in the Trumpington Work Party.
One of the Percy Robinson's major contributions to Trumpington was his research into local history and the notes and photographs which he accumulated and lectures he gave in the 1920s and 1930s. There is a separate page about Percy Robinson and local history .
Percy Robinson died on 2 December 1943 while in post, aged 65. There was an extensive obituary and report on his funeral in the Independent Press and Chronicle , Friday 10 December 1943, p. 14, and this is transcribed below.
Well-known Trumpington Man
Schoolmaster for 40 Years
Death of Mr P. R. Robinson
By the death last week of Mr Percy Robert Robinson, of Trumpington, the County loses a typical village schoolmaster.
Aged 65, he had been a schoolmaster for forty years, and for 36 years headmaster at Trumpington School. During this long period his staunchness and character caused him to become the friend and adviser of the villagers, and his passing removes a man of wise counsel and high standing.
A native of Cambridge, he was first headmaster at Barton, going to Trumpington in 1908 as headmaster and continuing as such up to the time of his death.
Mr Robinson was a keen and active member of the National Union of Teachers, and before Trumpington School came under the Cambridge Borough educational authorities in 1934 he was associated with the Cambridgeshire branch of the Union for 23 years, holding a number of offices and retiring as president and treasurer. Afterwards his enthusiasm for the Union was as great with the Borough branch and he served on the committee. He was also president for some years, and served on the committee of the Cambridge Borough Teachers' Association. With each of these bodies he was a very valued member.
His activities were not merely confined to his profession, and he was a man of many interests.
Best Shot in County
In the last war he was a member of the Volunteers, and at that period was looked upon as the best shot in the county. It was in the last war that he organised the local Savings Group Association and carried on with this work until his death. For over 30 years he was clerk to the Trumpington Charities, and was a member of the Trumpington War Memorial Committee.
Mr Robinson's hobbies included horticulture, fishing, bee-keeping and swimming and in connection with the latter he was awarded the Royal Humane Society's certificate for life-saving.
He collected much data on the history of Trumpington village and on this he had given many lantern lectures.
He acted as billeting officer during the evacuation of London, and was a section leader of the Fire Guard.
Loyal and sympathetic amongst a wide circle of friends, his passing is a matter of extreme regret. He leaves a widow and one son, Mr R. P. Robinson, now in the Army.
The Funeral
The funeral took place in Trumpington Churchyard on Monday. After the service school children lined the pathway from the church to the gate.
The officiating clergy were Bishop Kempthorne, the Rev. Dr Bury, and the Rev. A.B. Wright (vicar of Trumpington).
[Details of family mourners and others who attended at the church were listed]
Beautiful floral tributes were inscribed: To a darling husband and father, from his three loved ones – Maggie, Reggie and Mickey [Minnie] , "At rest"; "I am still at your feet" his little dog Adar; …
Newspaper article transcribed by Wendy Roberts, March 2019.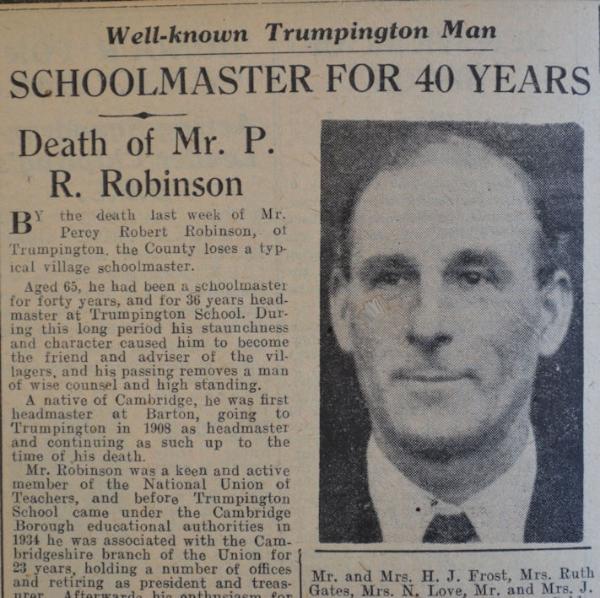 Obituary of Percy Robinson. Independent Press and Chronicle , 10 December 1943, p. 14. Cambridgeshire Collection. Cambridge Central Library.