Arthur Brookes
Whilst many Trumpington families suffered losses in World War I, the Wilson family suffered more than most.
The family lived in Workhouse Yard (Whitlocks Yard). They had four sons, three of whom were killed in the Great War, but only the youngest son survived. The family also lost a son-in-law.
This is the story of the brothers.
For additional information, see:
Mr Wilson senior worked as a shepherd and later as a roadman. The family lived in Workhouse Yard, Trumpington, more commonly known as Whitlocks Yard. They had four sons, three of whom were killed in World War I. The family also lost a son-in-law (Horace James Jeffery [not Albert Jeffries]) in the War. Only the youngest son survived.
Albert Charles Wilson
Albert Charles died at home of injuries on 4 November 1918, just a week before the Armistice.
Robert Wilson
Robert was a well known amateur cricketer and considered to be one of the best bowlers in the county. He was killed on the first day of the battle of the Somme, which claimed 60,000 British casualties of whom 20,000 were killed. The battle in total cost 420,000 British lives and resulted in the award of 51 Victoria Crosses, nine on day 1 of which 6 were posthumously awarded. After 100 days of fighting the objective set for day 1 had not been reached.
William Wilson
On leaving school, William took a job with a family in Chaucer Road, gardening and driving the pony and trap. When war was declared, William immediately enlisted in the Cambridgeshire Regiment but was later transferred to the Cameronians (Scottish Rifles) in 1916 whilst serving in France he was badly wounded in the hip. He was brought home to spend time in hospital at Cheltenham. While on sick leave, he married Constance Fuller of Poplar End, Grantchester, on 27 January 1916. At the time of her marriage, Constance was in service at Byron's Lodge; after the wedding the two moved into Lodge Cottage at the entrance to Manor Lodge. William's hip had been so badly shattered, leaving him with one leg shorter than the other, that they were certain he would be able to leave the army. However, he was called back to France. On 21 September 1918, the 5/6th Scottish Rifles were attacking an enemy post at Villers-Guislain near Cambrai. In the attack, 14 men including William were killed.
Further information about the Cameronians (Scottish Rifles) and the regimental museum .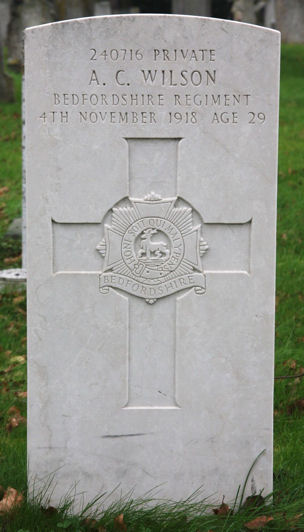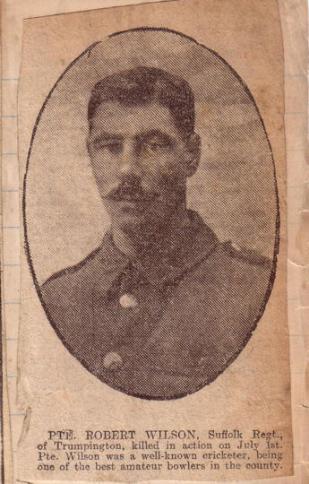 Commemoration of Private Robert Wilson, Suffolk Regiment, died 1 July 1916. Cambridge Independent Press , 8 September 1916, p. 6.
Grave of Private Albert Charles Wilson, Trumpington Churchyard, Shelford Road, Trumpington. Photo: Arthur Brookes, November 2009.