This is part of a
census project
by the Trumpington Local History Group to transcribe the nine censuses for the parish of Trumpington from 1841 to 1921. This page has an introduction to the 1851 census and a PDF file with the
Trumpington Census Transcript, 1851
. If you find an error, or wish to make any comments, please contact us.
Census of 30th March 1851
HO107/1759 Enumeration District 14
Enumerator: John Nichols
"The whole of the Parish of Trumpington including Wood End, Toller's Farm, Church Lane, Trumpington Mansion, Dagling End, Vicarage, Anstey Hall, Maris' Farm, Weighbridge House, Vicarage Farm, London Road, Workhouse Yard, Daniels' Yard, Red Lion, Cambridge Road, Mill Road, Adcock's House on Linton Road, Great Tithe Farm, Headlands Nursery, Brewers Nursery, Eddleston's Farm and Trumpington Village".
Road names are given, but no house numbers.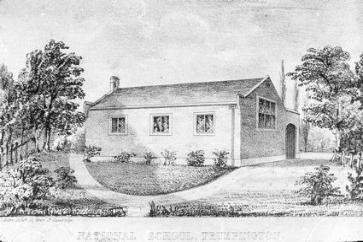 Print of the National School, built 1843. William and Ann King Bridges, Church Street, were the Schoolmaster and Schoolmistress in 1851. From a photograph used by Percy Robinson in the 1920s-1940s.