Homes on Northrop Road facing Lime Avenue. Photo: Andrew Roberts, 22 October 2014.
Northrop Road is part of the Aura development, Clay Farm, to the west of Lime Avenue, south of Long Road, with footpath access from Long Road. Homes on the arm of the road near Lime Avenue were occupied from mid 2014 and those on the two east-west arms from autumn 2014.
Northrop Road. Source: © OpenStreetMap contributors (Howard Slatter).
Howard Slatter gave a presentation about the origin of the name 'Northrop Road' at the Local History Group meeting on 12 November 2015. This is among a number of streets named after local families, in this case the Northrop family.
There is a separate page with information about the derivation of street names .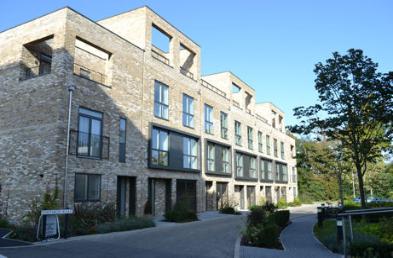 The 1885 Ordnance Survey map of the Long Road area showed a windmill near the junction with Trumpington Road (hence the name Mill Road and Old Mill House) and Clay Farm House. There are three cottages attached to Clay Farm.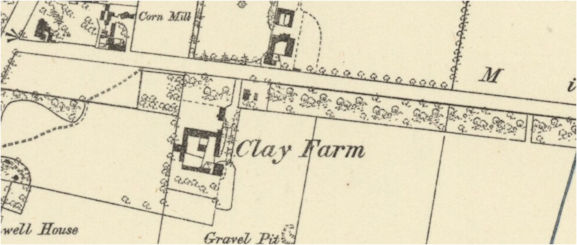 Ordnance Survey map for Clay Farm, 1885.
The 1911 census had a page for 'Manor Farm cottages' (Clay Farm) with information about Eli and Elizabeth Northrop (the enumerator misspelt the family name as 'Northrup' on the cover sheet). Eli Northrop was age 47, born Harston, a 'horseman on farm', Elizabeth Northrop was aged 49, born Dry Drayton, and they had two children, both born in Trumpington.
When the Local History Group and the Residents' Association proposed names as street names in 2010-11, we were keen to include the ordinary people of the village. Eli and Elizabeth Northrop were one of those families, nobody special, but they used to live close to where Northrop Road has now been built. By the time of the family photograph, Eli and Elizabeth Northrop were living in Mill Cottages on the north side of Long Road. The family tree shows him and his sister Amelia. The daughters of Eli and Elizabeth Northrop all moved away after they married, but at least one of Amelia's descendants lived here until quite recently.
For further information, see the People in Trumpington database and the Northrop family tree .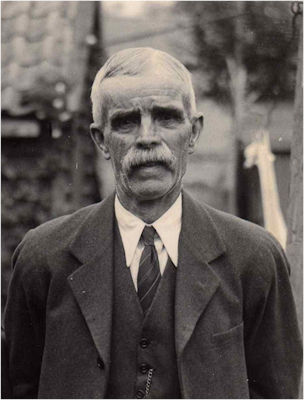 Portrait of Eli Northrop, taken sometime in the 1940s when he was in his 70s. Source: Thomas Kill.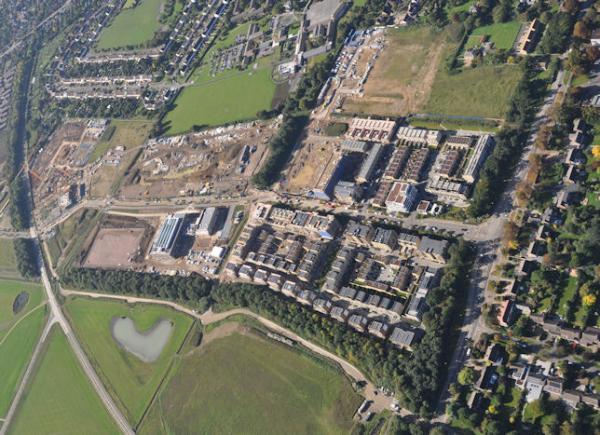 Aerial photograph of Clay Farm from the east, with Long Road to the right and Northrop Road above the junction and road into the Clay Farm development. Countryside/Tamdown, 8 September 2015.