Trumpington Road runs from the northern boundary of the parish at the junction with Brooklands Avenue to the junction with Long Road.
For information about the history of Trumpington Road, see the contributions Along the High Street and Chaucer Road and Latham Road .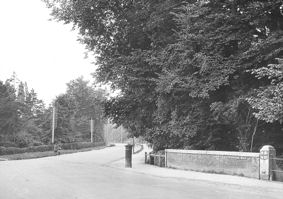 Top: Trumpington Road, the Stone Bridge and milestone, from a photograph used by Percy Robinson in the 1920s-1940s.
Bottom: The junction of Trumpington Road and Brooklands Avenue, with the milestone and rebuilt bridge. Photo: Andrew Roberts, March 2009.