Newly completed homes at the northern end of Whitelocks Drive. Photo: Andrew Roberts, 20 November 2015.
Whitelocks Drive is in the northern part of the Clay Farm development (the Aura development), south of Plantation Avenue, between Lime Avenue/Forbes Close and Hobson's Brook. The construction of homes started in 2015.
Whitelocks Drive. Source: © OpenStreetMap contributors (Howard Slatter).
Howard Slatter and Sheila Glasswell gave a presentation about the origin of the name 'Whitelocks Drive' at the Local History Group meeting on 12 November 2015. This is among a number of streets named after local personalities, in this case the Whitelocke family who lived in Trumpington in the 17th-18th century and established a charity to support local people.
There is a separate page with information about the derivation of street names .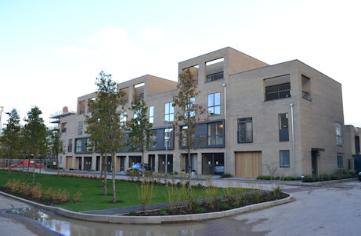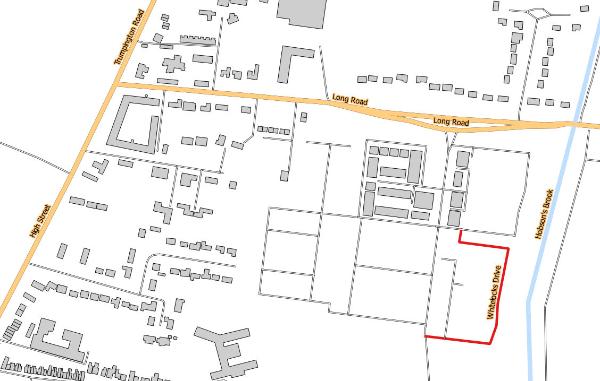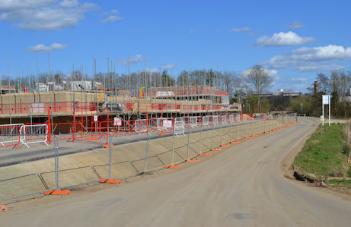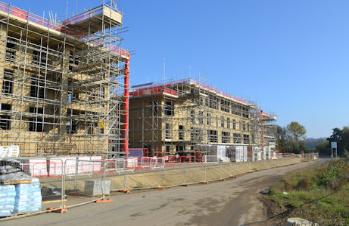 Progress with the construction of homes on the southern arm of Whitelocks Drive near the community college. Photo: Andrew Roberts, 11 April 2015 and 1 November 2015.
Whitelocks Drive is named after the Whitelocke family, also known as Whitelock. In 1657, Sir James Whitelocke married Mary Pychard, who lived at Trumpington Hall. Sir Francis Pemberton purchased the Hall in 1675, but Lady Whitelocke remained there until her death in 1715. Her son, George Whitelocke (or Whitelock), died in 1724 and was buried in Trumpington. In his will, he left a house on the west side of the High Street to help relieve poverty in Trumpington, the income from which was to provide 34 poor households with coal, the coal to be of the cheapest! Coats with brass buttons were also given annually to 6 widowed persons and 8 boys.
Whitelock's house and malting were reconstructed in 1819, to be let as 20 cottages to poor people and the land to be let as allotments. Later in the 19th, century they were rebuilt as 13 cottages and 4 almshouses fronting the High Street, known as Whitelock's Yard or Workhouse Yard.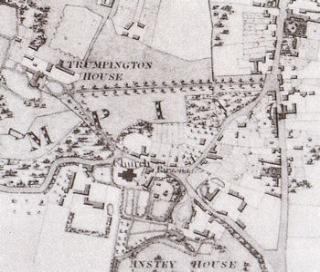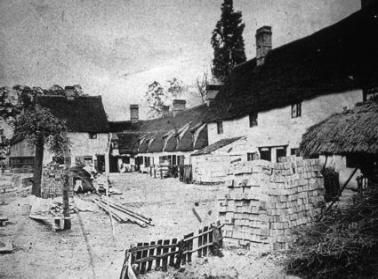 Trumpington village in 1830. Detail from Baker's Map of the University and Town of Cambridge, 1830. Reproduced by permission of Cambridgeshire Records Society.
Cottages and yard, thought to be Whitlock's in the 1880s. Percy Robinson and Cambridgeshire Collection.
In 1963, the site was sold to the City Council, who by 1968 had built Whitlocks, a block with bed-sit accommodation for people over the age of 60 ("White locks", it was said, might be seen as a derogatory comment on older people). In later years it was used to house student nurses and refugees. The new apartment block was built in the mid 2000s, the fifth use of this site in the
last 200 years.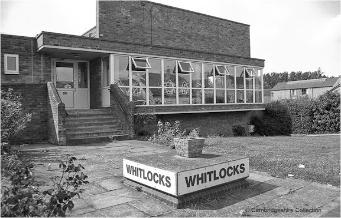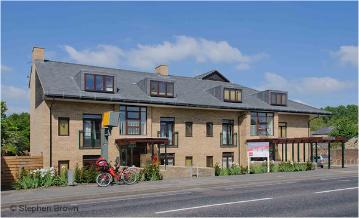 Whitlocks, c. 2000. Cambridgeshire Collection.
Whitlocks, c. 2010. Photo: Stephen Brown.
When the Local History Group and the Residents' Association were proposing names for streets in the new developments, it seemed very appropriate to remember the Whitelock family and their charity.