Trumpington's first Christmas Fair was held on the green outside the shops in Anstey Way and in the Village Hall.
Children on one of the fun fair rides at the Fair. Photo: Howard Slatter, December 2008.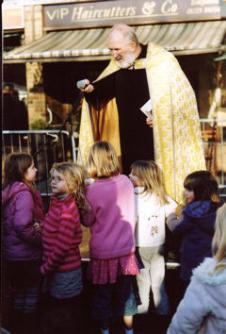 The Green featured a children's funfair, sideshows run by local societies, stalls selling seasonal produce and gifts, mulled wine and hot food stalls. The Residents' Association provided lunches and teas in the Village Hall, where secondhand books, fairtrade goods and a variety of handmade crafts were on sale. There was also an art workshop organised by Vital Communities, held in the Jubilee Room. There was a procession from the Village Hall, in which the Fawcett School choir escorted the Mayor of Cambridge and St Nicholas to Anstey Way. There were performances of Christmas music, Irish dancing, and an address from St Nicholas and carol singing before the Mayor declared the Fair formally open. All children were given a special token entitling them to a free ride on the funfair, an ice cream or other Christmas Fair treat. After tea in the Village Hall, with Christmas music from a local wind ensemble, the Mayor and St Nicholas returned to Anstey Way to switch on the Christmas lights, funded with donations from the City Council and local shopkeepers.
The Fair was organised by Philippa Slatter.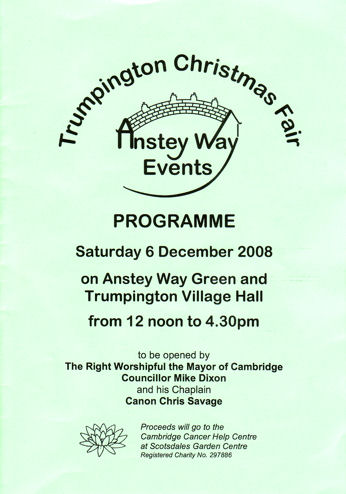 Front cover of brochure for Trumpington Christmas Fair, December 2008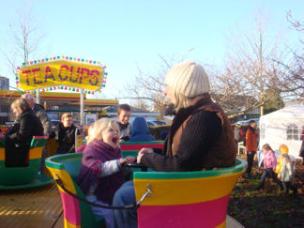 Canon Chris Savage and local children at the Fair. Photo: Andrew Roberts, December 2008.