Howard Slatter
October 2013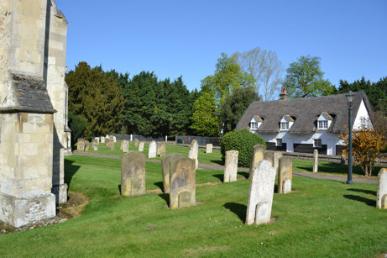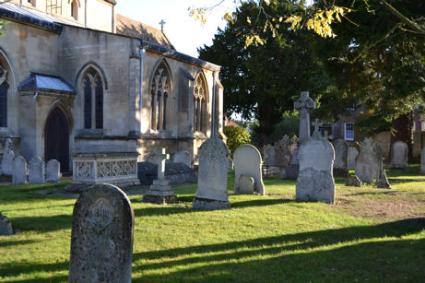 A walking route around Trumpington Churchyard and an insight into the history and interrelationships of some of the individuals and families who have lived in Trumpington in the last 300 years.
One of a series of pages about the Parish Church.
Introduction
Thousands of people have been buried in the original Trumpington Churchyard: between 1600, when burial entries started in the Parish Register or the Bishop's Transcript, and 1893, when the churchyard extension in Shelford Road opened, over 3300 burials were recorded. From the inscriptions recorded in the past, we can identify 364 individuals buried in the churchyard and a further 13 in the church itself. The earliest legible stone in the churchyard is dated 1720; before that grave markers, if used at all, were usually of wood and have not survived. Only about 1 in 6 of the people buried here since the 1720s can be found by name, so it is not surprising if someone who is expected to be here appears to be missing. It is also important to note that most of the people buried in Trumpington since 1893 have been placed in the extension to the south of the old churchyard or the extension at the junction of Shelford Road and Hauxton Road.
Of the 364 individuals, I have selected 34 individuals or families about whom we have information, as a result of research by the Trumpington Local History Group. They range from laundresses, labourers and gardeners through publicans, farmers, teachers, businessmen, bankers, clerics and academics to a government minister.
We are greatly indebted to Alan Bullwinkle and Stephen Walley who, in 1987, produced a booklet listing all the inscriptions they found in the churchyard, several of which are now illegible. We are also grateful to Shirley Brown for passing on further inscriptions that appeared in the parish magazine in 1931, which were illegible by 1987. These sources have been used as the basis for the transcriptions in the individual entries.
For details about the inscriptions recorded in 1987, see Cambridgeshire Family History Society (1987). St Mary's and St Michael's Parish Church, Trumpington, Cambridgeshire. Monumental Inscriptions. Transcribed by Stephen Walley and Alan Bullwinkle. : CFHS.
Following Bullwinkle and Walley, the following abbreviations have been used:
IAMO In Affectionate Memory Of
IARO In Affectionate Remembrance Of
ILMO In Loving Memory Of
ILRO In Loving Remembrance Of
IMO In Memory Of
STTMO Sacred To The Memory Of
The Walk
The numbering suggests an order in which to walk through the churchyard, starting at the entrance near the Bakehouse in the north-eastern corner.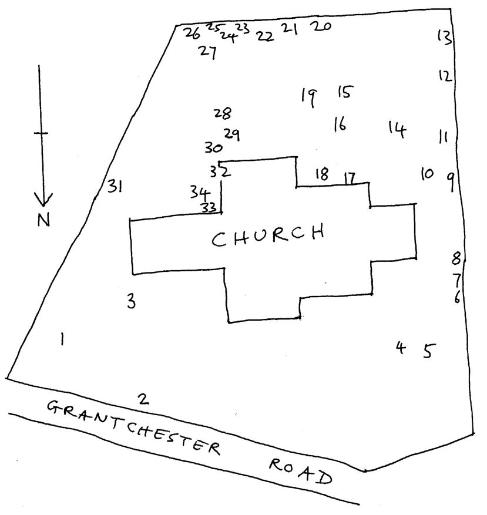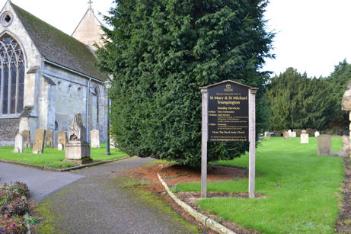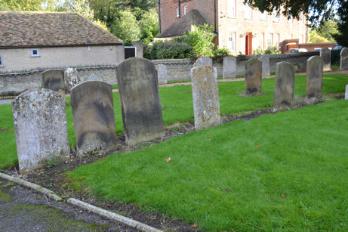 1. Pendlebury family
On the reverse of the information panel at the north east entrance to the churchyard
IMO
CAPTAIN JOHN PENDLEBURY
sometime Scholar of
Pembroke College
Cambridge
Killed In action in Crete
May, 1941
and also his wife
HILDA WINIFRED PENDLEBURY
died 5 March 1970
John Devitt Stringfellow Pendlebury is one of the names read out at the Remembrance Day service in Trumpington each year. He was an archaeologist, who worked for British intelligence during World War II. Born in London, he went up to Pembroke College as a scholar in 1923, where he studied Classics. He became an archaeologist, working mainly in Crete. He married Hilda White, another archaeologist, in 1928. From 1936 he was a freelance archaeologist, and when not in the field, lived with Hilda in Barrow Road. With his knowledge of the island, he was appointed British Vice Consul in Crete in 1940, and then liaison officer between British troops and the Cretan military authority. After the German invasion of Crete in 1941, Pendlebury was shot and killed; he was buried on the island. Hilda stayed on at 31 Barrow Road until 1958, with their daughter Joan.
2. Saunders and Reeves family
First headstone to the right, beside the low boundary wall
STTMO
HANNAH SAUNDERS
who died August 4 1847
AGED 35 YEARS
Also of
THOMAS REEVES
Who died 17 Nov 1877 age 75
Hannah Saunders was the daughter of William and Martha Saunders; her nephew William is buried in the other side of the churchyard (see entry 26 below). Thomas Reeves was her brother-in-law, who married Sarah Saunders here in 1827. He was master of the Chesterton Workhouse for over twenty years, and Sarah was matron.
3. Nichols family
A group of 5 headstones to the north east of the chancel
STTMO
JOHN NICHOLS
WHO DIED FEBRY 21ST 1864
Aged 64 Years
ALSO OF LYDIA
WIFE OF THE ABOVE
BORN JULY 13TH 1803
Died July 11 1868
STTMO
NATHANIEL NICHOLS
WHO DIED SEPT 23D 1850
Aged 39 Years
STTMO
LAND NICHOLS
(Late Butler of Christ Coll. Cambridge)
WHO DIED FEBRUARY 13 1848
IN THE 50 YEAR OF HIS AGE
and SUSAN His Wife (should be SARAH)
DIED JUNE 10 1851
AGED 49 YEARS
Also EMMA
Daughter of the above
LAND and SARAH NICHOLS
DIED JULY [ ] 1854 AGED 20 YEARS
Also
MARY LAND NICHOLS
Sister of the above
DIED FEBRUARY 19 1901
AGED 94 YEARS
STTMO
JOHN NICHOLS
WHO DIED OCTR 24TH 1826 AGED 60 YEARS
ALSO OF SARAH NICHOLS THE WIFE OF
JOHN NICHOLS
WHO DIED OCTR 10TH 1850 AGED 82 YEARS
ALSO OF WILLIAM NICHOLS THE SON OF
JOHN & SARAH NICHOLS
WHO DIED AUGST 3RD 1837 AGED 23 YEARS
IMO
THOMAS NICHOLS
LATE PORTER OF CHRIST COLLEGE
WHO DIED JULY 3RD 1855
AGED 50 YEARS
Eleven members of the Nichols family. John Nichols the younger (on the left) was the village blacksmith from the 1830s to his death in 1864. Samuel Widnall in his Reminiscences of Trumpington 50 years ago wrote "herds of oxen and flocks of sheep for the London market formed part of the traffic up the road, often some of the oxen would fall lame from walking so far, these were taken to the village smithy where John Nichols the smith would shoe them, the shoes being not like horse shoes, but in two parts, one on each side of the cloven hoof." Widnall also recalled "On Sundays we went to church and sat in a pew in the south aisle close to the wall; the church has been a good deal altered since then (Widnall was writing in 1889), there were old high square pews, and at the west end a "Singing gallery" where John Nichols the blacksmith sat in the forefront leading the singers and keeping the boys in order." John Nichols was married to Lydia Cuming, daughter of Mr James Cuming the schoolmaster (see entry 14). They lived, like John's successors as blacksmith, opposite the smithy in the High Street. Land Nichols, John's older brother, was butler at Christ's College, and Thomas, their younger brother, was a porter in the same college.
Nichols family tree
John Nichols , b. ABT 1765, d. 24 Oct 1826. He married Sarah _____, b. ABT 1767, d. 10 Oct 1850.
I. Land Nichols , b. ABT 1798, d. 13 Feb 1848. He married Sarah _____, b. ABT 1802 in Cambridge, d. 10 Jun 1851.
A. Emma Nichols , b. ABT 1833 in Cambridge, d. Jul 1854.
II. John Nichols , b. ABT 1801 in Trumpington, d. 21 Feb 1864. Married 24 Dec 1840 in Trumpington, Lydia Cumming, b. 13 Jul 1803 in Trumpington (daughter of James Cumming and Lydia _____), d. 11 Jul 1868.
III. William Nichols , b. ABT 1803, d. 3 Aug 1827.
IV. Thomas Nichols , b. ABT 1805, d. 3 Jul 1855.
V. Mary Land Nichols , b. ABT 1807, d. 19 Feb 1901.
VI. Nathaniel Nichols , b. ABT 1812, d. 23 Sep 1850. Married 27 Oct 1838 in Trumpington, Sarah Cambridge, b. ABT 1817 (daughter of William Cambridge and Sarah Flitton).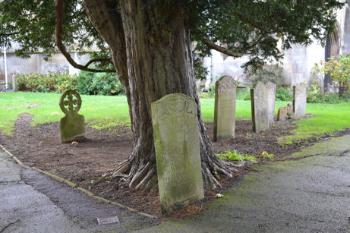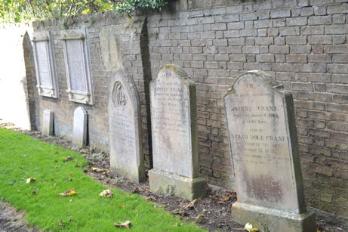 4. Nightingale family
Headstone with circular Celtic cross, under the yew tree to the left of path between the porch and the north west entrance to the churchyard
In
Memoriam
Jane Harley Nightingale
Born January 15 1869
Died Sep 9 1870
Jane Harley Nightingale was the eldest child of Joe Nightingale and his second wife Jane Harley. They had 12 children, and Jane was the only one to die in childhood. Joe and Jane were married here in 1868. Joe was a carpenter and kept the Volunteer Public house (now the Bollywood Spice restaurant, in Trumpington Road just north of North Cottages): North Cottages were originally known as "Nightingales Cottages" and it is likely that he was responsible for them being built.
5. Dobson family
Two headstones near the junction of the path from the porch and the path to the west of the tower, one headstone at the junction under the yew tree and the other to the right of the yew
IMO
MARY the Wife of
WILLIAM DOBSON
who died Dec 3d 1816
Aged 80 years
A Son and Daughter lost their Mother Dear
This tender parent low they've buried here
[Two more lines]
IMO
Wm DOBSON
Schoolmaster who died
April 15 1773 aged 61 yr
also WILL. his son died
Oct 21, 1798 aged 67 years
[Epitaph]
Mary Stacey married William Dobson here in 1765. Mary's parents are buried further east of here (you will have just walked past them), and her great-uncle William Stacey is buried on the other side of the church, with his wife Susannah (see entry 33). William Dobson, the village stone mason whose name is carved on the top of the church tower, died in 1798, and is buried with his father, William Dobson, schoolmaster.
6. Crane family
The first two headstones to the right of the path, beside the boundary wall
STTMO
THOMAS CRANE
FORMERLY OF COMBERTON
WHO DIED NOV 29 1844
AGED 86 YEARS
"AFTER MANY YEARS OF GREAT AFFLICTION BORNE
WITH CHRISTIAN PATIENCE AND RESIGNATION"
ALSO OF SARAH, WIFE OF THE ABOVE
WHO DIED JAN 27 1872
IN THE 87TH YEAR OF HER AGE
"BLESSED ARE THE DEAD WHICH DIE IN THE LORD"
IARO
JOANNA CRANE
WHO DIED MARCH 4 1868
AGED 68 YEARS
ALSO OF
SARAH SOLE CRANE
WHO DEPARTED THIS LIFE
OCTOBER 22, 1872
IN THE FIFTY SECOND YEAR OF HER AGE
"THE MEMORY OF THE JUST IS BLESSED"
Thomas and Sarah Crane lived in Comberton until the early 1840s; Thomas was a farmer. They had two daughters: Joanna and Sarah. Moving from a similar establishment in Bottisham, Joanna opened a "Ladies Seminary" in Trumpington in 1834, moving out in 1844 to Mr Cuming's former premises and then by 1851 into New Square in Cambridge. Her sister Sarah helped her as an assistant teacher. An advertisement in the Cambridge Independent Press, 23 Sep 1843, reads:
"To be sold by auction . . . at the Green Man, Trumpington; Lot 1 A modern and substantially-built Brick and Slate Dwelling-house, desirably situate opposite the church, as now occupied by Miss Crane, as a ladies' seminary, containing, on the ground floor, two excellent sitting-rooms and kitchen,. . . and protected from the road by a neat palisade fence. Lot 2 The adjoining Dwelling-house, also recently erected, containing two excellent parlours below, . . . To this lot there is a convenient yard, approached by folding gates, and stable erected thereon. The above are situate in the most pleasant part of the village, having good views in front and behind, and the distance from Cambridge being within easy walk, makes them most desirable to parties seeking a quiet country residence." These houses still face the churchyard today.
7. Pemberton servants
The third headstones to the right of the path, beside the boundary wall
IMO
TWO FAITHFUL AND VALUED SERVANTS
SYLVIA VIGOR
WHO WAS BURIED FEB 3, 1867
AND
HADNEY ANTHONY TOLEMAN
COMMONLY KNOWN AS JAMES TOLEMAN
WHO WAS BURIED DEC 31 1872
BOTH LIVED UPWARDS OF 50 YEARS
IN THE FAMILY
OF THE LATE COL. AND MRS. PEMBERTON
WHOSE DAUGHTER ERECTS THIS
MEMORIAL
Sylvia Vigor was born about 1796 in Sussex and was housekeeper at Trumpington Hall. James Toleman was born in London about 1800 and was butler; Antony Pemberton tells how Toleman was tasked with the job of bringing the body of F.C.J. Pemberton back from France after he died there in 1849. This memorial was erected well after their deaths, as Patience Pemberton's parents died in 1888 and 1899, and she did not return to live at the hall until some time between 1901 and 1911. It is not now known if the relationship between these two went any further than working together at the Hall.
8. Toller family
Two memorial plaques on the boundary wall
IMO
HARRIETT DARNEY BALDOCK
WHO DEPARTED THIS LIFE
DEC 18, 1862
AGED 46 YEARS
ILRO
CHRISTOPHER TOLLER
WHO DIED AT ARSLEY OCT 21, 1873
AGED 31 YEARS
ALSO MARY ELIZTH BOCOCK
DAUGHTER OF
JOHN & ANN MARIA TOLLER
DIED JAN 26, 1873 AGED 30
IMO
ANN MARIA
THE BELOVED WIFE OF
JOHN TOLLER
WHO DIED MARCH 11 1838
AGED 67 YEARS
ALSO JEMIMA DIND
THEIR DAUGHTER
WHO DIED JUNE 1, 1843
AGED 14 YEARS
AND JOHN TOLLER
WHO DIED FEB 6 1872
AGED 80 YEARS
Harriet Darney Toller was the eldest child of John and Anna Maria, who farmed at Anstey Hall Farm. She married another farmer, Samuel Baldock, in 1835, and they lived at Fenstanton until his death in 1846, when she returned to Trumpington to live with her parents. Christopher Toller was the elder son of John and Maria, and moved to Arsley to farm there. His sister Mary Elizabeth married John James Bocock, a farmer from Kirtling, in Cambridge in 1862. He died the following year and she moved back to Cambridge. John Toller himself was born in Huntingdonshire and farmed in Luton before coming to Trumpington some time in the 1840s.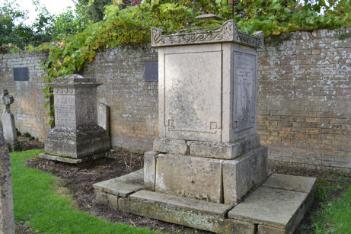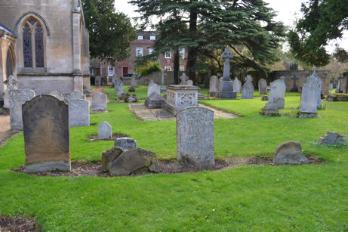 9. Hemington Harris family
Two substantial square pillars to the right of the path beyond the church tower
S.M.
ANN
THE LOVED AND LOVING WIFE OF
HENRY HEMINGTON HARRIS
OF PARK LODGE, CAMBRIDGE
OB. XV. MAY MDCCCLVIII
AET LXV
ALSO THE ABOVE NAMED
HENRY HEMINGTON HARRIS J.P.
OB. XXX OCT MDCCCLXXIII
AET LXIX
IMO
CAROLINE THE WIFE OF
GEORGE HEMINGTON HARRIS
LATE OF THIS PARISH
WHO DIED OCT 3 1838
AGED 39
GO SELL ALL [ ] AND YE SHALL LIVE
IN THIS VAULT ARE ALSO DEPOSITED
THE REMAINS OF
JOSEPH HARRIS
(FATHER OF THE SAID G.H. HARRIS)
FORMERLY OF ST. PAUL'S CHURCHYARD, LONDON
WHO DIED AT CAMBRIDGE
FEB 21 1812
IN THE 80 YEAR OF HIS AGE
AND OF
ANNE HIS WIDOW
WHO ALSO DIED AT CAMBRIDGE
FEB 23 1848
IN THE 8[4] YEAR OF HER AGE
John Hemington came from Denny Abbey, Waterbeach, and rented Anstey Hall from the Anstey family between 1814 and 1836. His sister Anne married Joseph Harris, and they lived in Cambridge; they are both buried here. They had several children, including Henry Hemington Harris, buried here with his wife Ann, and George Hemington Harris, whose first wife Caroline is here. Henry was a solicitor in Cambridge, and was mayor from 1852 to 1853. John Hemington, though he died at Anstey Hall, is buried in the family vault at Waterbeach.
10. Marshall family
A single headstone near the path where it turns to the rear of the church
STTMO
JAMES MARSHALL
WHO DIED OCTOBER 22ND 1868
AGED 76 YEARS
Also HANNAH
WIFE OF THE ABOVE
WHO DIED APRIL 22ND 1853
AGED 47 YEARS
and FRANK their son
WHO DIED MAY 24 1851
AGED 10 YEARS
James Marshall was the father of three men buried in this churchyard, as well as Frank, buried here with his parents. He was born in Trumpington, and was the landlord of the Tally Ho inn from the 1840s until handing over to his son Thomas. He married twice, and his second wife Hannah Nightingale is buried here with him. She was also a Trumpington girl; her half-brother Joe Nightingale was the landlord of the Volunteer, whose daughter Jane we saw earlier (entry 4).
11. Marshall family children
A headstone to the left of the Hemington Harris memorials near the boundary wall
IMO
FRANK FREDERIC MARSHALL
DIED AUGUST 21, 1852
AGED 5 MONTHS
DOUGLAS BERANGER MARSHALL
DIED JANUARY 31 1858
AGED 8 MONTHS
HERBERT GARIBALDI MARSHALL
DIED MARCH 19 1862
AGED 12 MONTHS
HARRY MARSHALL
DIED MARCH 24, 1864
AFED 10 MONTHS
THE BELOVED CHILDREN OF
J.F. AND EMMA MARSHALL
OF CAMBRIDGE
FREDERICK MARSHALL
DIED MAY 2 1865
AGED 6 YEARS AND [ ] MONTHS
ALSO
EMMA LILLIAN
AGED 6 MONTHS
The sad memorial to 6 of the 9 children of James Frederick and Emma Marshall, all of whom died before reaching the age of 7. James was born in Trumpington, the son of James Marshall and his wife Hannah, so these were all grandchildren of the couple we have just been looking at. James married Emma in Cambridge, where they lived, and he was a wine and spirit merchant.
12. Cornwell family
A headstone alongside the boundary wall
ILMO
REGINALD JOHN
CORNWELL
DIED 20TH FEBRUARY 1973
AGED 78 YEARS
and his wife
MARGARET RUTH
DIED 10th MAY 2000
AGED 91 YEARS
Formerly of Clay Farm
Reg Cornwell was born in Lode, and farmed at Clay Farm from at least the 1930s until 1970. His wife Margaret came from Great Shelford; their daughter now lives in Norfolk, where her mother died.
13. Parsons family
Memorial plaque on the boundary wall near the far corner
ILMO
A dear father
THOMAS OLIVER
PARSONS
Farmer of Anstey
Hall Farm
Born 1916 – Died 1988
Tom Parsons farmed at Anstey Hall Farm after his father, Henry Parsons, died. Henry had taken over from his cousin Christopher Parsons, whose father Francis Parsons farmed there from the 1870s to the 1890s, having taken over from the Toller family who we saw earlier (see entry 8).
14. Cumins family
Four headstones in line with the south west corner of the church, starting with the stone on the right of the sequence (the stones are now largely illegible but were recorded in 1987)
STTMO
JOHN CUMINS
DIED FEB 11 1846
AGED 50 YEARS
ALSO OF JOHN LOVE[ ]
WHO DIED FEB 2
Aged [ ] Years
IMO
LYDIA the Wife of
JAMES CUMINS
who died June 1803
Footstone reads:
J.C. (James Cuming)
1839
C.C. (Catherine Cuming, his second wife)
1837
STTMO
CHARLES CUMINS
[next two lines illegible]
ELIZABETH WEBB
These headstones mark the resting place of six members of the Cuming family, but are now all illegible. James Cuming ran Cuming's school on the site of what is now St Mary's House at the west end of Alpha Terrace, from 1783 to 1819, and died in 1838 aged 84. His son Charles took over the school until his death in 1842, just before the Church School opened. Also buried here are James Cuming's two wives: Lydia, who died in 1803, and Catharine in 1837, as well as his son John.
15. Marshall family
Two headstones near the Foster graves
Be thou faithfull unto death and I will
give thee a crown of life
IAMO
Ebenezer John Marshall
Who departed this life Sunday
January 23rd 1881
Aged 46 years
HARK A THRILLING VOICE IS SOUNDING
"CHRIST IS NEAR IT SEEMS TO SAY
"CAST AWAY THE DREAMS OF DARKNESS
O YE CHILDREN OF THE DAY"
Also of Edward Nightingale
Marshall
Born Octr 20 1831
Died Nov 11 1892
Ebenezer John Marshall was the son of James Marshall and his first wife Hannah Nightingale, and moved to London in the 1850s. Edward Nightingale Marshall was his older brother, assisting his half-brother Thomas at the Tally Ho before moving into Cambridge and taking on the Carriers Arms in Tibbs Row. He and his wife Emma had 4 children; one of them, Rosina, lived at "Edwarddale" in Alpha Terrace. It is likely that that house and the one next door, "Emmadale", were named after her parents.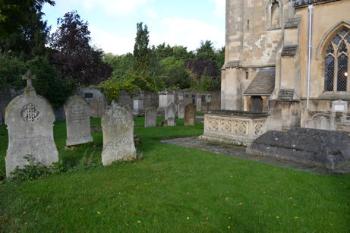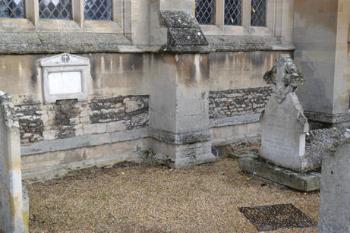 16. Foster family
Group of 3 large stones on a ground slab
ILMO JANE wife of
Charles Finch Foster of Pinehurst Cambridge
who died March 26 1920 aged 80
With Christ which is far better
Also of the above CHARLES FINCH third son of
George Ebenezer Foster who died Feb 22nd 1922 aged 80
His delight is in the law of the Lord
Also of AGNES JANE CUNLIFFE
daughter of the above and widow of John
Banks died May 2nd 1965 aged 87 years
CHARLES FINCH FOSTER
LIEUTENANT 9th LANCERS
ONLY SON OF GEORGE RALPH CUNLIFFE
FOSTER KILLED IN ACTION ON THE
SOMME MARCH 27 1918 AGED 20
ILMO HUGH CUNLIFFE third son of
Charles Finch and Jane Foster of Pinehurst Cambridge
who entered into rest April 10th 1905 aged 34
To him that hath no might He increaseth strength
Also his sister ELIZABETH CUNLIFFE
on March 17 1916 at
Bournemouth aged 43
[Epitaph]
ILMO WALTER KIDMAN
FOSTER
son of GEORGE CUNLIFFE (should be GEORGE EBENEZER )
& ELIZABETH FOSTER
who fell asleep July 5 1891 Aged 49
[Epitaph]
Also of MARY HICHENS FOSTER
HIS WIFE who died Nov 1 1908
Aged 55 Eldest Daughter of
WILLIAM BOLITHO of
Polwithen PENZANCE
MARGARET CUNLIFFE
FOSTER
DIED DECEMBER 2 1881
AGED 22 YEARS
ILMO
CHARLES FINCH CUNLIFFE
ELDEST SON OF CHARLES FINCH FOSTER
OF PINEHURST CAMBRIDGE
DIED OCT 16 1898 AGED 30
IMO
GEORGE EBENEZER FOSTER of Brooklands
Cambridge
who died January 18 1870 aged 58
Also of ELIZABETH his wife
who died May 3 1877 aged 61 years
ILMO
GEORGE EDWARD FOSTER of Brooklands, Cambridge
second son of the above
who died April 9 1906 aged 66
IMO
Ebenezer Foster Esquire
of Anstey Hall in this place who died
on the 26th day of May 1851
in the seventy fifth year of his age
Also
Elizabeth his wife
who died on the 4th day of December 1850
in the sixty fourth year of her age
Also of
Charles Finch Foster Esquire
Son of the above who died at Anstey Hall
January 23rd 1866 Aged 60 Years
And of Mary Ann his wife
who died January 26 1863
Also of Ebenezer Bird Foster
of Anstey Hall
eldest son of George Ebenezer Foster of Brooklands
and grandson of the above Ebenezer Foster
He died 10th May 1908 Aged 69 years
Also of
Mary Campbell Foster
wife of Ebenezer Bird Foster
Daughter of the late Prebendary Snowdon Smith
of Brighton
died at the Red House, Hurstpierpoint, Sussex
on June 25, 1927, aged 88 years
And of
Grace Harriot Foster
wife of George R.C. Foster
daughter of Montagu h. Foster of Stubbington
Died at Anstey Hall
September 14th 1932 Aged 58 years
Blessed are the dead that die in the Lord
Also of George Ralph Cunliffe Foster of Anstey
Hall second son of Charles Finch Foster of
Pinehurst Cambridge died 9th April 1936 Aged 67
years Also Percy George Cunliffe Foster of
Brooklands youngest son of Charles Finch Foster
of Pinehurst died May 11th 1945 Aged 69 years.
DOUGLAS CUNLIFFE FOSTER
OF WYCHWOOD
FOREST ROW
SUSSEX
DIED JUNE 1st 1971 AGED 58
GEORGE CUNLIFFE FOSTER
OF PEACEHAVEN
SUSSEX
DIED MAY 11th 1979 AGED 67
Ebenezer Foster bought Anstey Hall from the Anstey estate in 1838, and it remained in the family for over 100 years. He and his brother Richard started Fosters Bank in Cambridge, which is now the Lloyds Bank on the corner of Hobson Street and Sidney Street. These three tombs contain a total of 22 members of the family. Ebenezer's nephew Richard Foster built Brooklands House, now the English Heritage offices in Brooklands Avenue. Richard's line died out, and Ebenezer's descendants lived variously at Anstey Hall and Brooklands. Other surnames prominent here are Finch, Ebenezer married Elizabeth Finch, the daughter of Joshua Finch, alderman and iron founder in Cambridge; and Cunliffe, Ebenezer's grandson Charles Finch Foster (who built Pinehurst in Grange Road, and whose initials CFF appear on the Coachman's House in Maris Lane) married Jane Cunliffe of London.
Foster family tree
updated November 2015
Richard Foster , b. 1733, d. 1790. He married Hannah Blyth, b. 1734, d. 1811.
I. Richard Foster , b. ABT 1759, d. 1842 in Cambridge. Married 1781, Martha Salmon.
A. Richard Foster , b. 1782 in Biggleswade, Bedfordshire, d. 1859 in Cambridge. Married 1806, Sophia Staples, b. ABT 1785, d. 1850 in Cambridge.
II. Ebenezer Foster , b. ABT 1776 in Cambridge, d. 26 May 1851. He married Elizabeth Finch, b. ABT 1786, d. 4 Dec 1850.
A. Charles Finch Foster , b. ABT 1806 in Cambridge, d. 23 Jan 1866 at Anstey Hall, Trumpington. Married 1839 in Cambridge, Mary Ann Wentworth, b. ABT 1803 in London, d. 26 Jan 1863.
B. George Ebenezer Foster , b. ABT 1811 in Cambridge, d. 18 Jan 1870. Married 1837 in Bishops Stortford, Hertfordshire, Elizabeth Bird, b. ABT 1815 in Bishops Stortford, Hertfordshire, d. 1877.
1. Ebenezer Bird Foster , b. ABT 1838 in Cambridge, d. 10 May 1908. He married Mary Campbell Smith, b. ABT 1838 in Cambridge (daughter of Richard Snowdon Smith and Anne Robin), d. 25 Jun 1927 in Sussex.
2. George Edward Foster , b. ABT 1839, d. 9 Apr 1906.
3. Charles Finch Foster , b. ABT 1841 in Cambridge, d. 22 Feb 1922. Married 1866 in London, Jane Cunliffe, b. ABT 1839 in London, d. 26 Mar 1920.
a. Charles Finch Cunliffe Foster , b. ABT 1867 in Cambridge, d. 16 Oct 1898.
b. George Ralph Cunliffe Foster , b. ABT 1869 in Cambridge, d. 9 Apr 1936. Married 1896 in Hampshire, Grace Harriet Foster, b. ABT 1873 in Hampshire, d. 14 Sep 1932 at Anstey Hall, Trumpington.
(A) Charles Finch Foster , b. 1897 in Great Shelford, Cambridgeshire, d. 27 Mar 1918 in France.
(B) Helen Mary Finch Foster , b. ABT 1898 in Great Shelford, Cambridgeshire. Married 9 Aug 1922 in Trumpington, Roger Henry Parker, b. ABT 1889.
(1) Charles Henry Parker , b. 7 Sep 1923.
c. Hugh Cunliffe Foster , b. 1870 in Cambridge, d. 10 Apr 1905.
d. Elizabeth Cunliffe Foster , b. ABT 1873 in Cambridge, d. 17 Mar 1916 at Bournemouth, Dorset.
e. Percy George Cunliffe Foster , b. 1875 in Cambridge, d. 11 May 1945. Married 1910 in Cambridge, Nora Elizabeth M Dickson, b. ABT 1882 in Cambridge.
(A) George Cunliffe Foster , b. 6 Sep 1911 in Cambridge, d. 11 May 1979 in Peacehaven, Sussex.
(B) Douglas Cunliffe Foster , b. 1915 in Cambridge, d. 1 Jun 1971 at Wychwood, Forest Row, Sussex.
f. Agnes Jane Cunliffe Foster , b. ABT 1878, d. 2 May 1965 in Northampton. Married 26 Jan 1922 in Trumpington, John Banks, b. ABT 1874.
g. Margaret Cunliffe Foster , b. 1881, d. 2 Dec 1881.
4. Walter Kidman Foster , b. ABT 1849 in Cambridge, d. 5 Jul 1891. Married 1873 in Cornwall, Mary Hichens Bolitho, b. ABT 1853, d. 1 Nov 1908.
C. Elizabeth Foster , b. ABT 1813 in Cambridge, d. 1869 in Somerset. Married 3 Jun 1841 in Trumpington, Charles Lestourgeon, b. ABT 1807 in London.
D. Sarah Eliza Foster , b. ABT 1816 in Cambridge, d. 1893 in Sussex. Married 1841 in Cambridge, John Griffith, b. ABT 1817 in Winchester, Hampshire.
E. Catherine Frances Foster
17. Hurrell family
Plaque on the church wall, between the tower and south porch
IARO
CATHERINE FRANCES
WIFE OF SWANN HURRELL
AND YOUNGEST DAUGHTER OF
EBENEZER AND ELIZABETH FOSTER
DIED FEBRUARY 12 1849
AGED 28 YEARS
"Jesus said unto her: I am the resurrection and the Life"
See entry 16 for the Foster family. Swann Hurrell was an iron founder in Cambridge, who succeeded his uncle Charles Finch in the business. He was mayor of Cambridge in 1857-58 and then 1864-66; the name 'Hurrell' appears on the cast iron footbridges crossing Hobson's Brook between Bateman Street and Lensfield Road.
18. Maris family
Headstone and coped stone and adjacent ground slab, close to the church wall, between the tower and south porch
STTMO
SARAH, SECOND DAUGHTER
OF THE LATE
JOHN MARIS, GENT.
WHO DIED APRIL 17, 1862
AGED 64 YEARS
ALSO OF
JOHN MARIS HIS SON
WHO DIED NOV 27 1867
AGED 76 YEARS
IMO
FRANCIS JAMES MARIS
DIED AT ILFORD ESSEX NOV 1 1886
AGED 61 YEARS
ALSO
FRANCES
MERCY MARIS
(WIFE OF THE ABOVE)
DIED AT ILFORD ESSEX
JULY 22 1892 AGED 73 YEARS
STTMO
JOHN MARIS
WHO DIED DEC 5 1850
AGED 87 YEARS
ALSO OF
MARY HIS WIFE
WHO DIED MARCH 27 1832
AGED 78 YEARS
The Marises were farmers, farming at what we now know as Church Farm, where Maris House was the original farmhouse. They gave their name to Maris Lane, and then eventually to the Maris crops developed by the Plant Breeding Institute here, such as Maris Piper potatoes and Maris Otter barley. The first member of the family to live here was John Maris, born in 1734 in Great Shelford. Although he was buried here in 1814, his headstone is nowhere to be found. He married twice, and had a total of at least 11 children. His first wife was Elizabeth Stacey, sister of Mary Stacey who married William Dobson (see entry 5), and their first child was another John Maris, who is buried here with his wife Mary. This John also farmed at Church Farm, and lived all his life in Trumpington. His son John, together with his sister Sarah, were the third generation to farm here, but neither married, and after the last John died in 1867 the farm was tenanted by other people.
Maris family tree
John Maris , b. ABT 1734, d. 1814. (1) Married 30 Sep 1765 in Trumpington, Elizabeth Stacey, b. ABT 1740 (daughter of Francis Stacey and Mary _____), d. 1775. (2) Married 17 Sep 1781 in Trumpington, Mary Collier.
I. John Maris , b. ABT 1765, d. 5 Dec 1850. Married 23 Sep 1788 in Trumpington, Mary Stonebridge, b. ABT 1754, d. 27 Mar 1833.
A. William Maris , b. ABT 1789, d. 1813.
B. John Maris , b. 1791 in Trumpington, d. 27 Nov 1867.
C. Mary Maris , b. ABT 1793.
D. Sarah Maris , b. 1796 in Trumpington, d. 17 Apr 1862.
II. Francis Stacey Maris , b. ABT 1769, d. 15 Feb 1829. Married 15 Feb 1824 in Trumpington, Rosamund Headdey, b. ABT 1793 (daughter of Thomas Headdey and Ann _____).
A. Francis James Maris , b. ABT 1824 in Trumpington, d. 11 Nov 1885 in Ilford, Essex. Married 1846 in Cambridge, Frances Mercy Gray, b. ABT 1824 in Cambridge, d. 22 Jul 1892 in Ilford, Essex.
III. Allington Maris , b. ABT 1771 in Trumpington. Married 1802 in Great Shelford, Cambridgeshire, Sarah Betts, b. ABT 1773, d. 1822.
IV. Mary Maris , b. ABT 1774, d. 1774.
V. Charlotte Maris , b. ABT 1782 in Trumpington. Married 18 Oct 1814 in Trumpington, Isaac Bridgman.
VI. Mary Maris , b. ABT 1784, d. 1820.
VII. Elizabeth Maris , b. ABT 1786 in Trumpington. Married 30 Mar 1820 in Trumpington, John Peachey, b. ABT 1795 in Burwell, Cambridgeshire.
VIII. Susan Maris , b. ABT 1787 in Trumpington.
IX. Sarah Maris , b. ABT 1789, d. 1829. Married 8 Oct 1812 in Trumpington, Robert Casburn.
X. Thomas Maris , b. ABT 1791.
XI. Catharine Maris , b. ABT 1796 in Trumpington. Married 5 Dec 1820 in Trumpington, William Wright, b. ABT 1792 in Linton, Cambridgeshire.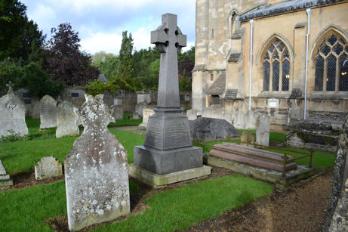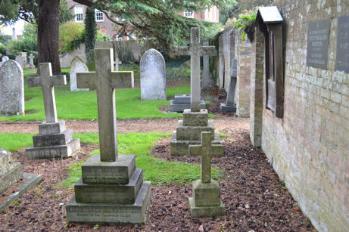 19. Campbell/Pemberton family
A tall column with cross, near the path to the churchyard extension
IMO
WILLIAM HUNTLY CAMPBELL
(CAPT H.M. XXTH REGT)
WHO DIED AT BRUSSELS DEC 13, 1844
HIS MORTAL REMAINS
WERE REMOVED TO THIS RESTING PLACE
JAN 24 1888
ILMO
FRANCES MARIA SOPHIA
WIFE OF
W.H. CAMPBELL
AND AFTERWARDS OF
H.W. PEMBERTON
OF TRUMPINGTON
BORN JAN 10 1818
DIED OCT 20 1899
BLESSED ARE THE MERCIFUL
TTBMO
ROBERT HUNTLY CAMPBELL
2ND SON OF
WILLIAM HUNTLY CAMPBELL
(CAPT XX REGT)
AND F.M.S. PEMBERTON
BORN 6TH OCT 1843
DIED 13TH OCT 1879
ILMO
FRANCIS P.C. PEMBERTON
CAPTAIN 2ND LIFE GUARDS
ONLY SON OF
CANON & MRS PEMBERTON
WHO FELL IN ACTION IN BELGIUM
OCT 19 1914 AGED 29
FAITHFULL UNTO DEATH
This is the only memorial outside the church to members of the Pemberton family, who have owned Trumpington Hall since 1675. William Huntly Campbell was the first husband of Frances Pemberton, the daughter of Col. F.C.J. Pemberton, whose name appears all over the Trumpington Inclosure map of 1804. Their daughter Patience Campbell became Patience Pemberton after her stepfather Henry Williams Hodgson (Frances' second husband) adopted the surname of Pemberton. She married Thomas Hudson, who in turn also changed his name to Pemberton, and is remembered as Canon Pemberton. Robert Huntly Campbell was the son of William Huntly Campbell and Frances. Francis Percy Campbell Pemberton was the son of Canon Pemberton and Mrs Patience Pemberton.
Pemberton family tree
Frances Maria Sophia Pemberton , b. 10 Jan 1818 in Italy, d. 20 Oct 1899. (1) Married 1836, William Huntly Campbell, b. 1801 – 1806, d. 13 Dec 1844 in Belgium. (2) Married 1855, Henry Williams Hodgson, b. ABT 1819 in Rickmansworth, Hertfordshire, d. 1899 in Kent.
I. Francis Pemberton Campbell , b. 1837, d. 14 Jun 1876 in India.
II. Robert Huntly Campbell , b. 6 Oct 1843, d. 13 Oct 1879.
III. Patience Frances Sophia Campbell , adopted name Patience Pemberton, b. 1844 in Belgium, d. 1927. Married 21 Jun 1870 in Trumpington, Thomas Percy Hudson, also known as Thomas Percy Pemberton, b. 1832 in York, d. 31 Jan 1921.
A. Francis Percy Campbell Pemberton , b. 1885, d. 19 Oct 1914 in Belgium. Married 1912 in Yorkshire, Winifred Mary Worsley, b. 1888 in Yorkshire.
B. Viola Patience Campbell Pemberton , birth name Viola Patience Campbell Hudson, b. 2 Sep 1879 in East Gilling, Yorkshire, d. 1972 in Cambridge. Married 18 Nov 1915 in Trumpington, William Warburton Wingate, adopted name William Warburton Pemberton, b. 1866 in Ludford, Lincolnshire, d. 1943.
1. Francis Wingate William Pemberton , birth name Francis Wingate William Wingate, b. ABT 1916, d. 2 Nov 2011 at Trumpington Hall. Married 19 Apr 1941 in Trumpington, Diana Patricia Woods, b. 4 Aug 1921, d. 1999 in Cambridge.
…
2. Jeremy Pemberton , birth name Jeremy Wingate.
IV. Arthur Ralph Pemberton , b. 1857 in France. Married 1882 in Hampshire, Mary Frances Cockerell, b. ABT 1863 in Canterbury, Kent.
A. John Wyndham Pemberton, b. ABT 1883 in India, d. 1947.
20. Peile family
Two crosses, to the right of the path near the boundary wall
JOHN MAURICE
PEILE
BORN OCTOBER 7TH 1877
DIED JULY 16TH 1878
THOMAS OSWALD
PEILE
BORN OCTOBER 7TH 1877
DIED JULY 18TH 1878
(+ braille inscription)
JOHN PEILE
MASTER OF CHRISTS COLLEGE
BORN 26TH APRIL 1838
DIED 9TH OCTOBER 1910
PSALM XV
ANNETTE HIS WIFE
BORN 26TH JUNE 1835
DIED 28TH DECEMBER 1920
PSALM CXLVI
FRANK KITCHENER PEILE, THEIR SON
BORN SEPT 14TH 1871 DIED SEPT 27TH 1927
BURIED IN THE LICHFIELD CLOSE
John Peile was born in Cumberland, and went up to Christ's in 1856. He was a classical scholar, specialising in Philology and Sanskrit. Before being elected Master of Christ's in 1887, he lived with his wife Annette and children at the old Mill House on the corner of Long Road and Trumpington Road. Their son, Frank Kitchener Peile, also went to Christ's, and became a solicitor, practising in Cambridge. The two children John Maurice and Thomas Oswald were twins, "buried foot to foot in one grave" as written in the parish register.
21. Kempthorne family
A cross to the right of the entrance to the churchyard extension and a wooden plaque on the nearby wall
IN THE FAITH OF CHRIST
JOHN KEMPTHORNE M.A.
VICAR OF THIS PARISH
LATE FELLOW OF TRINITY COLLEGE CAMBRIDGE
BORN DEC 1 1834 DIED AUG 5 1880
THE REDEEMED OP THE LORD SHALL RETURN
AND COME WITH SINGING UNTO SION
ELIZA GERTRUDE
WIFE OF
JOHN KEMPTHORNE
BORN DEC 26 1833
DIED JUNE 13 1904
SO SHALL WE EVER BE WITH THE LORD
A.M.G.D. and in memory of
JOHN AUGUSTINE KEMPTHORNE
b. 26 May 1864 d. 24 Feb 1946
For 24 years Bishop of Lichfield
His servants shall see Him
and they shell see His Face
and of
HESTER MARY KEMPTHORNE
his wife, and daughter of JOHN PEILE
b. 3 Aug l867 d. 3 Sept 1963
John Kempthorne was vicar here from 1876 to 1880. After his death, his wife Eliza moved to join her sister near Sunderland, and died there. Her body was brought back to Trumpington to be with her husband. Their son John Augustine became Bishop of Lichfield, but after his retirement moved to Trumpington in 1938 and lived with his wife at Maris House in Maris Lane until his death. His wife Hester was the daughter of John Peile, master of Christ's College, (see entry 20), and was born in Trumpington.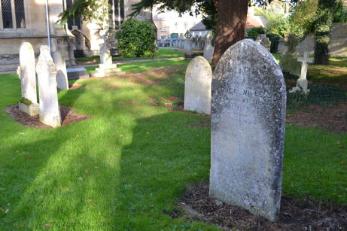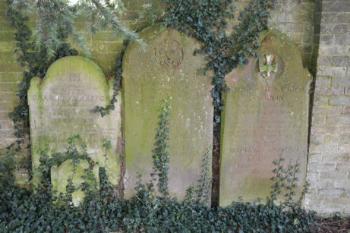 22. Willers family
Headstone to the left of the path to the churchyard extension, near the boundary wall
IAMO
GEORGE WILLERS
DIED MARCH 27TH 1888
Aged 46 Years
ALSO OF
CATHARINE WILLERS
WIFE OF THE ABOVE
DIED FED 24TH 1915
Aged 76 Years
George Willers was born in Harston, and took over the nursery in Trumpington Road (between Latham Road and Chaucer Road) from Michael Brewer during the 1860s. His son George Harry Littlechild Willers took over the business after his father's death, and built Sweetbriars on the corner of Shelford Road and High Street. He lived there with his wife Alice and their daughter Catherine Elizabeth, known as Kitty, who was very well known in the village for her bell-ringing, support of the church, and charitable work.
23. Pamplin family
The right hand of three headstones placed against the boundary wall, to the left of the entrance into the churchyard extension
ILMO
HALLACK TABREM
PAMPLIN
BORN NOV 6 1878
DIED JULY 23 1887
ALSO OF
HALLACK TABRAM
PAMPLIN
BORN APRIL 7 1855
DIED NOV 22 1933
Father and son, both named Hallack Tabram Pamplin. The father was born in Trumpington, became a gardener, and moved into Cambridge in the 1880s. His mother was Louisa Tabram, but where does the Hallack come from?
24. Forbes family
The central of three headstones placed against the boundary wall, to the left of the entrance into the churchyard extension
IARO
ELIZABETH FORBES
WIFE OF CHARLES FORBES
(GARDENER AT ANSTEY HALL)
WHO DIED 13TH SEPT 1886
AGED 41 YEARS
ALSO
CHRISSIE
CHRISTINA FORBES
BELOVED DAUGHTER OF THE ABOVE
WHO DIED NOV 17 1888
Aged 8 Years
Charles Forbes was a Scotsman, who worked, as the headstone says, as gardener at Anstey Hall. His wife Elizabeth came from Pembrokeshire and they lived at the gardener's cottage in the grounds of the hall. After Elizabeth's death, Charles remarried to Rachel Sabin, who was Lady's Maid to the Foster family, and when Charles retired about 1908 they moved into the newly built end house of Alpha Terrace, which he called Aboyne Cottage, after a village in Aberdeenshire near his place of birth. Charles was a churchwarden from 1919 to 1921, and died in 1926, buried in the churchyard extension.
25. Kefford family
The left hand of three headstones placed against the boundary wall, to the left of the entrance into the churchyard extension
ILMO
CHARLOTTE KEFFORD
WHO DIED DECEMBER 2 1886
AGED 56 YEARS
[PROVERBS 4:18 quoted]
ALSO PHOEBE KEFFORD
DIED SEP 19 1892 AGED 82 YEARS
Charlotte and Phoebe Kefford were, despite being born nearly 20 years apart, two sisters. They came from a family of 10 children, 7 of whom survived infancy. Charlotte, Phoebe and their sister Mary all lived together after their mother's death in High Street, just south of the Coach and Horses, and were all laundresses, as were many of the village women in the 19th century.
26. Saunders family
A solitary headstone against the boundary wall to the left, near the far corner
ILRO
SUSAN SAUNDERS
WHO DEPARTED THIS LIFE
8TH JANY 1884
AGED 51 YEARS
"HIM THAT COMETH UNTO ME, I WILL
IN NO WISE CAST OUT"
ALSO OF
WILLIAM SAUNDERS
HUSBAND OF THE ABOVE
WHO DIED 8TH DEC 1897
AGED 68 YEARS
WE MOURN – BUT NOT FOR HIM REMOVED
FROM PAIN. OUR LOSS, WE TRUST, IS
HIS ETERNAL GAIN
William Saunders was born in Trumpington, and married Susan Careless here in 1853. Susan was also born in Trumpington and was a laundress; William was a labourer, then a butcher and shopkeeper. They lived at what is now 83 High Street. They came from two extensive Trumpington families, and had 9 children, 6 surviving beyond childhood. One son, Henry James Saunders, became Trumpington sub-postmaster. William's aunt Hannah Saunders is buried on the other side of the churchyard (see entry 2).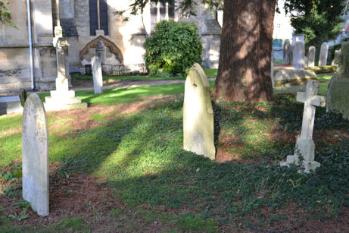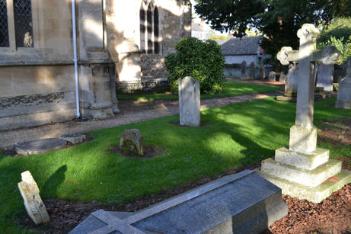 27. Galley family
A cross, midway between the boundary wall and yew tree
IARO
JOHN GALLEY
DEPARTED THIS LIFE
MARCH 22ND 1888
AGED 36 YEARS
ILMO
BERTIE
HARRY GALLEY
WHO FELL ASLEEP
IN JESUS
OCT 25 1890
AGED 9 YEARS
Bertie Galley was one of 5 children of John Galley and his wife Ann Maria née Neaves. They lived in High Street: John was a butcher born in Somersham and Ann a laundress born in Trumpington. John was Ann's second husband (married 1875 in Cambridge); she lived in High Street after marrying John. Their grandson Cecil Galley lived in Alpha Terrace (died 1990).
28. Constable family
A tall Celtic cross, midway between the yew tree and the church
ILMO
CHARLES EDWARD
ELDEST AND BELOVED SON OF
JAMES AND EMMA CONSTABLE
WHO DIED NOVEMBER THE 23 1878
AGED 18 YEARS
ILMO
ELIZABETH BRYANT
WHO DIED FEBRUARY THE 24TH 1870
AGED 66 YEARS
IARO
ISAAC BRYANT
WHO DIED MARCH THE 18 1880
IN HIS 72ND YEAR
James Constable kept "The Unicorn" in 1881, at least Charles Edward's brother John Constable was there in the census, described as "son of head of family". James was also a brewer at the Falcon Inn in Petty Cury and was there with Emma each time there was a census. Emma was a Trumpington woman and her mother, born Elizabeth Haslop, had married for a second time to Isaac Bryant, who kept The Unicorn until he died in 1880. Isaac and Elizabeth had three daughters, each of whom died before their third birthday.
29. Edleston family
A fallen headstone alongside the path to the rear of the church
MARTHA EDLESTON
BORN OCT 22 1790
DIED DEC 31 1868
SARAH EDLESTON
DIED APRIL 4 1878 AGED 79 YEARS
LILLEY EDLESTON
DIED SEP 11 1882 AGED 86 YEARS
The Edlestons were brother and sisters. They were born in Cambridge (parents John Edleston and Mary Lilley) and lived together all their lives. Lilley Edleston was a farmer, at River Farm, then at Dagling End (in what is now the park of Trumpington Hall) and finally in Mill Road (Clay Farm). None married.
30. Haslop family
A headstone alongside the path to the rear of the church
STTMO
ELIZABETH the Wife of
JOHN HASLOP
died August [2 ] 1825
AGED 75 YEARS
ALSO
JOHN HASLOP
Died Sep 24 1838
Aged 87 Years
Also of MARY the Wife of
HENRY HASLOP
who died Jany 20 1817
Aged 30 years
John Haslop was born in Trumpington, a wheelwright, one of an extensive village family. He married Elizabeth Creek here in 1774; they had 8 children, 5 of whom survived. Henry Haslop was their son, also a wheelwright; the Mary buried here was his first wife, born Mary Bland, one of the Bland family of River Farm and the Green Man (see entry 31). John's parents are buried on the other side of the churchyard.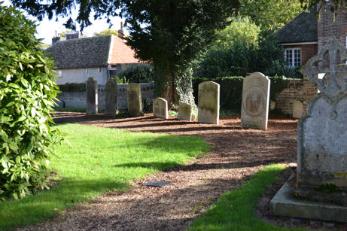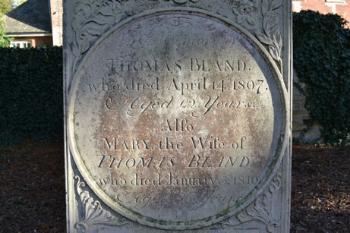 31. Bland family
A group of 7 headstones lining the path near the eastern boundary, listed from left to right
STTMO
BENJAMIN BLAND
who departed this life
the 15th of June 1823
AGED 28 YEARS
ILMO
THOMAS WALLIS BLAND
DIED APRIL 17TH 1903
AGED 81 YEARS
STTMO
ELIAS BLAND
WHO DEPARTED THIS LIFE
January 19th 1845
AGED 59 YEARS
Also of
ELIZABETH wife of the above
WHO DEPARTED THIS LIFE
October 30th 1850
AGED 66 YEARS
IMO
THOMAS BLAND the Son of
ELIAS and ELIZABETH BLAND
who died August 17- 1818 Aged 3 months
Also of THOMAS BLAND their Son
Died Sept 26-1819 Aged 2 months
IMO
THOMAS the Son of
ELIAS & ELIZH BLAND
who died Decr 22 1817
Aged 3 months
IMO
ELIAS BLAND
Who died Nov 9 1779
aged 43 Years
RACHEL his former
wife died Dec 1 1763
aged 26 years
ELIZ his latter wife
died June 20 1771
aged 33 years
MARY his daugh by RACHEL
his wife died Dec 1 1763 aged 2
years
IMO
THOMAS BLAND
who died April 4 1807
Aged 42 years
Also
MARY the Wife of
THOMAS BLAND
who died January 31 1816
Aged 36 years
Also two of their children
who died in their infancy
Elias Bland the elder was the first of this family to appear in Trumpington. He married twice: first to Rachel Wallis in 1761, then to an Elizabeth. His son Thomas (died 1807) married Mary Hayles in 1784. Thomas was a publican, probably of the Green Man. Thomas' son Elias (died 1845) married an Elizabeth and was also a publican. Three of their children, all named Thomas, died in infancy; they then had a fourth Thomas, Thomas Wallis Bland, who survived and farmed at River Farm as well as running the Green Man. His younger brother, another Elias, became a draper in Cambridge. (Benjamin was the younger brother of Elias the younger.)
Bland family tree
Elias Bland , b. ABT 1736, d. 9 Nov 1779. (1) He married Rachel _____, b. ABT 1737, d. 1 Dec 1763. (2) He married Elizabeth _____, b. ABT 1738, d. 20 Jun 1771.
I. Mary Bland , b. ABT 1761, d. 1 Dec 1763.
II. Thomas Bland , b. ABT 1764, d. 4 Apr 1807. Married 15 Jul 1784 in Trumpington, Mary Hayles, b. ABT 1759, d. 1816.
A. Elias Bland , b. ABT 1785, d. 19 Jan 1845. He married Elizabeth _____, b. ABT 1784, d. 30 Oct 1850.
1. Elizabeth Bland , b. ABT 1816 in Trumpington. Married 10 Jul 1832 in Trumpington, George Wilson, b. ABT 1807 in Gazeley, Suffolk.
2. Thomas Bland , b. 1816, d. 22 Dec 1816.
3. Thomas Bland , b. 1818, d. 17 Aug 1818.
4. Thomas Bland , b. 1819, d. 26 Sep 1819.
5. Thomas Wallis Bland , b. ABT 1823 in Trumpington, d. 17 Apr 1903.
6. Elias Bland , b. ABT 1827 in Trumpington. Married 1855 in Cambridge, Isabella Hunt, b. ABT 1831 in Cambridge.
B. Mary Bland , b. ABT 1786, d. 20 Jan 1817. Married 15 Jun 1809 in Trumpington, Henry Haslop, b. ABT 1786 (son of John Haslop and Elizabeth Creek), d. 1843.
1. Rosamond Haslop , b. ABT 1810 in Trumpington. Married 3 Nov 1831 in Trumpington, William Webb, b. ABT 1809 in Barton, Cambridgeshire.
2. Elizabeth Haslop , b. ABT 1813 in Trumpington, d. 24 Feb 1879. (1) Married 9 Apr 1834 in Cambridge, Edward Moore, b. ABT 1809 (son of Daniel Moore and Susan _____), d. 1850. (2) Married 1852 in Cambridge, Isaac Bryant, b. ABT 1829 in Ashwell, Hertfordshire, d. 18 Mar 1880.
a. Emma Moore , b. 1833 in Trumpington. Married 19 Jul 1859 in Trumpington, James Frederick Constable, b. ABT 1833 in Cambridge.
(A) John Frederick Constable , b. 1861 in Cambridge.
(B) Charles Edward Constable , b. ABT 1860 in Cambridge, d. 23 Nov 1878.
b. Julia Bryant , b. 1852, d. 1854.
c. Clara Bryant , b. 1854, d. 1855.
d. Lizzie Bryant , b. 1854, d. 1854.
C. William Bland , b. ABT 1790.
D. Thomas Bland , b. ABT 1791, d. 1793.
E. Thomas Bland , b. ABT 1793, d. 1797.
F. Benjamin Bland , b. ABT 1795, d. 15 Jun 1823.
III. William Bland , b. ABT 1766, d. 1766.
IV. Elizabeth Bland , b. ABT 1768. Married 22 Nov 1786 in Trumpington, Matthew Wright, b. ABT 1763, d. 1846.
V. Ann Bland , b. ABT 1770.
32. Harraden family
A plaque fixed on the church wall, to the rear of the Fawcett grave
Beneath this tablet
Are deposited the mortal remains
Of RICHARD HARRADEN
Who died June 2 1838 aged 82 years
And on Dec 2 1838 (his wife)
ANN HARRADEN
Aged 84 years
Also their infant grand-child
HENRIETTA HARRADEN
( ) 1836 aged ( ) months
Richard Harraden was not, despite the similarity of the surname, related to the Harradine family of Trumpington. He was born in London, and lived much of his life in Cambridge, where he was an artist and engraver. The Dictionary of National Biography has articles about both him and his son, Richard Bankes Harraden, who was also an engraver. Henrietta, buried here, was Richard Bankes Harraden's daughter. Richard and Ann Harraden retired to Trumpington for the last few years of their lives, but we do not know where they lived.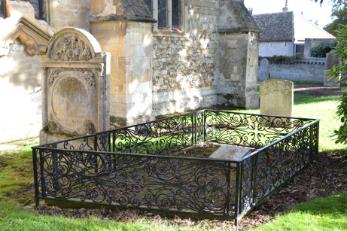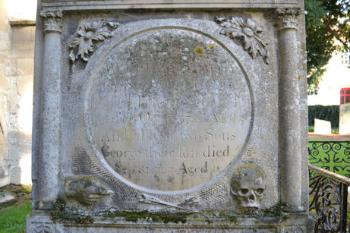 33. Stacey family
A large headstone between the chancel wall and Fawcett grave
IMO
WILLIAM STACEY
and Susanna his Wife
he died Jan 22 1729 Aged 31
she died Oct 19 1720 Aged 34
And also of two Sons
George their son died
Sep 8 1727 Aged 12
THOMAS STACEY their second Son
died the 13th of May MDCCLVII
Aged 44 years
This is the oldest legible headstone in the churchyard and possibly the finest. There were Staceys in Trumpington from the very first available parish records: two Stacy twins were baptised in 1567, and there are then records right through until the late 18th century. This William was the son of William Stacey and Margaret Cambridge; the older William was born about 1642, during the Commonwealth period after the Civil War, when there were no baptisms recorded, so we cannot trace him back with certainty, but he was probably a member of the original family. He died in 1734, and his burial record refers to him as "Mr Stacey senior, aged 92", indicating some substance within the parish. We do not know much about this William and his wife Susanna Chambers, who were married here in 1709. They had three sons, of whom one, Thomas, buried here with his parents, stayed in Trumpington and had a family; his son, another William, is named on the Inclosure map of 1804 as owning a parcel of land on the east side of the Shelford Road right by the parish boundary. William's brother Francis has three granddaughters: the middle one, Mary, married Benjamin Hailes then William Dobson, and is buried in this churchyard with her second husband (see entry 5). The youngest granddaughter, Elizabeth, married John Maris in 1765.
34. Henry Fawcett
A ground slab to the south of the chancel, including a small stone with gravel surround and low metal railing
HENRY FAWCETT
1833- 1884
Trumpington Local History Group member Peter Dawson has researched Henry Fawcett very thoroughly and the Group has produced a couple of publications about him. Fawcett was born in 1833 and graduated from Peterhouse in 1856. In 1858, he was blinded in a shooting accident, but despite this went on to be appointed Professor of Political Economy at Cambridge in 1863. He became an MP, and married Millicent Garrett in 1867. He and Millicent were strong supporters of the early movement for women's suffrage. In 1880, Gladstone appointed him Postmaster-General, and he was responsible, among other things, for introducing Postal Orders, the Post Office Savings Bank, telegrams and the Parcel Post. He lived at 18 Brookside (in Cambridge) with Millicent and their daughter Philippa and died there in 1884. His funeral here was a very grand affair, but it is not clear why he was buried in Trumpington – did he attend church here? This modest grave was refurbished in 2006, and three years later there was a service of re-dedication.