Howard Slatter and Wendy Roberts
September 2016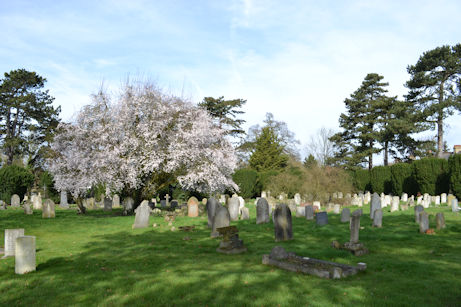 Highlights of some of the burials in the Trumpington Churchyard Extension, at the corner of Shelford Road and Hauxton Road. These notes were first used for a guided walk on 16 June 2016. The notes were developed as part of a project to list all the graves in the churchyard: see the separate Monument Finding List.
The Highlights
As part of a project to catalogue the churchyard, each row of graves has been assigned a number and the individual plots then numbered in sequence. The numbers on the plan and in the following entries refer to these codes.
If you are following these notes while in the churchyard, please take care, the ground between some of the graves is uneven.
The people discussed below are a selection of the families who lived in Trumpington over the last 200 years, famous, infamous, or just good honest citizens.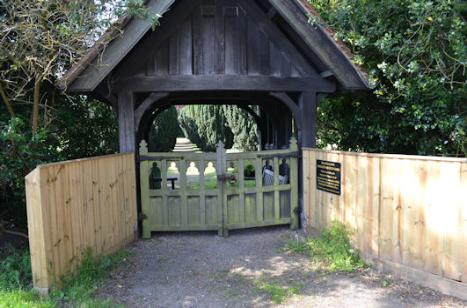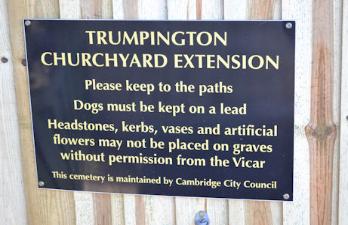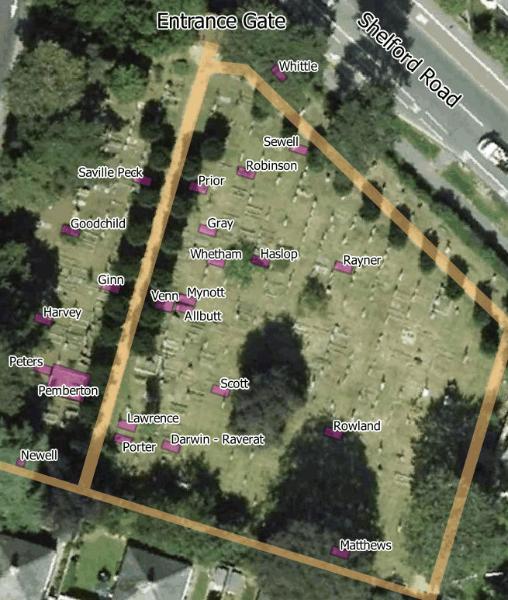 Peck family: Ernest Saville Peck (1866-1955) and Rachel [Hall] (1883-1967)
Grave 5.25
Ernest Saville Peck was born in 1866 in Cambridge, and his wife Rachel Brenda Hall in 1883 in Nottingham. Ernest's father was George Peck, who was a pharmacist and had a shop in Trumpington Street, on the corner of Fitzwilliam Street, which is now the Fitzwilliam Pharmacy. You can still see the sign above the shop doorway: "G. Peck & Son, Dispensing Chemists, Est. 1851".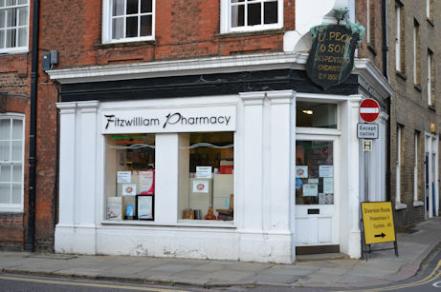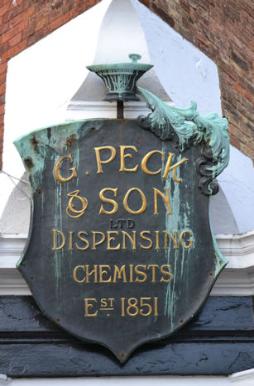 Ernest Saville Peck was an officer in the 2/1st Battalion, the Cambridgeshire Regiment, during the first World War, and commanded the regimental depot on Corn Exchange Street. He was then seconded to the Anti-Gas School in 1917, and developed an expertise in Chemical Warfare, advising the US Army in anti-gas measures.
After the war he was on the Council of the Royal Pharmaceutical Society, and served as its president in 1935/36. He was a member and then alderman of Cambridge Borough Council between 1924 to 1947, and served as Mayor in 1937/38. He was appointed a Deputy Lord Lieutenant in 1939.
The Peck family lived in Hills Road, on the Trumpington side, then in Newton Road, until 1935, when they built a new house in Long Road. This house, Friarswood, 102 Long Road, incorporated various materials including Tudor half-timbering, bricks and tiles from some shops being demolished to make way for the then new Cambridge Guildhall on Peas Hill. They lived there until Ernest died in 1955 and Rachel in 1967.
Lives of the First World War record for Ernest Saville Peck.
Goodchild family: Ralph Goodchild (1859-1943) and Eleanor [Heale] (1856-1930)
Grave 2.20
Ralph Shilleto Goodchild was born in 1859 in Essex, and his wife Eleanor Bertie Heale in 1856 in Berkshire.
Ralph was an undergraduate at Christ's College. Following a change of the University Statutes which allowed fellows of the colleges to marry, in 1884 he opened a small preparatory school for boys in Belvoir Terrace in Cambridge. By 1894, the school had outgrown this wooden hut, and he moved to new, much bigger premises in Trumpington Road, naming the school "St. Faith's". He remained as headmaster until 1909, when he became assistant secretary of the University Appointments Board, the family moving to Latham Road and then Bentley Road. Eleanor died in 1930, and Ralph in 1943.
The Goodchilds had two daughters, Eleanor Mary Faith and Katherine Florence. It is thought that St Faith's was named after the older girl, who was always known as Faith. One old boy of the school recalled being accosted in the 1960s by an elderly lady in Trumpington Road. She complimented him on his smart appearance and then identified herself with the momentous words "I am Faith". The two daughters never married, and continued to live at 5 Bentley Road until their deaths in 1968 and 1971, and they lie in an unmarked grave nearby.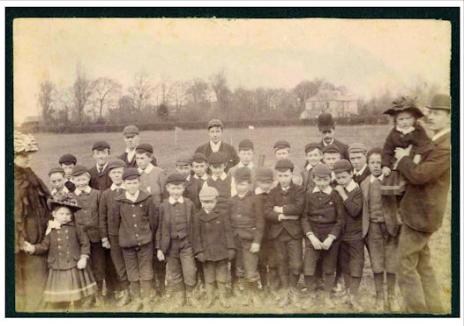 Ginn family: Samuel Reuben Ginn (1851-1934) and Louisa [Barton] (1850-1942)
Grave 5.15
Samuel Reuben Ginn was born to Reuben and Elizabeth Ginn in St Ives, Hunts. His father was a solicitor. In 1871, Samuel was a law student living with his parents at Dunkirk House, Quay Side, St Ives.
Samuel set up his solicitor's practice in Alexandra Street, Petty Cury, Cambridge, in 1873, and then moved in 1879 to new offices at 64 St Andrew's Street. In 1875 Samuel married Louisa Barton, of Woodhurst, Hunts., in Kensington, London, and in 1881 they were living at 64 St Andrew's Street with 4 year old Ada and 1 year old Dennis. The family home was The Chestnuts, Great Shelford in 1891 (in 1901, this was the address of G. R. C. Foster, prior to his moving to Anstey Hall). The house has been renamed 'Browning House', opposite the Shelford war memorial. The Ginns had a second daughter, Helen, who was 8 years old. She died in January 1893 and is buried in Trumpington.
Samuel represented the Liberal Party in the St Matthews Ward in 1891; he was Mayor of Cambridge from 1897-1898; was Deputy Lieutenant of Cambridgeshire and a Justice of the Peace.
In 1902 their daughter, Ada, married Ernest Vinter, a solicitor.
During World War I, Samuel administered the Prince of Wales' National Relief Fund.
Entry for their son, Dennis Barton Ginn in the "Record of service of solicitors and articled clerks with His Majesty's forces, 1914-1919" -: "Admitted Dec. 1905. Member of Ginn & Co., of Cambridge. Joined Sept. 8, 1914, as Trooper, Lovat Scouts. Commissioned in Suffolk Yeomanry March 3, 1915, promoted Capt. July 1916. Served in Dardanelles, Egypt, Palestine, and France.
From 1911 Samuel and Louisa were residing in Brookfield, Trumpington Road (the site of Queensway flats, built c. 1976) and it was here where Samuel died in 1934. Sometime afterwards, Louisa moved to 46 Newton Road, Cambridge, and she died in 1942.
Ginn & Matthews – The first partnership was set up with George Alfred Matthew in 1882 and the firm was very successful. An example was that in 1903 they assisted William Unwin of Histon to establish his seed company. George was in his office when he died suddenly at the age of 49 in 1905. The practice name was changed to Ginn & Co. The practice moved to Sussex House, Sussex Street, in 1939, where it remained until Sidney Sussex College announced their plan in 2013 to develop student rooms in Sidney House. Ginn & Co was incorporated into the Cambridge office of Woodfines LLP on Clarendon Road [Source: Wikipedia 04/05/2016]
Sources: Portrait of Samuel Reuben Ginn and Lives of the First World War record for Dennis Barton Ginn.
Harvey family: George Harvey (1866-1926) and Kate Tredgett (1867-1949)
Grave 2.12
George Harvey was born in 1866 in Bottisham, Lode, and his wife Kate Elizabeth Tredgett in 1867 in Chesterton.
George was in Trumpington by 1891, when he was boarding near Cross Hill on the High Street and working as a gardener. The following year, George and Kate married, and by the time of the next census in 1901 they had moved into a shop on the High Street just the other side of the Green Man – a shop which nowadays is Granite Transformations. George was still a gardener, and Kate was the shopkeeper, a Draper. By 1911 the shop was a Grocers and Drapers, with Kate and George running the business together.
George died at the shop in 1926, and Kate continued to run it as a General Stores until the War. She moved to Cambridge, and died there in 1949. The shop later became Sybil's wool and haberdashery shop, and then the Post Office until that moved in 2002.
Pemberton family: Thomas Percy Pemberton (1832-1921), Patience Frances (1844-1927), Viola C. (1879-1972), William W. (1866-1943) Also Annie Mason (1877-1967)
Grave 4.11
Four members of the Pemberton family are buried in this grave. the grandparents and great- grandparents of Antony Pemberton. For those of you new to the area, the Pembertons have been Lords of the Manor here since buying Trumpington Hall in 1675, and are still the largest landowner in the parish.
What is slightly confusing to the outsider is that none of the people buried here was born a Pemberton. Patience was born Patience Campbell in 1844, and became Patience Pemberton when her mother inherited the Pemberton estate. She married Thomas Percy Hudson, and they both took the Pemberton name when she in turn inherited from her mother. Then their daughter Viola and her husband William Warburton Wingate similarly became Pembertons when Viola inherited. These surnames have been used as local street names: Campbell (Lane), Wingate (Way and Close) and Hudson (Close, recently built in Long Road).
Percy Pemberton was a canon of York Minster. Canon and Mrs Patience Pemberton lived at Trumpington Hall from the early 1900s until they died in 1921 and 1927 respectively, and took an active part in the life of the parish, including giving the land for the Village Hall which was built in 1908.
William and Viola Pemberton lived at Trumpington Hall. William was a doctor of medicine; Viola was a founder of the Womens' Institute and was County President. They died in 1943 and 1972 respectively.
Annie Mason is also buried here. She was born in 1877 in Fulbourn, never married, and died in 1967. By 1911, she was working in Trumpington Hall as a housemaid, and remained there until she died at age 90, as housekeeper and then Mrs Pemberton's maid.
The lettering on the stone was cut by David Kindersley, who had done the Second World War additions to Eric Gill's work on the Trumpington War Memorial.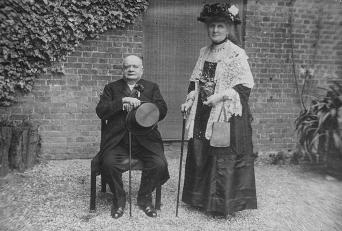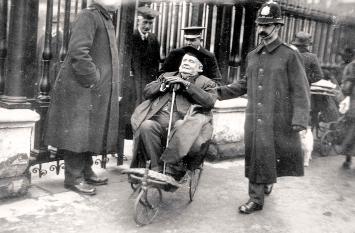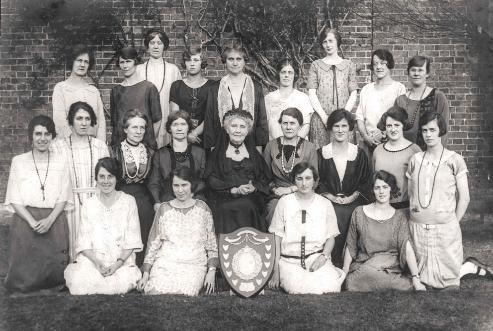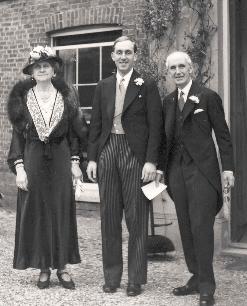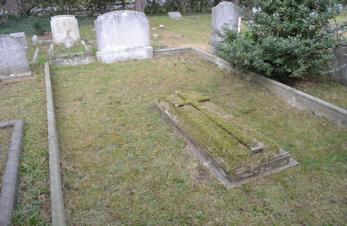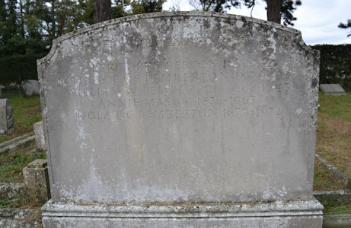 Peters family: Henry Peters (1850-1926) and Ann Elizabeth [Ilett] (1852-1932)
Grave 3.11
Henry Peters was christened at Trumpington in June 1850, parents were William (1821-1890) and Sophia [Careless]. William was 1851/71 a highway labourer and in 1881 also the sexton. They lived in Church Street, Trumpington. [Sexton – care of church maintenance, digs graves and rings bells.] Henry was at least the 5th generation of Peters in Trumpington.
Henry married Ann Elizabeth Ilett in May 1873 in Trumpington. Her father was Frederick Ilett, of Trumpington, and her mother, Hannah, from Newmarket. Henry Peters was a labourer, from 1861 census (when aged 11 years), except for the period 1874-1884, when he was the coachman for Ebenezer B. Foster, JP, Banker, and was living in the Coachman's Rooms at Anstey Hall. From 1901, they lived in Church Street, Trumpington. The Rooms may be the lodge, which has the date of 1865 on the Maris Lane facade.
Henry and Ann had 10 children: in 1911, Harry, the eldest, was at Aldershot Barracks with the Suffolk Regiment; Frederick William was a coachman at Little Shelford; Annie was married to Frank Stearn; Charles publican at the Unicorn; Dora married to Frank Bass; Alice married to Charles Robert Fordham; Frank a groom for a cab service; Sidney Ilett a gardener; Edith May, servant for Cecil Fitzgerald Foley, a retired Royal Navy Commander, at Windmill House, Bursledon, Hampshire, later married Fred Peace; and Edith's twin, Hannah, was born and died in 1894.
Five Peters' brothers served during World War I: Harry Peters, b.1874, Suffolk Regiment Regimental No. 3660; Frederick William Peters, b.1876, Queens Regiment Regimental No. 17780; Charles Peters, b. 1879, Army Veterinary Corps Regimental No. SE 5223; Frank Peters, b.1886, Suffolk Regiment Regimental No. 12313, he died of wounds September 1918; and Sidney Ilett Peters, b.1891, Royal Welsh Fusiliers Regimental No. 10815, he was killed in action November 1916.
This item was published in the Trumpington column of Cambridge Independent Press , Friday 8 December 1916 p. 5: "Mrs Peters of Trumpington, has received the news of the death in action on Nov. 9th of her son, Pte Sidney Peters, of the Royal Welsh Fusiliers. Pte Peters was a good all-round sportsman, being formerly a member of the Institute Football and Cricket teams, in which he showed conspicuous ability. He assisted to win the cricket cup in the Milton and District League, and was prominent in all contests in which Trumpington was engaged. This loss is greatly deplored by all who knew him, and the sympathy of the parish is extended to the parents and family. A memorial service was held on Sunday last in the parish church, when the Vicar paid a high tribute to Pte Peters, and assured the family of the sympathy of the whole parish in the great loss they had suffered. The captain of the company in which Pte Peters served, writing to Mrs Peters, says: 'I fear I have to tell you that your son, Pte S. Peters, of my company, was killed in action on Nov. 9th. He is buried in an English churchyard, about 2 miles behind the front line, with other heroes of England who too have given the supreme sacrifice for us all, and a cross has been erected over his grave. He had been with me now for some time, and I assure you that we have lost a very gallant soldier and Englishman. He was always cheery, never grumbled and was a great help to us all out here, for, added to these, he was a hard worker. A shell dropped very close to a small party, who were working on a road, and fortunately death for him was instantaneous – a true soldier's death. The whole company have sustained a loss and will miss him, and all ranks, officers, NCOs and men, desire me to convey to you their deepest sympathy in your great loss, and I sincerely hope that you will be given strength not to grieve over his death, but rather look back on him with pride, for 'How can man die better than facing fearful odds'.' " Buried: Bedford House Cemetery, West-Vlaanderen, Belgium
The following item was published in the Trumpington column of Cambridge Independent Press , Friday 4 October 1918 p. 5: "Frank Peters — Mr Henry Peters, of Trumpington, has received news that his son, Frank, of the Suffolk Regt., has died of wounds. He was admitted to the 55th Casualty Clearance Station with a severe wound in the arm, and suffering greatly from shock, on 25th September, and from the Chaplain's letter, there appeared no hope of his recovery from the first. He is buried in the Military Cemetery at Doignt [sic]. This is the second son Mr Peters has lost in the war. Frank, familiarly called "Cookey" by his mates, was of a very bright and cheerful disposition, and greatly liked by all who knew him." Buried: Doingt Communal Cemetery Extension, Somme
A photograph was published in the Cambridge Chronicle , 13 June 1923, p.9, of the Peters' family celebrating the Golden Wedding of Henry and Ann in 1923. Among the family group were their sons, Harry, Frederick William and Charles, and son-in-law, Charles Robert Fordham.
Henry died in May 1926 and Ann died in January 1932.
In October 1932, newspaper items reported the death in Cambridge of their son Frederick William Peters (56) of Selwyn Road, Cambridge, a gardener. He died of injuries caused when he was cycling and hit by a car driven by the captain of Cambridge University golf team. The collision occurred near the war memorial in Trumpington. At the Inquest the jury stated that they considered the car driven in a negligent manner [Source: Yorkshire Post and Leeds Intelligencer , Mon 17 October 1932 p. 4, accessed via British Newspaper Archive].
Lives of the First World War records:
Harry Peters;
Frederick William Peters;
Charles Peters;
Frank Peters;
Sidney Ilett Peters.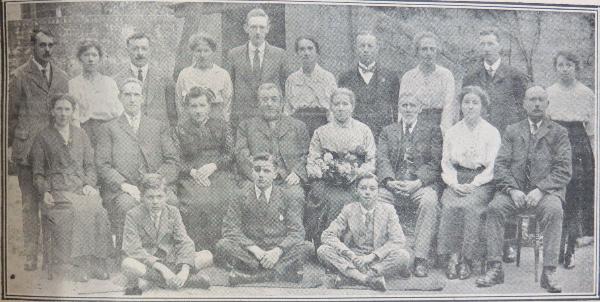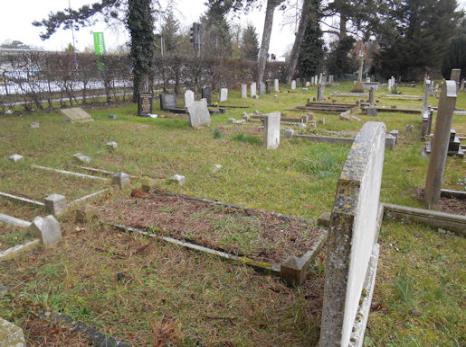 Newell family: Harry Newell (1889-1962) and Ellen [Dockerill] (1891-1969)
Grave 3.2
Harry James Newell was born in Cambridge in 1889, and Ellen Dockerill in Sawston in 1891. Harry's father George was a Londoner, and was a postman in Cambridge.
Harry and Ellen were married in 1913, and soon after that moved to Trumpington. To start with they lived at 146 Shelford Road, which they named "Stanley House". Their eldest child was Stanley or Stan Newell who in later years lived at Weighbridge House in the High Street, on the corner of Maris Lane. In 1926 the Newells moved to a house called Colon, opposite Weighbridge House, until Harry retired in 1954, when they moved again to a newly built house called Freshways in Hauxton Road. Members of the Newell family still live there.
In the 1920s Harry started up a cycle business in the High Street, on a site where the Shell garage now stands. That gradually developed into being a motor garage as well, and the sign advertised a "Motor Engineer and Cycle Agent". To quote from Peter Dawson: "His many activities included a taxi service deploying a series of large cars including, at one time, a Daimler – the uses included transporting cricket teams and as a hearse, although for funerals the coffin would be moved on a handcart pushed by Harry."
Harry died in 1962, and Ellen in 1969.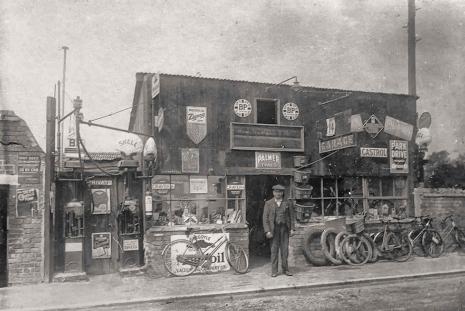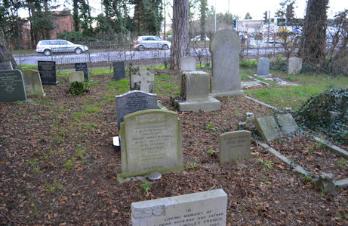 Porter family: Thomas Humphrey John Porter (1857-1936) and Sarah (Minnie) [Creger] (1857-1899)
Grave 8.6
Thomas Humphrey John Porter was born in 1857 in Lambeth, London. He married Sarah Creger in Cambridge in 1879.
There is a mystery concerning Sarah. On the 1891 census, it was recorded that she was born in New Orleans, USA. There is a 2006 query on an Ancestry message board where a person was attempting to discover more information on his great-great grandmother, Sarah Creger. He had her details as born New Orleans 29 September 1857, emigrated to England about 1875, allegedly following the death of her father, Henry (name given on marriage record to Mr Porter). "Family tradition is that Sarah's mother died, and her father remarried, and the new stepmother fell out with Sarah and sent her back to her (Sarah's) mother's family in UK. This I am unable to verify from UK records. They may however have been called Rayner." Unfortunately this query was not resolved.
In 1881, Thomas and Sarah Porter were living at 12 Milford Street, in the St Andrew the Less parish of Cambridge. They had a 5 month old daughter, Mary. Thomas was a solicitor's clerk (copyhold and general). Ten years later they were residing at Quy Villa, off London Road, Trumpington (in the current Gazeley Road). Between 1890 and 1896, Sarah had five children; Winifred Emily born and died 1890; Elsie Florence b. 1891; Thomas Francis b.1893; Gladys Alessine 1894; and Doris Miriam b.1896.
In 1901, Thomas was recorded as a widower: Sarah had died in 1899. The family were still at Quy Villa (a 9-roomed property) and Elizabeth Rayner, a widow aunt aged 83, was living with them. Perhaps she had been a relation of Sarah's. Thomas was 44 years old and a solicitor's managing clerk. He married a widow, Emily née Marshall, in 1905. Her father had been the publican at the Tally Ho during the period 1871-81. In 1911 the Porter family remained in Quy Villa.
During World War I, the son, Thomas Francis Porter, joined the Cambridgeshire Regiment as a Private; disembarked in France in February 1915; commissioned 2nd Lieutenant in the Royal Engineers in November 1915 and promoted through to Captain in 1919.
Meanwhile, in December 1914, 'old crocks' of Trumpington were setting up a Volunteer Training Corps. Mr Porter attended the meeting in January 1915 and was reported as supporting the resolution "That this meeting is in cordial sympathy with the Volunteer Training Corps movement and urges its claims on the active support of all able-bodied citizens who are ineligible for enlistment" [Source: Cambridge Chronicle , 5 February 1915, p.7]. G.R.C. Foster offered the free use of his courtyard for drilling purposes and a site for a miniature rifle range. Donations were gathered for the VTC uniforms. The results of shooting matches with teams from e.g. the Suffolk Yeomanry and the M.A.s Officer Training Corps were reported in the press. Three photographs of the 'Trumpington V.T.C. on Duty' were published in the Cambridge Chronicle in November 1915 – photo caption 'Patrol No.3 on duty guarding a railway bridge "Somewhere in Cambs" '. T.H.J. Porter is in the photographs.
Thomas and Emily continued living at Quy Villa until his death in 1936 and her death in 1937. Thomas was buried with his first wife, Sarah.
2nd wife Emily Marshall (1857-1937)
Emily had married Arthur Thomas Briggs in 1884 but he died in 1894, aged 43. She married Charles Herbert Holmes in the 1st quarter of 1897. He had lived at the Green Man, Trumpington in 1881-91. However, Charles died in October of that year, aged 35. Emily was buried with her second husband, Charles. The grave is adjacent to that of Thomas and Sarah Porter.
Lives of the First World War record for Thomas Francis Porter.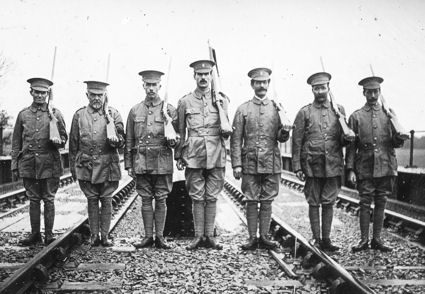 This photograph was reproduced in Cambridge Chronicle, 17 November 1915, page 7, with a caption giving the names. The individuals have been identified as (left to right): 1) W.R. Haslop; 2) T.H.J. Porter; 3) P.J. Collins; 4) Sergt P.R. Robinson; 5) F.W. Lander; 6) I. Parker; 7) R. Haslop.
Lawrence family: Elijah Lawrence (1841-1931), Elizabeth [Willers] (1843-1902), Elijah Lawrence (1877-1955), (Bertha) Ellen [Lawrence] (1872-1965)
Grave 8.7
Another superficially confusing family. We have here Elijah Lawrence, born 1841 in Suffolk, and his wife Elizabeth Willers born 1843 in Harston. In addition, there is another Elijah Lawrence born 1877 in Cherry Hinton and his wife Bertha Ellen Lawrence (usually known as Ellen) born 1872 in Trumpington. The family connection is twofold: Ellen was Elijah and Elizabeth's daughter, and Elijah junior was Elijah senior's nephew.
Elizabeth was the sister of George Willers, who had the nursery business on the corner of Latham Road. Their elder daughter Alice married George Willers' son George, and they lived at Sweetbriars, 115 High Street, with their daughter Kitty.
Elijah senior was a blacksmith; the family moved to Trumpington in about 1871 and to start with lived in the High Street opposite the blacksmith's shop which was on the corner of Church Lane, where Bidwells estate agents offices now stand. Elizabeth died in 1902 and soon afterwards Elijah moved into the newly built 1 Alpha Terrace with his daughter Ellen, who was a music teacher.
Ellen married Elijah junior in 1915 (that was the second cousin marriage in the family), and they both lived in Alpha Terrace with her father, who handed over the blacksmith's business to his nephew. Elijah senior died in 1931, his nephew Elijah in 1955, and Ellen in 1965.
Darwin family: George Darwin (1845-1912) and Maud [Du Puy] (1861-1947), and Gwen Raverat (1885- 1957)
Grave 10.5
Sir George Howard Darwin was born in 1845 in Kent, the son of Charles Darwin and his wife Emma. Maud Du Puy was American, born in 1861. Their daughter Gwendolen Mary was born in 1885 in Newnham, and married the French artist Jacques Raverat in 1911; Jacques died in 1925.
George Darwin was a mathematician and astronomer, a fellow of Trinity College and Professor of Astronomy at the University. Gwen Raverat was a wood-engraver and author, and is perhaps best remembered today for Period Piece: a Cambridge Childhood . This describes the life of the Darwin family in the late 19th and early 20th centuries, centred on their house Newnham Grange, now Darwin College.
Why they are buried here is something of a mystery: there is nothing in Period Piece to suggest any connection to Trumpington. The Darwins' son (unnamed) who died in 1899 age 5 days and their granddaughter Harriet Keynes who died in 1918 age 3 hours are both buried in the far end of this churchyard. And their housekeeper, "Mrs" Louisa Phillips, who figures in Period Piece , is also buried here, next to the two children.
Sir George Darwin died in 1912 and Lady Darwin in 1947; she was cremated and her ashes are interred here. Gwen Raverat died in 1957. The lettering on this stone is also by David Kindersley, first asked about by Gwen after her mother's death – "I want good plain lettering" – and finally cut after Gwen herself died.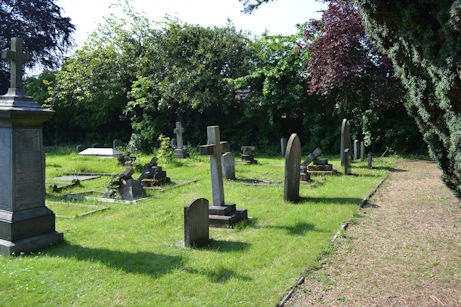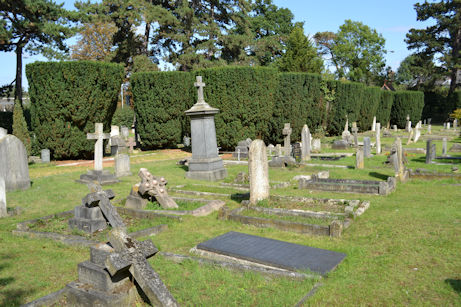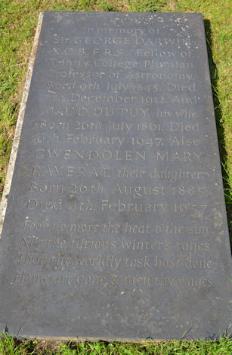 Scott family: Charles Scott (1844-1917) and Matilda [Harradine] (1846-1929)
Grave 11a.1
Charles Scott was born in 1844 in Waterbeach, and Matilda Harradine in 1846 in Trumpington, of a well established village family.
Before their marriage in 1865, Matilda was a laundress, in common with most of the working women of Trumpington. Charles was a bricklayer and builder, and also for a time the landlord of the Coach and Horses Inn. He built the early stages of Alpha Terrace, and from about 1880 they lived in what was the first house built, on the left (now no. 3). From about 1910 onwards they lived at the first house on the right (no. 22) with the builders' yard at the side and back. It is said that Alpha Terrace was at one stage known as "Scott's Row". [working class?]
Charles died in 1917, and Matilda in 1929. They had 13 children, but only one stayed in Trumpington, and his only Trumpington grandchild was killed in France a few days after D-Day in 1944.
Venn family: John Venn (1834-1923), Susanna [Edmonstone] (1844-1931), John Archibald (1883- 1958), Lucy [Ridgeway] (1882-1958)
Grave 8.16
John Venn was born in Yorkshire in 1834, and his wife Susanna Edmonstone in Wiltshire in 1844.
John Venn was a logician and philosopher, with a degree in mathematics from Gonville and Caius College. He became a fellow and then president of Caius. He was ordained in 1859, but resigned from the clergy in 1883, having concluded that Anglicanism was incompatible with his philosophical beliefs. They lived at Vicarsbrook, in Chaucer Road, from 1911 until their deaths (John in 1923 and Susan in 1931).
If you are wondering where you have heard the surname "Venn" before, it is likely to have been in one of two contexts. One is that he started the compilation of the definitive catalogue of Cambridge undergraduates, Alumni Cantabrigienses, but more likely is that he was the inventor of the Venn Diagram, used in set theory in Mathematics.
Their son John Archibald Venn and his wife Lucy Ridgeway are also buried with them. Dr John Archibald was born in Cambridge in 1883, and Lucy in Fen Ditton in 1882. He was an agricultural economist, and was a fellow of Queens' College, where he became President (that is, Master) in 1932. He was chairman of Hobson's Conduit Trust from 1938 to 1941. Both John Archibald and Lucy Venn died in 1958.
See illustration of a Venn diagram.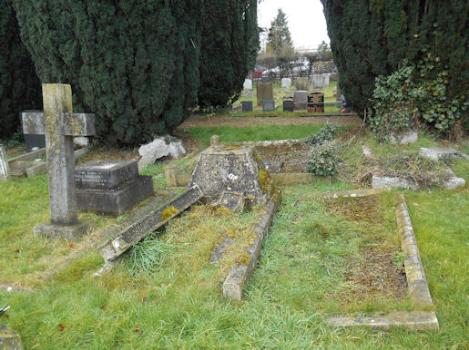 Allbutt family: Sir Thomas Clifford Allbutt (1836-1925) and Susan [England] (1841-1936)
Grave 9.16
Clifford Allbutt was born in July 1836 in Dewsbury, Yorkshire. His parents were the Rev. Thomas and Marianne Allbutt. He was educated at St Peter's School, York, and Gonville and Caius College, Cambridge. He graduated with 1st class honours in natural sciences at Cambridge and continued with his clinical education at St George's Hospital, London, graduating as M.B. in 1861. He practiced medicine in Leeds – Physician at the General Infirmary and member of Council of the School of Medicine from 1864-1884. During this period his career was notable for the invention in 1866/67 of a short stemmed clinical thermometer (as is used today, 6 inches in length as opposed to the 1foot long model), his original observations on the use of the ophthalmoscope, on syphilitic disease of the cerebral arteries and on the effects of strain on the heart. He married Susan, daughter of Thomas England, merchant, of Headingley, Leeds, in 1869. They had no children. After 28 years in Leeds, he spent a 3 year period as a Commissioner for Lunacy in England & Wales.
While at St George's, he developed a friendship with George Henry Lewes, which lasted until George's death in 1878.The novelist George Eliot, writing of her tour in Yorkshire with Lewes in 1868, said, "We went on from Leeds to Bolton. Our visit to Yorkshire was extremely agreeable. Our host, Dr Allbutt, is a good, clever and graceful man, enough to enable one to be cheerful under the horrible smoke of ugly Leeds…" He is thought to be the model for Eliot's Dr Lydgate in Middlemarch .
In 1892, he was chosen to succeed Sir George Paget as Regius Professor of Physic at Cambridge. One of his many achievements in this position was his editorship of the multi- volumed work System of Medicine , which was for many years the 'doctor's bible' (8 vols, 1896 to 1899, with a second edition in 11 vols, 1905 to 1911).
Clifford Allbutt and his wife, Susan, lived at St Rhadegund's, Chaucer Road, from 1895. He played a role in Trumpington life, attending public meetings and donating to the fund for VTC uniforms, etc. In The Times obituary, it mentioned that he was a frequent contributor to the Letters column and, eight days before his death, he had protested against the disfigurement of Lakeland, where he said he 'had walked almost every year since the age of 14'. Perhaps illustrating his love of the Lakes, in 1911 he was staying in 24 The Heads, Keswick, with Susan and their visitor, Alice Mabel Whetham (also a Chaucer Road resident).
He continued as Regius Professor until his death in February 1925. Again from The Times obituary "Honours were showered upon him by scientific and learned bodies: and the letters which he was entitled to place after his name would exhaust the alphabet". Susan died in December 1936.
A portrait of the Rt Hon. Sir Clifford Allbutt was painted by William Orpen. It was given to Clifford Allbutt by subscribers in 1920 and it was placed on loan in the Fitzwilliam Museum. In 1961, the portrait was deposited on indefinite loan at Addenbrooke's Hospital. It has been on display in the Medical Library, within the Clinical School building [Source: http://www. fitzwilliamprints.com/image/929802/orpen-william-newenham-montague-sir-clifford-allbutt-by- william-orpen ].
Sources: Royal College of Physicians. Lives of the Fellows. Munk's Roll. vol. IV, http: //munksroll.rcplondon.ac.uk/Biography/Details/68
The Times (London, England) Monday, Feb. 23, 1925, p.19, https://en.wikisource.org/wiki/The_Times/1925/Obituary/Thomas_Clifford_Allbutt
Mynott family: Albert Mynott (1896-1925) and Bertie (1902-1932)
Grave 9.17
Albert Mynott was born in Trumpington in 1896. His parents were Eliza Chamberlain (maiden name, Stearn, b. 1865, Bassingbourn, Cambs) and Francis Frederick Mynott (b. 1864, Helions Bumpstead, Essex). They had married in Trumpington in 1888. Albert had 7 siblings: Frederick George; Hilda May; Margaret Eva; Frank; Bernard; Bertie; and Grace. In 1901-1911, Francis was a coal carrier. He was a member of the Trumpington Brass Band from 1899 to 1910 – solo cornet and a committee member.
In 1911 Albert, aged 15, was a milk deliverer as was his elder brother, Frederick. The family were living on London Road, Trumpington, adjacent to the Coach and Horses.
During World War I, Albert and his three brothers served in the British Army: Albert b. 1896 Cambridgeshire Regt, Regimental No. 325816; Frederick George b. 1889 Cambridgeshire Regt, Regimental No. 4830; Frank b.1898 Middlesex Regt, Regimental No. G/52101, killed in action, 16 October 1917; and Bernard b.1900 Machine Gun Corps, Regimental No. 193263.
Albert enlisted at the Cambridge Corn Exchange in September 1914, when his occupation was a draper's assistant. On joining up he became a Private in the 1st Battalion of the Cambridgeshire Regiment. Part of a letter dated 1915 from Albert Mynott to his mother was reproduced in Cambridge Independent Press , Friday 2 April 1915, p. 6, under the title 'All from Trumpington are Quite Safe': Pte Mynott, of the A Company, Cambs. Regt., in a letter to his mother, who lives in Trumpington, says: "We had a taste of battle on Sunday night, and I am glad to say that all from Trumpington are quite safe. We were in the trenches all day Sunday, and about 4.30 the Germans began to shell us. The shells fell like rain, and we had to retreat into another trench, and there we were firing all night until we were relieved early on Monday morning. We have lost several men, but the Germans lost a lot. It is a sight to see all the houses and churches knocked to pieces. We are now having a few days' rest a decent way from the firing line, and we are glad of it. The parcels I had came just right, for you see we were hungry after being in the trenches two nights. I am glad to say I escaped unhurt. Three of our chaps had narrow escapes. Bullets passed through their hats and just grazed their heads, and one had his rifle smashed in his hands."
He was promoted to Sergeant and was awarded the Military Medal in 1917. An item was published in the Trumpington column of the newspaper: "Sergt A. Mynott of the Cambs Regt, son of Mr and Mrs Mynott, of Trumpington, who was severely wounded in the right thigh on July 31st, is now lying in Dunston War Hospital, Northampton. He has been awarded the Military Medal. He had a party of 50 men pushing some deadly gas cylinders on a light railway over a bridge up to the line, when the enemy opened fire as the men were crossing. It was dangerous to leave the cylinders, our own troops might have been gassed. Sergt Mynott rallied the men, who had scattered, and got the cylinders over the bridge out of danger without mishap. Sergt Mynott joined the Forces in August 1914 and has served 2 1/2 years in France. He is 21 years of age." [ Cambridge Chronicle , 31 August 1917, p. 8, Cambridgeshire Collection]. His photograph was published a couple of weeks later in the Cambridge Chronicle , 12 September 1917, p. 7, with the caption "Sergt A. Mynott, Trumpington (Cambs Regiment), wounded and awarded Military Medal".
Albert received his commission as 2nd Lieutenant on 4 February 1919. He left the army on 9 October 1920.
He was receiving an army pension at the time of his death at his parent's home in Trumpington in November 1925. The cause of death was disseminated sclerosis and motor asthenia.
His brother – Frank Mynott
The following was published in the Trumpington column of Cambridge Independent Press , Friday 16 November 1917, p. 5: — Pte. F. Mynott – With reference to the death of Pte Frank Mynott who was killed in action on October 19th, by a shell, his officer in writing to Frank's mother says: "I was more than sorry to lose him, because he was a brave and cheerful boy." His Section Commander writes: "He was about the most popular boy of his section, if not of the platoon. It is lads of his sort that help us to win the war, but unfortunately many make the supreme sacrifice in doing so."
His brother – Frederick George Mynott and his wife, Rose.
Example of Trumpington's women's service during World War I – from 3 April 1918 to 30 May 1919, Rose Mynott, of 17 Alpha Terrace, was a cook at the 1st Eastern General Hospital, Cambridge [British Red Cross index cards: Mrs Rose Mynott]. (The Hospital was on the site of the current University Library – previously cricket grounds shared by Kings and Clare Colleges.) Rose died in December 1960 and is buried in Trumpington Churchyard Extension (grave 1b.3).
Bandsman plays the Last Post at the Unveiling of Trumpington War Memorial
During the ceremony of the unveiling and dedication of Trumpington War Memorial in 1921, following the placing of a laurel wreath from relatives of the fallen on the Memorial, the Last Post was to be sounded by Bandsman Fred Mynott and others of the Cambridge Town Silver Band (Source: Trumpington War Memorial. Ceremony of Unveiling and Dedication [programme], Sunday 11th December 1921 p.10). Fred's brother, Frank Mynott, was among those men commemorated on the War Memorial.
Lives of the First World War records:
Frederick George Mynott;
Albert Mynott;
Frank Mynott;
Bernard Mynott.
Whetham family: Mary Ann Whetham (1843 – 1937), her son Sir William Cecil Dampier Dampier (1867- 1952), and her daughter, Alice Mabel Dampier (1870-1956). Also Edith Holt Whetham (1911-2001)
Grave 10.19
Mary Ann Dampier was the daughter of Thomas Dampier, glove manufacturer, of Yeovil. In 1862 in Yeovil she married Charles Langley Whetham. They had two children, William Cecil Dampier Whetham and Alice Mabel Whetham, both of whom in later life took the surname Dampier. In 1871 and 1881 the family lived in Hampstead. Charles was a manufacturer of sail cloth and fishing nets. He died aged 51 in Hampstead in 1890. Mary Ann died aged 94, while residing at Upwater Lodge, 23 Chaucer Road, in 1937.
William Cecil Dampier Whetham was a scientist and agriculturalist. He obtained first classes in both parts of the natural sciences tripos (1888-89) while at Trinity College, Cambridge. Influenced by J.J. Thomson, he undertook research at the Cavendish Laboratory, which earned him a college fellowship in 1891. In 1901 he was elected Fellow of the Royal Society. He inherited the Dampier family property in 1916 and farmed the land on the Hilfield estate in Dorset between 1918 and 1926, developing an interest in agricultural economics. He joined the council of the Royal Agricultural Society in 1921, becoming vice-president in 1948. He chaired a number of agriculturally related committees. In 1931 he was knighted for his services to agriculture and changed his surname to Dampier. He became first secretary of the Agricultural Research Council [Source: Oxford Dictionary of National Biography].
In 1897 he had married Catherine Durning Holt, daughter of Robert Durning Holt, shipowner, of Liverpool. Catherine had been, in 1889, one of the earliest students at Newnham College. They lived at Upwater Lodge, Chaucer Road, from 1902. They had one son and five daughters. Among his extracurricular activities was his ardent support for the Cambridge Preservation Society. He died at the Evelyn Nursing Home in December 1952: his wife had died in March of that year, in Exeter. There is a memorial to him in Trinity College Chapel – translation of the Latin text "This inscription commemorates William Cecil Dampier Dampier, Fellow of the College for sixty-one years. A kindly, good-natured man, he carried out the duties of Lecturer, Tutor and Member of the Council with prudence. He was a researcher into the natural sciences, turning later to the history of science. He was also a valued advisor to the Ministry of Agriculture. He died in the eighty-fifth year of his age on 11th December 1952."
[Source: http://trinitycollegechapel.com/about/memorials/brasses/dampier/;
portrait: Sir William Cecil Dampier Dampier (né Whetham) dated 1943, http://www.npg.org. uk/collections/search/portrait/mw110099/Sir-William-Cecil-Dampier-Dampier-n-Whetham]
Their daughter, Edith Holt Whetham was of a frail constitution, having spent as a child two years in bed, following a fall. She went to Newnham in 1930 and unusually for a woman in that era, she read economics. It was at this time that Maynard Keynes was developing his economic theory and she remembered attending his lectures at the beginning of which he would say "I thought again and you should ignore what I said last time". Like her father, Edith's interest was agricultural economics. She held various posts in the Ministry of Agriculture, the Economist, the Ministry of Food and then Gilbey Lecturer in the history and economics of agriculture at Cambridge until 1963. She then resigned her post to follow her interest in the developing world. She held a professorship at the Ahmadu Bello University, Zaria, Nigeria. She published a number of important books, included co-authoring A History of British Agriculture, 1846-1914 . In 1966 she was appointed to the executive of the Agricultural Economics Society and elected president in 1971. In 1998 she joined more than 400 former Cambridge women students at Newnham College for a celebration and long-delayed graduation. These were women who had sat their final exams more than half a century before but had not been allowed to take part in graduation ceremonies and only received 'titular' degrees. Full degrees were not awarded to Cambridge women until 1948. A BBC News item quoted Edith as saying "It was a man's university and very much a man's club. They definitely didn't want that atmosphere disturbed." But such were the prevailing attitudes, she recalled, that women undergraduates were not resentful about the discrimination. "It didn't occur to us" she said. Edith died in January 2001. [Source: BBC News , 3 July 1998, Education, Cambridge women return for their rights. Including photograph of Edith Whetham http://news.bbc.co.uk/1/hi/education/125847.stm; The Guardian , 15 February 2001, Obituary http://www.theguardian.com/news/2001/feb/15/guardianobituaries ]
William's sister, Alice Mabel Dampier, spinster, lived at Upwater Lodge, Chaucer Road. She died in Sept 1956 at the Evelyn Nursing Home, Cambridge. She had been visiting Sir Clifford Allbutt and his wife, Susan, (also residents of Chaucer Road), in Keswick, at the time of the 1911 census.
Gray family: Alan Gray (1855-1935) and Maude [Vickers] (1865-1953)
Grave 9.21
Alan Gray was born in 1855 in York. He was educated at St Peter's School, York, and Trinity College, Cambridge. From 1883 until 1893, he was Director of Music at Wellington College, Berkshire. In 1887 he married Maude Vickers in Kensington. She was born in Ecclesall Bierlow, Sheffield, in 1865. They resided in Church Street, Sandhurst, Berkshire, in 1891, where Maude was at home with two sons, Basil (b. 1888) and Maurice (b. 1889). Both children had been born in Kensington. Their third son, Edward Jasper, was born in Cambridge in 1898.
In 1911, the Gray family were residing at York House, Chaucer Road. The move to Cambridge was a result of Alan taking up the appointment of organist at Trinity College, Cambridge, in 1893, and he remained in that post until 1930. Dr Gray drew up the specification for the new Trinity organ which was completed by Harrison and Harrison in 1913. This organ remained until 1976, when it was superseded by the present Metzler organ. He was well known for his compositions: these include liturgical music, works for organ, violin solo, and for voice and orchestra. [Source: Wikipedia 15.05.2016]
Their eldest son, Basil Gray, was an engineer. He may have been working in Portsmouth during World War I. He married Dorothy G. Ireland in Portsmouth in 1917. He was a director of British Steel Corporation at the time of his mother's death. Maurice Gray was artistically talented. In 1913 he exhibited a portrait of Mr Sedley Taylor at the Cambridge Drawing Society exhibition. Maurice had attended Trinity College for a year in 1908 but then left to study at the Slade School of Art. He was in the Inns of Court O.T.C., and on the declaration of war he joined the 2nd Dragoon Guards (Queen's Bays) and went to France in June 1915. Subsequently he was transferred to a Machine Gun Squadron. He was killed in action in August 1918. Their youngest son, Edward Jasper Gray, was educated at Winchester College, which he left in October 1916. He joined the Army almost immediately and went to France in June 1917. He was killed by a sniper on 31 March 1918.
Alan died at York House, Chaucer Road, in 1935 and Maude, of 10 Chaucer Road, died in the Evelyn Hospital in 1953.
There is a memorial to Dr Alan Gray in Trinity College Chapel – Translation of the Latin text – "Sacred to the memory of Alan Gray, famous for his music, who served as Organist in this College for thirty-seven years, winning great praise, and was made an Honorary Fellow. He was outstanding in dignity, kindliness and stature. He was born in York in 1855 and died here in 1935. He is greatly missed." [Source: Trinity College Chapel with sketch of Dr Gray by Paul Drury, dated 1927
http://trinitycollegechapel.com/about/memorials/brasses/gray/]
Lives of the First World War records:
Maurice Gray;
Edward Jasper Gray.
Haslop family: Robert Haslop (1876-1958) and Lily Louisa [Parker] (1876-1940)
Grave 11a.9
Robert Haslop was born in Trumpington in 1876. His parents were Henry and Phoebe Haslop and they lived on London Road, Trumpington. Robert was at least the 8th generation of this Haslop family in Trumpington.Robert married Lily Louisa Parker in 1897 and their only son, Ernest Robert, was born in 1898. From 1898 to 1941 Robert was a gardener. In 1901they lived on Mill Road (Long Road) and then in 1911 they were on London Road.
From 1892 to 1910, Robert Haslop was a member of the Trumpington Brass Band. The band was started in 1864 as the idea of the schoolmaster, T.R. Higham, in collaboration with the vicar, Professor J. Grote. Robert's father, Henry Haslop was an early member of the band and was Treasurer for a period. A photograph of the band, dated to early 1880s, was reproduced in the Cambridge Chronicle , 21 January 1925, p. 9. David Howard and Robert Haslop, who was the secretary from 1900 to 1910, produced notes on the history of the Brass Band .
Robert and Lily's son, Ernest Robert Haslop, was employed as a bookseller assistant at Galloway and Porter, Sidney Street, when he joined up in November 1916. He went to France in August 1917. An item published in the Cambridge Daily News , Monday 5 November 1917, p. 3, under the heading of 'Local casualties – "Pte. E. R. Haslop, – Mr and Mrs Haslop, of 28, Panton Street (late of Trumpington), have received information that their only son, Pte. E. R. Haslop, of the London Fusiliers, has been wounded in the hand, and is also suffering from trench foot. Pte. Haslop, who was 19 last May, joined the Army in November 1916, and went to France in August last. Previous to joining up he was in the Trumpington V.T.C."
A further item was published in Cambridge Independent Press , Friday 26 April 1918, p. 8 – "Pte. E. R. Haslop, – News has just been received by his parents that Pte. E. R. Haslop, R. F., of 20 Panton Street, is a prisoner of war. Before joining up, Pte. Haslop was with Messrs Galloway and Porter, booksellers, of Sidney Street."
After World War I, Robert and Lily lived at Ernestine, 122 Shelford Road. Lily died in March 1940. Robert married a widow, Sarah Cambridge MacKenzie (née Mansfield), in 1941.
Robert died in August 1958.
Sarah Haslop, died in April 1953, aged 75. Buried in Grave 18.12.
Lives of the First World War record for Ernest Robert Haslop.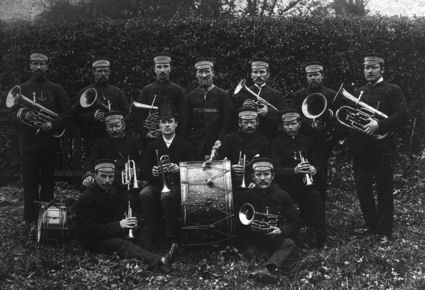 Henry Haslop is standing second from left, Robert Haslop's father.
Prior family: Oliver Herbert Phelps Prior (1871-1934) and Camille Wilhelmine [Mottu] (1883-1970)
Grave 8.23
Oliver Herbert Phelps Prior was the son of an English clergyman, William Phelps Prior, who worked in Switzerland. Oliver was born in 1871 in Vevey, Switzerland. He studied in Lausanne, Gottingen, Freiburg and Halle. After receiving his doctorate at the University of Lausanne in 1913, Oliver came to England and was a high school teacher at the Forest School, the Berkhamsted School, the Dulwich College and Rugby School [Source: Wikipedia 18/05/2016]. While a schoolmaster at Rugby, he married Camille Wilhelmine Mottu in Teddington Parish Church on 1 August 1907. She had been born in Teddington, Middlesex, and her father, Charles Jacques Mottu, was a banker. In 1911 they lived at 82 Dimchurch Road, Rugby, in a 10-roomed property, and they had a 2 year old son, Oliver Robert Charles Prior (b. 1908).
In 1919 a senior professorship in the study of the French language was established at Cambridge University with a donation from the Worshipful Company of Drapers. Oliver H.P. Prior, who had been teaching at the University of London from 1915, was the first holder of the Draper's Professor of French. He was a Fellow of St John's College [Source: Wikipedia 18.05.2016]. Oliver and Camille lived at 8 Scroope Terrace, Cambridge, until he died on 18 July 1934. The National Portrait Gallery hold four photographic portraits of Oliver dated 21November 1933 [Source: http://www.npg.org.uk/collections/search/person/mp101811/oliver-herbert-phelps-prior ].
In 1925 he had founded the Professor Prior's Modern Language Society. This was renamed The Oliver Prior Society after his death. The Society provides a forum where professional teachers of modern languages can meet with members of the Modern and Medieval Languages Faculty at the University of Cambridge and it still hold meetings for members to gain insight into the latest developments in research within the University [Source: Oliver Prior Society https//oliverpriorsociety.org/].
Camille died in Northamptonshire in 1970.
Robinson family: Percy Robinson (1878-1943) and Margaret [Amps] (1878-1966)
Grave 10.26
Percy Robert Robinson was born in 1878 in Cambridge, and his wife Margaret Emma Amps in 1878 in Chesterton.
Having been an assistant schoolmaster at Chesterton, Percy was appointed Schoolmaster at Trumpington in 1908, a post he then held until his death, in the classroom, in 1943. He was fondly remembered by not just the pupils at the village school, but also the wider community. He started a Scout Troop, was active as a Sergeant in the local Volunteer Training Corps during the first world war, and, vitally for the Local History Group, used to give lectures about the parish using lantern slides. Those slides, together with some of his notes, were presented to the then Vicar, Nicholas Thistlethwaite, by the Robinsons' son Reginald in 1995. The re-creation of one of these lectures prompted the formation of a History Group, and here we are today.
Mrs Margaret Robinson appears on the roll of Red Cross volunteers in 1916, as a member of the Trumpington Work Party, with duties "mending garments". After Percy died she moved into Cambridge, and died herself in 1966.
British Red Cross index cards: Mrs Margaret Emma Robinson.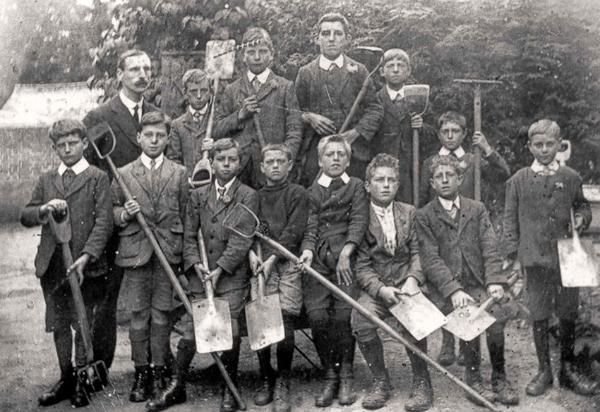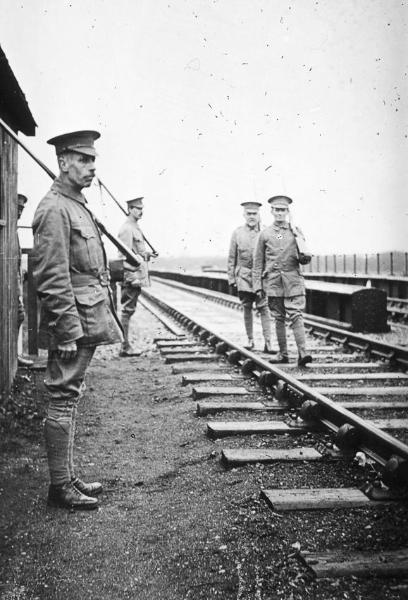 The individuals in the photograph have been identified as (left to right): 1) P.J. Collins (sentry); P.R. Robinson (sergeant); T.H.J. Porter (patrol); W.R. Haslop (patrol).
Whittle family: Claude Howard Whittle (1896-1986) and Phyllis Lena [Fricker] (1899-1979)
Grave 24.4
Claude Howard Whittle was born in Felixstowe in May 1896. His parents were Tom Whittle, a schoolmaster, and Edith Annie, daughter of Samuel Thompson, also a schoolmaster. In 1915 he went to Queen's College, Cambridge, and continued his clinical education at King's College Hospital, London, qualifying in 1920.
In 1923 Howard took up the post of assistant clinical pathologist at Addenbrooke's Hospital. He was appointed honorary assistant physician to Addenbrooke's and physician in charge of the skin department in 1929. During the war years, he was the only dermatologist in the Eastern Counties. In 1948 he developed dermatological services in Cambridgeshire, opening clinics in Peterborough, Wisbech, Bury St Edmunds and Bedford. He was president of the British Association of Dermatologists in 1954 and of the Royal Society of Medicine in 1961-62. After his retirement he helped to found the British Society for Mycopathology and was president 1973- 76.
Howard married Phyllis Lena Fricker in St Albans in 1923. She was the daughter of a manufacturing chemist and was born in Wandsworth, London, in May 1899.They moved to Cambridge and had three sons. They resided at Brookfield, Trumpington Road, from 1936- 1946, when they moved to live at 41 Newton Road. (They moved into Brookfield after the death of Samuel Reuben Ginn, solicitor.)
Howard's obituary listed some of his many interests outside medicine, including being commodore of Cambridge Sailing Club, vice-president of Cambridge Drawing Society, member of Cambridge Philharmonic choir and a campaigner for the Cambridge Preservation Society [Source: Royal College of Physicians. Lives of the Fellows. Munk's Roll. Vol. VIII http: //munksroll.rcplondon.ac.uk/Biography/Details/4741 ].
Phyllis died in 1979 in Cambridge and Howard died in 1986.
Headstone inscription: "Verily, never was I not. Nor thou, nor all of these, nor ever shall we cease to be." The phrase comes from the Bhagavad Gita, a 700-verse Hindu scripture, within which Krishna teaches the essential immortality of all things.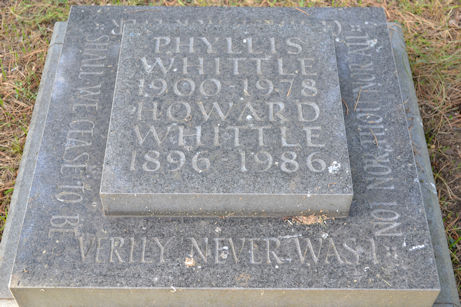 Arthur Sewell (1841-1947)
Grave 11a.16
Arthur Sewell's uncle, the Rev. William Sewell was a co-founder, in 1847, of Radley College, a boarding school for boys at Radley, near Oxford. Arthur Sewell, born on the Isle of Wight in 1841, went to Radley College at the age of 8 and stayed 12 years, during which time his uncle was Warden for a period. It was 76 years before Arthur returned to Radley College and that was for the 90th anniversary of its foundation.
In 1862 Arthur matriculated at New College, Oxford; choral scholar 1862-1866; ordained in 1866; and chaplain of the Order of St John of Jerusalem from 1871. He was headmaster at preparatory schools from 1871-1905. In 1876 he married Mary Lee Waring, born 1851, daughter of H. F. Waring, of Lyme Regis. Arthur and Mary married in Clifton, Gloucestershire. They had three sons and a daughter. From 1907-1922 he was rector of Sutton Veny, Wiltshire, and it was during this period that Mary died, in 1915.
He was remembered in the Radleian newsletter as a charming old gentleman, with an extremely clear memory and a fund of anecdotes, which he did not spoil by repetition. He recalled with vividness his memories of Queen Victoria in her carriage in the Isle of Wight, the Prince Consort accompanying her on horseback. His father, Robert Burleigh Sewell, of Newport, Isle of Wight, was the solicitor who negotiated the sale of the Osborne property to the Crown.
He celebrated his 106th birthday on 14 October 1947. He had moved from Salisbury to live with his son, Lieutenant-Colonel Robert Beresford Seymour Sewell, F.R.S., at 18 Barrow Road, Cambridge, when his health began to fail. He died in the Evelyn Nursing Home on 13 November 1947, one month after his birthday. In The Times obituary, he was described as having been the oldest clergyman of the Church of England, the oldest Radleian, and the oldest member of Oxford University
Sources: The Times (London, England), Friday Nov. 14, 1947, p.6; The Radleian , no. 608,
March 1948 http://radleyarchives.co.uk/browse/magazines/the-radleian/the-radleian-1940- 1949/the-radleian-no608-march-1948/98581; photograph with his brother Robert c1861 http: //www.radleyarchives.co.uk/browse/photographs/william-woods-album-1850s-1860s-individual- portraits/144140; and photograph taken on Arthur's 100th birthday, Nov. 1941
http://www.radleyarchives.co.uk/browse/photographs/william-woods-album-1850s-1860s- individual-portraits/144137
Rayner family: Robert John Rayner (1896-1950) and Lilian May [Walpole] (1900-1987)
Grave 15.17
Robert John Rayner was born in Trumpington in 1896. His parents were Robert Rayner and Eliza Rayner née Carter. He was the 5th generation of this Rayner family in Trumpington. They lived in Church Lane and his father was a horse keeper on a farm. Robert John had 7 siblings but the youngest, Ethel, born in 1906, survived for only a few days. A family photograph of Robert John Rayner with his parents and 5 siblings (George, Annie, Olive, Nellie and Lou) was taken about 1900 in the garden of their home on Church Lane (a part now called Grantchester Road), near the school. Robert John was the young boy standing in the middle of the picture with his eldest sister Annie (b.1888) behind him. The image was published in Trumpington In Old Picture Postcards by Shirley Brown, on page 71, published: Zaltbommel/Netherlands: European Library, 1986. The photograph had been loaned to Shirley by Audrey King née Rayner.
In 1911 Robert John Rayner was recorded as living at home in Church Lane and employed as a domestic under-gardener. He enlisted at Cambridge in September 1914. "Robert Rayner (18) gardener, Trumpington" was one of three entries of Trumpington gardeners in the list of men, who had joined Lord Kitchener's Second Army, enlisting at Cambridge Corn Exchange. The list was published under the heading 'Patriots All!' in Cambridge Chronicle , 11 September 1914, p. 6. (Herbert William Green, who was under-gardener to Lieut. G.R.C. Foster, of Anstey Hall, was one of those 3 gardeners – suggesting that Robert may have also worked at Anstey Hall.) Robert was a Private in the 2nd Battalion of the Suffolk Regiment and he was then attached to the Royal Engineers 250th Tunnelling Company. He entered France on 17 February 1915. The International Committee of the Red Cross record indicated that he had been taken prisoner of war at Longueval on 20 July 1916; he was unwounded; had been transferred from Friedrichsfeld PoW Camp and, on 17 December 1917, was at Munster III PoW Camp. While a PoW, he worked in salt mines [Source: Audrey King, daughter, June 2016]. "Pte. R. Rayner, Suffolks, Trumpington" was in the repatriated prisoners of war list, sent by the Cambs. and Isle of Ely Prisoners of War Help Committee to the newspaper and published in Cambridge Independent Press, Friday 20 December 1918, p. 8.
He married Lilian May Walpole in Trumpington in June 1923. Lilian was born in East Dereham, Norfolk, when Robert Rayner's occupation was gardener. From 1929 they lived in Church Lane, Trumpington. He was a keen sportman, cricket, table tennis, etc., and was Secretary of the Trumpington Men's Institute for a number of years [Source: Audrey King].
Robert died in 1950. In 1953 Lilian moved from Church Lane to live at 46 Bishops Road, Trumpington. She died in 1987.
Lives of the First World War record for Robert John Rayner.
Matthews family: Ellis Matthews (1859-1898) and Elizabeth [Wells] (1863-1944). Also Bertie Harry Matthews (1895-1917)
Grave 19.3
Ellis Matthews was born in 1859 in Fen Ditton, and his wife Elizabeth Hannah Wells in 1863 in Littleport.
They were married in Horningsea in 1881, and moved to Trumpington in about 1887. They lived at what is now 42 High Street, opposite the Tally Ho (now the Hudson's Ale House).
Ellis was a shepherd, and died in 1898 at the age of only 38. His wife Elizabeth was left with the seven children, aged between 16 months and 15 years. Shirley Brown tells the story that when Ellis died, rather than "going on the parish", his widow started up a laundry business from the house. She accepted only "quality" washing from the big houses such as Anstey Hall and Trumpington Hall, but eventually as far away as Audley End. All the family helped make the business a success. Mrs Matthews also made sweets, at first just for family and friends, but then also sold them to other village children. She died in 1944.
There is also a memorial for their son Bertie who was killed in action in 1917 in Belgium. He is also commemorated at the Menin Gate memorial in Ypres.
This headstone is well looked after: in 2015 Howard Slatter met a couple cleaning it; the man turned out to be Ellis and Elizabeth's great-grandson.
Lives of the First World War record for Bertie Harry Matthews.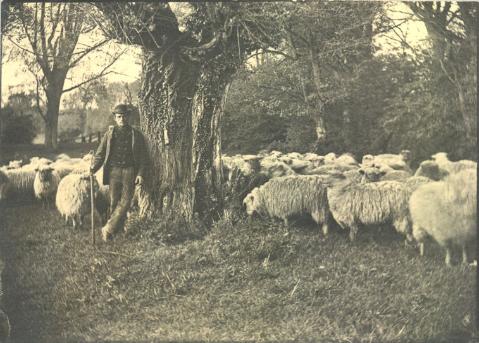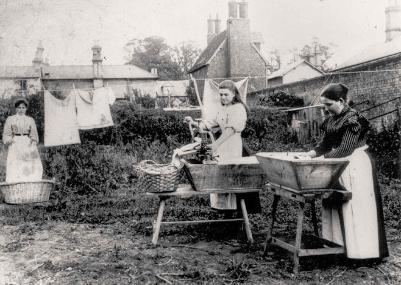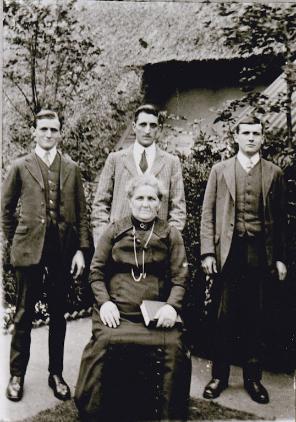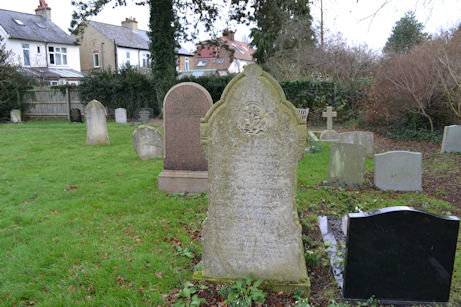 George Rowland Sinclair Rowland (1850s-1902)
Grave 17.5
Buried in the centre of the churchyard, in an unmarked grave, is Dr Sinclair Roland, a man of mystery, surrounded by an air of scandal. He was also known as Roland de Villiers, and probably born as George Ferdinand Springmühl von Weissenfeld in Germany but possibly in France, probably sometime in the 1850s. He also used, on occasions, at least five other aliases. He was only in Trumpington for less than a year, but in that short time he made the newspaper headlines, in an ill-fated splash.
Let's call him Dr Rowland, as that is what he called himself when he lived at a house called Edenfield in Trumpington Road (later, as Firwood, to become part of St Faith's School) from 1901 to 1902.
Before coming here, in 1892 he had been charged in London with offences under the Bankruptcy Act, and had absconded from bail, so he was already a wanted man. He subsequently started a publishing company called The University Press , and published a number of books, one of which caused a storm in certain circles. This book, written by Havelock Ellis, had the title Sexual Inversion , and was a fairly academic study of homosexuality at the end of the 19th century. Special Branch decided it was a work of pornography. Although it was published in the wake of the Oscar Wilde trial, the book could now be regarded as an objective account of the contemporary scene, with no attempt at titillation, with sections that are positively dull! However, one organisation selling the book was closed down, with the secretary pleading guilty to the charge of selling obscene literature. In 1898 the police are believed to have issued a warrant for the arrest of the publisher, our man Rowland, and he went into hiding under one of his aliases. He continued to publish Sexual Inversion though, and in 1900 the printing press was raided and he went to ground again. He re-emerged at Edenfield in 1901.
Despite the move to Cambridge, he went on publishing, including the infamous Sexual Inversion, and the police eventually tracked him down to Trumpington. On 14th January 1902 four policemen – two from London and two from the Cambridge Borough police (including the Chief Constable himself) called at Edenfield with arrest warrants for Dr Rowland and two women living with him. The women denied that Rowland was there, saying he had gone to London. However the police searched the house very thoroughly, and the press carried detailed accounts of what happened next, including a reports by Inspector Arrow of New Scotland Yard.
Having searched right through the house, the police then started to take up carpets and remove articles of furniture. In a room at the top of the house, they removed a wash-stand, and behind it found a small door in the wall. Suspecting they had found his hiding place, Inspector Arrow called out: "Dr Sinclair Rowland, you are here. The game's up; you might as well come out." There was no reply, and they broke open the door. Breaking through another partition inside, they found two large wicker baskets, like very heavy laundry baskets full of something. They went through into the next room, and found another door behind a chest of drawers. They broke that open, and saw a man inside, crouched up against the rafters. Sergeant Badcock went in and brought him out. Directly the man got into the room he struggled violently, "apparently without object and like a madman". He was restrained by Sergeant Badcock and Chief Constable Holland while Inspector Arrow spoke to him, and his account continues: "we pacified him without resorting to any violence, except holding him. . . . After a time he admitted that his name was Dr Sinclair Roland. He was . . . taken to the Borough Police Station. In the room next to the loft, where he was concealed, there was a loaded revolver. About an hour after the arrest of Dr Roland I heard that he was dead."
There was of course an inquest, which exonerated the police, finding that there were no marks or bruises about his body, and that death was caused by a fit of apoplexy. The verdict was "death from natural causes". He was buried here on 18th January and the older woman arrested with him, referred to in the newspaper reports as Mrs Roland, was allowed to attend the funeral in the company of a police officer.
As a postscript, the two women in the house, whose exact relationship to Rowland remains unclear – wife, sister, sister in law, daughter, niece, servant are all mentioned at some stage of the proceedings – were brought to trial at the Old Bailey in April that year for unlawfully conspiring with Roland de Villiers (i.e. Dr Rowland) and others to publish obscene pamphlets, books, and libels. The older woman was given nine months hard labour, and the younger one was allowed out on recognisance.
We are grateful to Philip Kuhn for information: he is writing a biography of 'Dr de Villiers'. See the report in Cambridge Independent Press, 17 Jan 1902.