Jean Clews in conversation with Howard Slatter
This is the first part of Jean Clews's recollections of Shelford Road, Bishop's Road and Trumpington. For an introduction to the series, see A conversation with Jean Clews .
Continue with the second part of Jean Clews's recollections of Shelford Road, Bishop's Road and Trumpington.
80 and 82 Shelford Road. Photo: Andrew Roberts, September 2008.
Shelford Road in c. 1927, at the junction with Bishop's Road, showing 80-82 Shelford Road and other houses. Postcard numbered 1147, copied by Stephen Brown.
I have lived at 80 Shelford Road since 1959.The people who lived in 80 and 82 Shelford Road before me were the Pamplin family. They have never had a mention from anyone who has written about the village. They deserve it – they were instrumental in quite a few things. They lived in Trumpington all their lives, and William, the handicapped man who owned the property later, was very much a man of Trumpington. I think originally they lived in Alpha Terrace and subsequently they built these two houses here. They built number 80 to live in themselves and number 82 to let out to tenants.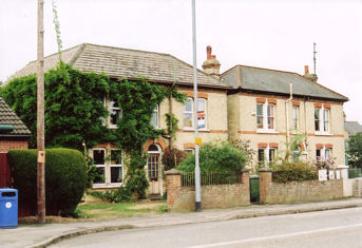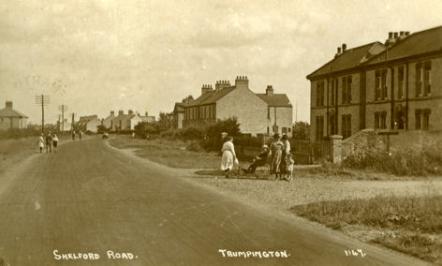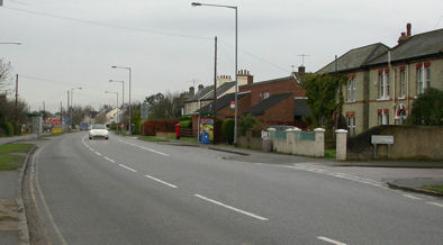 Shelford Road in November 2008, at the junction with Bishop's Road, showing 80-82 Shelford Road and other houses. Photo: Howard Slatter, November 2008.
All the land behind, which must have stretched as far back as the bend in Bishop's Road, was theirs – it was a small holding. Bishop's Road was only a farm track then. Subsequently a cousin of Mr Pamplin senior asked him for a bit of land to build a house down this farm track. There are two little houses – you'll seen them as you walk down the road – two very small older houses – numbers in the early 20s probably (21-23 Bishop's Road). As a result of this, and the fact that there were some houses on the other side, the first four, those two pairs, the council had the idea of opening up the road. They charged the Pamplins – I think it was £300 road charges. This, in the early 1920s was a fabulous sum of money. To meet it, subsequently they sold off other plots and made their own holding smaller and smaller.
I think they bought the land for these two houses about 1911, and were building in 1912. Old Mrs Pamplin died around 1956 (Mr Pamplin had already died) leaving William Harman Pamplin her son, who was handicapped. He had been rather a sickly child, in a wheelchair, and he gave piano lessons when his father was around. But later in his life, because she couldn't cope, he lived in his room in the back bedroom and never came downstairs. When the old lady became ill, a cousin of William's named Harman, who lived in Stapleford, moved in to look after the old lady; they insisted on William being brought downstairs and he was given one of the rooms at the front. He was given all sorts of power points – he could have his piano in there and his own music and things, to give him a proper life. He had a mobile chair and he also drove a little car eventually. He had "Desperandum" on the bonnet – he was a very strong character, and I think he had to be.
During the Second World War, William Pamplin did a lot of organising, dances and things up in the village, partly for the benefit of the Italian prisoners of war. He received the BEM for services to the village.
William Harman Pamplin and Emmy Harman, his cousin's wife, told me all of this. Her husband was Dick Harman.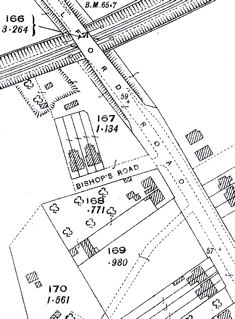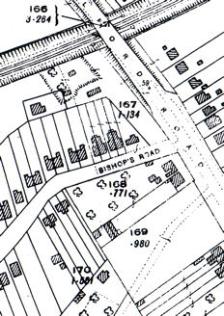 The development of Bishop's Road, Ordnance Survey maps from 1925 (left) and 1939 (right).