Jean Clews in conversation with Howard Slatter
This is the third part of Jean Clews's recollections of Shelford Road, Bishop's Road and Trumpington. For an introduction to the series, see A conversation with Jean Clews .
On the other side of Alpha Terrace there were three lovely little cottages with thatched roofs. They demolished those to build a line of terraced houses.
The start of Bishop's Road. Photo: Andrew Roberts, January 2008.
Mrs Richardson's general store, 4 Bishop's Road. Photograph: reproduced in Trumpington in Old Picture Postcards, 55, and Trumpington Past & Present, p. 107.
What is now the dental surgery at the corner of Bishop's Road was Mrs Wolfe's general shop. Mrs Wolfe lived with her husband a little way down Bishop's Road, behind us on the left hand side. She was a very nice lady – you could always hear the shop bell going from our back garden. The shop had originally been started by a Mr and Mrs Richardson, who lived in a bungalow attached to the shop. When Mr Richardson died and Mrs Richardson decided she was too old to carry on, she turned the shop itself into a lock-up, while continuing to live in the bungalow. Mrs Wolfe took over the shop, and she was here for a long time until I think she became ill, and had to give it up. Eventually the whole building was sold and made into a dental surgery.
The former general store, now a dentist's surgery, 4 Bishop's Road. Photo: Andrew Roberts, September 2008.
Another shop was the Campbells' hardware shop in Anstey Way. I knew Jock Campbell – he worked in the Traffic Area offices with me; he was a Scot and played football professionally (for Fulham, I think) when he was younger.
There was a doctors' surgery in St Mary's House on the corner of Alpha Terrace, and the doctors lived in it. Dr Stockley was our doctor, but he died suddenly of a heart attack at the age of about 41. The family moved out to Fendon Road. The next doctor who came, Dr Bapty, didn't want to live in that great barn of a house, and his wife wanted a place of her own. The practice was based in Great Shelford; they lived out there and came up every day. When he retired, Dr Bateman, who also lived in Great Shelford, came up here, but by then the surgery had moved into Anstey Way.
Opposite our house, number 79 was originally a bungalow. Before Miss Freestone went to live there, Sybil who had kept the shop which became the Post Office, lived there for a time. The Post Office was originally in two old houses on the High Street near Alpha Terrace, and moved into Sybil's little milliner's shop, where the kitchen surfaces shop is now (Granite Transformations). The two bungalows opposite here had been built by the Wedds in the first place; they lived in one of them (now 77a Shelford Road), and had their own builders' yard at the back. The son of the family, Dennis, had a house in Bishop's Road, on the right hand side towards the bottom, and his sister, a Mrs Mills, I think, next door. Helen Freestone lived in one of the four houses just south of Exeter Close that belonged to Mrs Suckling, with Arthur Brown, and later moved into Sybil's bungalow.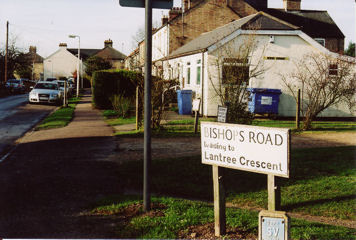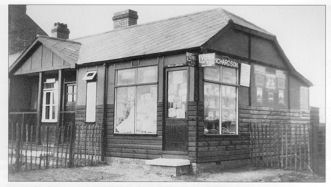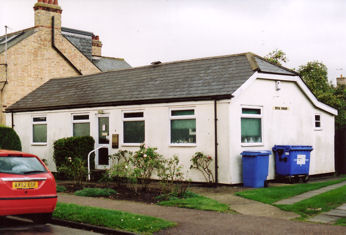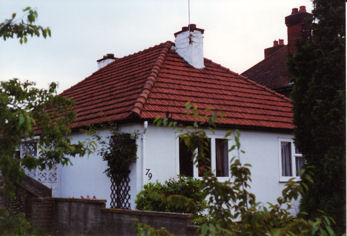 The original bungalow at 79 Shelford Road. Photo: Dilwyn Roberts, 1997.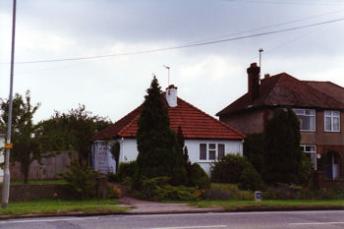 A surviving example of a bungalow, 77a Shelford Road, alongside the house which replaced the bungalow at 79 Shelford Road in the late 1990s. Photo: Andrew Roberts, January 2008.