This page is an introduction to education and schools in Trumpington, based in part on presentations given at a meeting of the Local History Group,
Slates to Computers
, 22 April 2010. In addition to this page, see:
Schools in the Trumpington area, 1950s Ordnance Survey map annotated by Howard Slatter.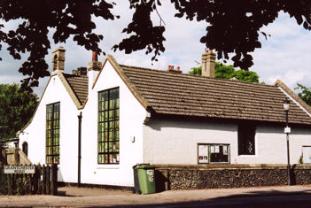 The former Church School, from Grantchester Road. Photo: Andrew Roberts, August 2008.
At the Local History meeting, Howard Slatter, Shirley Brown, Edmund Brookes and Ken Fletcher talked about the history of education in Trumpington and these notes are based in part on their contributions. Other sources for the early history of education in Trumpington include the Victoria County History and Widnall's
Reminiscences of Trumpington
in the 1830s.
The first schools in the village were funded by bequests from individuals such as William Austin (1679) and Thomas Allen (1681). The Austin bequest was for four poor children to be taught free of charge until they could easily read the Bible. This took effect in 1708, when the parish appointed a School Dame and it was possible to support 11 poor children. By the 1780s, there were c. 25 scholars out of 80 children in the parish and the Pemberton family had taken responsibility for the endowment. James Cuming was appointed Master in 1783 and remained in office until at least 1837. Girls as well as boys were enrolled from 1786. From the 1790s, education provision became more complex, with Cuming also running a boarding school and the vicar (Thomas Heckford) running a grammar school, while in the 1810s there were four dame schools, evening classes and a Sunday school.
There have been a number of education establishments in Trumpington since the early 19th century and the map shows the key locations. This growth reflects national developments in education, summarised by Howard Slatter.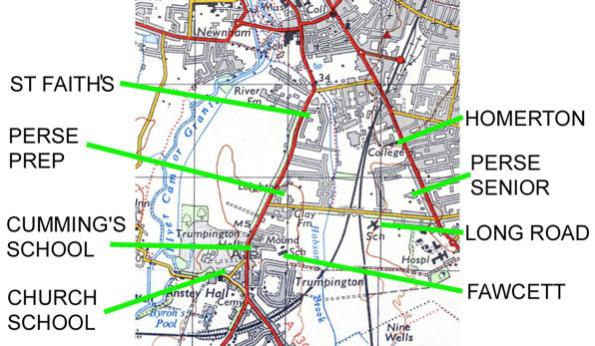 There were other educational establishments in the historic parish of Trumpington, to the east of the railway line: Cavendish College (a site taken over by Homerton College in 1894), the Perse Senior School, and the Cambridgeshire High School for Girls which became Long Road Sixth Form College in 1974.
After the Second World War, there was also a Farm School in Trumpington. Michael Hendy was told about this by Joe Clarke, who attended the school in the early 1960s. The Church Hall was used as a classroom and tractors and equipment were kept and used at Anstey Hall. Anstey Hall was at that time the HQ for a lot of the Ministry of Agriculture's advisors as well as having the workshops for the experimental drainage unit, so it had a good resource for training purposes. The Farm School provided training to apprenticeship level, very much targeted on practical skills, ploughing, sowing, spraying, harvesting, as well as workshop skills including welding and general mechanics. Tom Parsons was farming Anstey Hall Farm, and allowed it to be used for examinations and tests; he also undertook some of the examining duties. The late Ken Benfield was the main lecturer specialising in engineering. He later became the principal of the much expanded farm school when it moved to its current site at Milton, now a branch of West Anglia Agricultural College.
Fawcett Primary School was established in 1989 by the combination of the infant and junior schools. The school has continued to extend and there are plans for further expansion as new housing developments are built in the southern fringe of Cambridge. A Children's Centre was formally opened within the site on 13 November 2010. The original infants area is now the Cambridge Professional Development Centre (CPDC).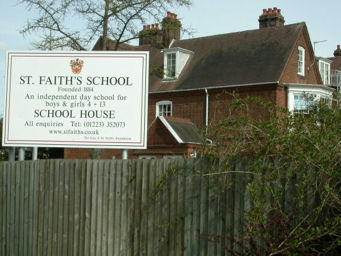 Entrance to St Faith's school with St Faith's house in the background. Photo: Howard Slatter, 2010.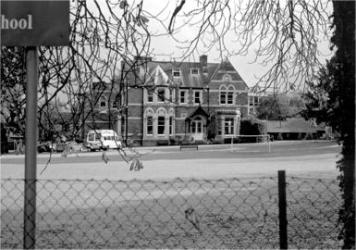 Perse Preparatory School in the 2000s. Photo: Edmund Brookes, 2010.
Samuel Page Widnall described his experience at Cuming's school, which was on the site now occupied by St Mary's House (the corner of the High Street and Alpha Terrace). Shirley Brown said that the headmaster lived to the north of the school in Alpha Cottage and there was a playground between the two buildings. Widnall described the village children as being at the back of the school room and how all the children would stand in silence in the dining room.
Sources
The Victoria History of the Counties of England (1982). A History of Cambridgeshire and the Isle of Ely, Volume VIII. Armingford and Thriplow Hundreds . Edited by C.R. Elrington. Oxford: Oxford University Press for the Institute of Historical Research. ISBN 0-19-722757-0. Includes Trumpington .
Widnall, S.P. [Samuel Page] (1889). Reminiscences of Trumpington Fifty Years Ago . Grantchester: the Author.
Howard Slatter describes the history of St Faith's School, which moved from Belvoir Terrace, Cambridge, to Trumpington Road in 1894. Edmund Brookes gives his recollections of being a pupil at the Perse Preparatory School, which moved from Bateman Street, Cambridge, to Leighton House, Trumpington Road, in 1954.
The Church School was affected by the boundary change in 1934, when 'Eleven Plus' pupils had to transfer to St George's School in Cambridge. The Church School was superseded by Fawcett Infant and Junior Schools which opened at the east end of Alpha Terrace in 1949-50. Ken Fletcher describes the history and expansion of this school. Shirley Brown said that many of the parents did not want their children to transfer, but the Church School finally closed in July 1950.
In 1842, the parish and Trinity College purchased land on the north side of Grantchester Road/Church Lane for a National School, built in 1843 with two classrooms for 100 pupils. Subsequently known as the Church School, this grew in size over the years and played a pivotal role in the education of village children up to the 1940s, particularly under a highly respected master, Percy Robinson (master from 1908-43). David Stubbings remembers that his sister was in the class where Mr Robinson collapsed and died: she remembered being terrified and not knowing what to do.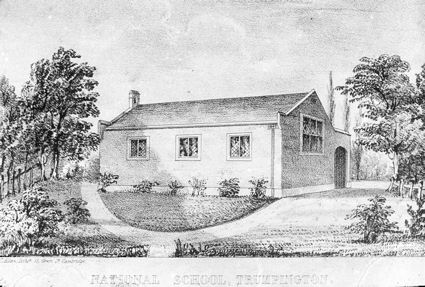 Print of the National School, built 1843. From a photograph used by Percy Robinson during lectures in the 1920s-1940s.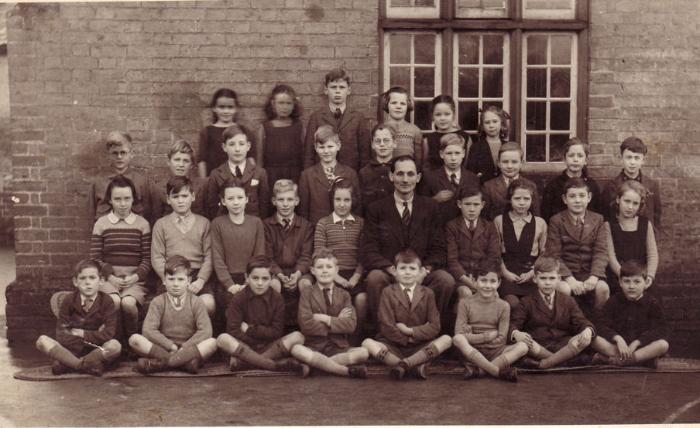 The middle/top class at Trumpington Church of England School, c. 1947. Photo from David P. Stubbings.
Back row left to right:
Muriel Elbrow, Hazel Griffiths, Noel Cheesely, Elaine Tudor, – -, – –
First standing row, left to right:
David Stubbings, Raymond Cousins, Peter Edwards, Francis Shipp, – Michael? Carter, Stuart Mellany, Nigel -, – -, Terence Bates
Seated row, left to right:
Olive -?, – Warboys, Janet Shanks, Michael Shipp, Enid -, Mr E.G. Youngs (Headmaster), Richard? Cleeves, – -, Brian -, – –
Front row left to right:
Stanley? Chapman, Michael Cleeves, – -, Christopher Kite, Alan Wilson?, Nigel -, John Pitman, Keith Smith
Children running along Shelford Road, on their way to school, Trumpington, c. 1947. Photo: Reg Clarke.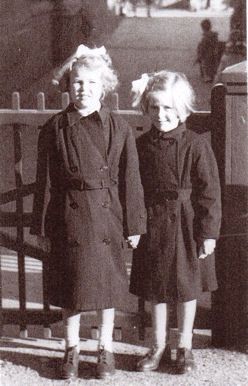 Outside the gate of Trumpington Church School, 1948, Dianne Camps on left, June Newell on right. Photo: Dianne Fraser (née Camps).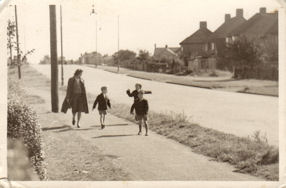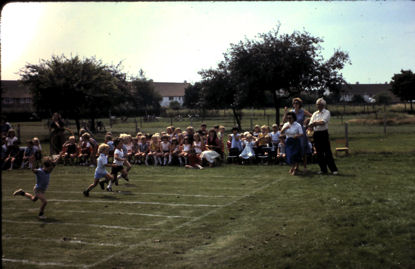 Fawcett School Sports Day, 1982. Photo: Peter Dawson.
Two additional primary schools are planned within the housing developments.
Trumpington
Meadows Primary School
opened in September 2013, as part of a federation with Fawcett School. A further school will be built at a later date on Clay Farm. Fawcett School will also increase in size.
There has been no secondary school within Trumpington and secondary pupils have travelled to Sawston Village College or schools elsewhere in Cambridge. This will change in September 2015, when Trumpington Community College will open on Clay Farm, to the south of Long Road.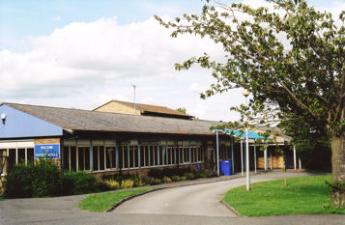 Fawcett Primary School. Photo: Andrew Roberts, August 2008.
Entrance to Fawcett Children's Centre, November 2010. Source: Clare Wilkinson.
Margot Andrews describes her experience of being a pupil at the Church School in the 1930s.
David Stubbings also remembers his time at the school in the 1940s. He says "I was taught by both Miss Burgess and Miss Lister. The former was lovely. After dinner she put the "babies", i.e. the youngest infants, down for a sleep, and at afternoon break on a sunny day there would be an occasional bed propped up outside to dry! The beds were a simple metal frame supporting a canvas, embroidered hammock. Miss Burgess had a pre-war Morris 8 and a gang of us had to push start it at least once. Miss Lister would "rabbit punch" your upper arm if she was angry, very painful. With the advent of the new council houses, the number of children in the school increased and another teacher was employed. One was a stunning young lady who wore peep-toe high heeled shoes, and whose partner brought her to school each morning and kissed her passionately goodbye, as a row of heads rose above the school wall, and disappeared when they stopped! We were not used to public displays of affection in those days! The next teacher was Mrs Barnes who took the "top" class, whilst Mr Youngs did less teaching and more head masterly administration. He moved the top class to the rear room and the infants to the front."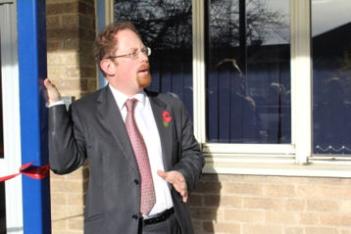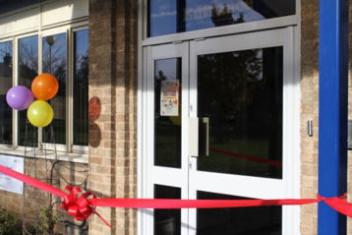 Julian Huppert MP at the opening of Fawcett Children's Centre, 13 November 2010. Source: Clare Wilkinson.
Councillor Linda Oliver (Chair of Cambridgeshire County Council) at the opening of Fawcett Children's Centre, 13 November 2010. Source: Clare Wilkinson.