Howard Slatter
This history of St Faith's School, Trumpington, is based on a presentation at the meeting of the Group in April 2010.
See the introduction to education and schools for more information.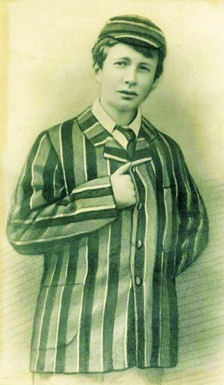 A pupil in an old school blazer, St Faith's School.
St Faith
'
s
is the school on the right hand side of Trumpington Road, going into Cambridge, just before Newton Road and the Nuffield Hospital. You cannot fail to notice the brightly coloured blazers of the older children, or the rather splendid wrought iron gates erected in 2006.
St Faith's celebrated its 125th anniversary in 2009. So it was founded in 1884, but not on the site which we now know. Back a bit further.
In 1878, the Revised Statutes of Cambridge University were passed, which for the first time allowed fellows of Colleges to marry, and by 1882 all colleges had to allow this.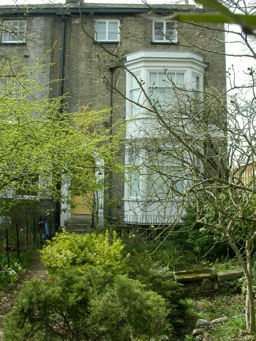 The first site of St Faith's school, 1 Belvoir Terrace, Cambridge. Photo: Howard Slatter, 2010.
One undergraduate of Christ's College by the name of Ralph Shilleto Goodchild, saw a real opportunity here. He graduated from Christ's in 1882, and in 1884 he opened a small preparatory school in a wooden hut in the back 1 Belvoir Terrace. Not yet in Trumpington parish.
His target clientele was without doubt the sons of dons at the university, nicely coming on stream at the age of 5 in 1884.
Actually, that date is in slight doubt; on his retirement Goodchild was presented by H. Montagu Butler, Master of Trinity, with a bound volume full of signatures and photos of old boys and others associated with the school. On the front, in beautiful gold lettering, it says "R.S.G. 1883 – 1909". And Goodchild's entry in the authoritative Alumni Cantabrigienses states that he started the school in 1883.
Still, the school was a success, and in 1894 Goodchild moved to much bigger premises, the building we now know as "School House" in St Faith's. The old wooden hut was removed to the grounds of the new school, and was still in use as a store until after the Second World War.
The new premises were now large enough for Goodchild to start taking boarders, as well as the day boys which Belvoir Terrace had accommodated.
School House, St Faith's School. Photo: Howard Slatter, 2010.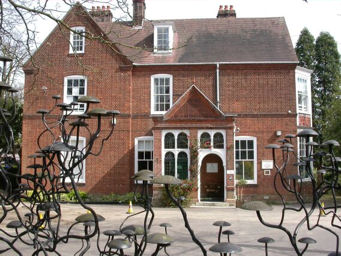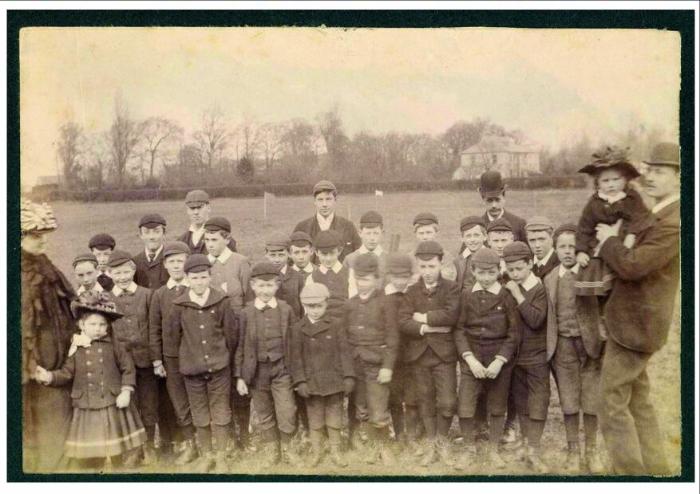 Faith Goodchild and her sister Katherine being held by their father, Ralph Shilleto Goodchild, the Headmaster, 1892.
The name "St Faith's" was used for the new school, but not for the old one in Belvoir Terrace, which was simply known as "Goodchild's" or "Goody's". Why St Faith's? Because Goodchild's elder daughter was Eleanor Mary Faith Goodchild, known as Faith. One old boy of the school (they are called
Fidelians
) recalled being accosted in the 1960s by an elderly lady in Trumpington Road. She complimented him on his smart appearance and then identified herself with the momentous words "I am Faith".
St Faith's had been built in 1892, on the southern part of a plot of land known as "The Orchard" belonging to Trinity College. The northern part of the plot had a house also called "The Orchard" built on it – that house later became the Evelyn Nursing Home, now the Nuffield Hospital. You can see on the map of 1901 St Faith's and the few existing houses to the south, particularly Edenfield (later called Firwood), Ley Spring and one called Southfield, all built earlier in 1878 and eventually to become part of St Faith's.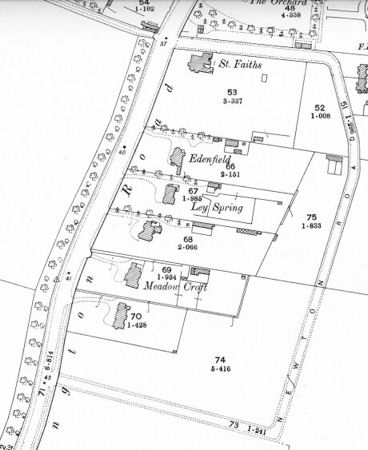 1901 Ordnance Survey map of the area.
There is a wonderful quote in the
Short History of St Faith's
by F.M. White: "It became possible to spend a major part of one's life between Bentley Road and Brooklands Avenue: born next door but one to Southfield in the Stella Maris Maternity Home (now Douglas House), prep school at St Faith's, and cared for in one's declining years in the Evelyn, with only a brief excursion in one's adolescence down the Trumpington Road to The Leys and Trinity". If you were male, with the right connections, of course!
Goodchild was assisted by his wife Eleanor and his daughter Faith. They are listed in the 1901 census with the 11 boarders, who were of course staying overnight. There were 47 pupils altogether in 1901, so the other 36 would have been day boys. I have tracked down information about some of the boys listed as boarders:
• Montague Bertie was later to become the 14th Earl of Lindsay and 9th Earl of Abingdon.
• Roland Durell, son of the rector of Fulbourn, was younger brother of a man called Clement Vavasor Durell, who wrote some classic school mathematics textbooks – as well as learning from them, I have also used them in my own teaching career.
• when I saw "Nicolas de Crouschoff", born in Russia, I wondered for a moment if this might be a huge secret of Nikita Kruschev. But no, a different man, I'm afraid.
• Henry Fabian Orpen's father was a fellow of Selwyn College, later to become vicar of Great Shelford.
• Harold Skelton Terry was the son of the Rector of East Ilsley in Berkshire.
• Roger Charles Marshall was son of the vicar of Doddington, and died in 1918 as a result of injuries received in the war.
• Robert Cotton Bruce Gardner inherited what was left of the Conington Hall estate from his father in 1935, and sold up in 1947, after the manor had been in his family for nearly 300 years. He was Secretary of the Royal Forestry Society.
• Gaston Frederick Wace was son of Frederick Wace, fellow in Mathematics at St John's College.
• Frederick George Lewtas was to become a doctor; in 1926 the British Medical Journal reported: "The Home Secretary gives notice that he has withdrawn from Dr Frederick George Lewtas, M.R.C.S., L.R.C.P., the authorizations granted by the Regulations made under the Dangerous Drugs Act, 1920, to duly qualified medical practitioners to be in possession of and supply raw opium and the drugs to which Part III of the Dangerous Drugs Act, 1920, applies. Any person supplying Dr. Lewtas with raw opium or any of the drugs to which Part III of the Dangerous Drugs Act, 1920, applies will be committing an offence against the Acts." I wonder what he had done – more research needed!
• Edwin Longworth's father John seems to be the exception to this long list of vicars' and dons' sons; his father was a wealthy cotton bleacher in Horwich, Lancashire.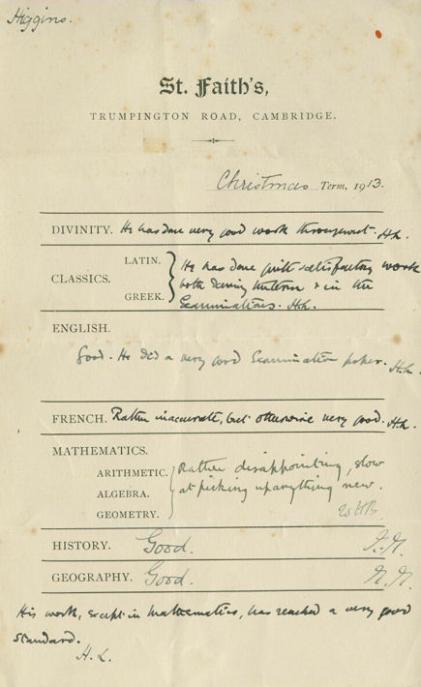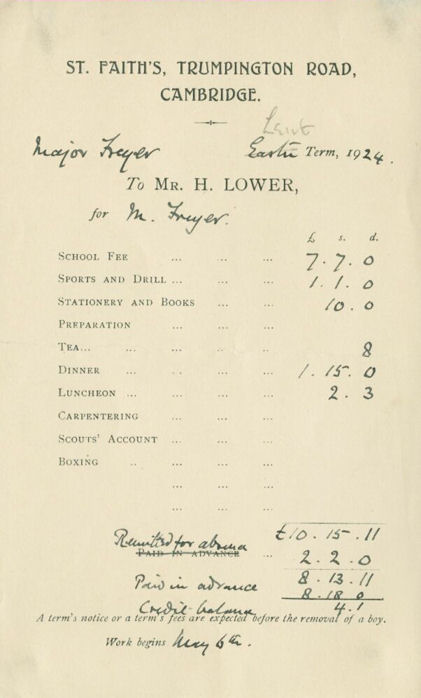 In 1909, Goodchild decided to move on. Numbers were dropping, and he sold the school to Harry Lower, another clergyman's son, this time of the Rector of Fowlmere. Goodchild joined the University Appointments Board as Assistant Secretary, and moved to Bentley Road, where he died in 1943.
Under Lower's headship numbers built back up to over 60, only to slump again to only 28 pupils in 1927. Here's a school report from 1913, with H L, Harry Lower, writing most of it. I am impressed by the brevity of this kind of report, though actually these were pretty full comments for the period.
And here's a bill from Lower's time; in over 25 years the fees had only gone up by one guinea a term.
In 1927, Lower once more sold the school, this time to W.G. Butler, who had been a Housemaster at Christ's Hospital School in Sussex.
Butler's headship was an eventful one. In 1938 the governors of The Leys School proposed an amalgamation with St Faith's. The main feeder school for The Leys, Caldicott, had moved from Hitchin to Burnham Beeches in Buckinghamshire, which was much further away, so The Leys was looking for a more local school with which to have a special relationship. Butler was happy to accept the offer.
He stayed on as a now salaried Headmaster, with comparative freedom to do as he wanted, for instance the boys continued to be prepared for a variety of senior schools, not just The Leys. And St Faith's now had access to the facilities of the larger school, particularly the playing fields in Latham Road and the swimming pool.
Money was now easier to raise, and the governors agreed to the purchase of next-door Firwood to accommodate the boarders.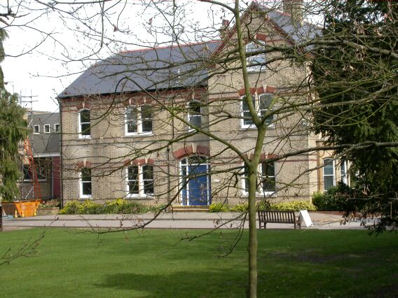 St Faith's School, Leyspring. Photo: Howard Slatter, 2010.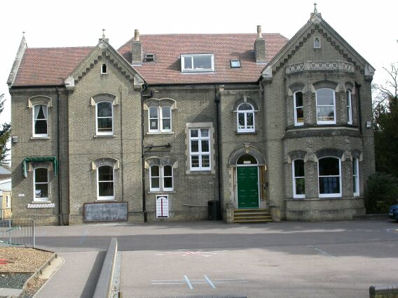 St Faith's school, Southfield. Photo: Howard Slatter, 2010.
However, war intervened. In 1939, Cambridge was declared a "danger area". Butler went off with 16 boarders to Ashburton in Devon, where they set up shop in the Golden Lion Hotel. At the same time, The Leys decamped to Pitlochry in Scotland. The St Faith's day boys stayed here, under the care of Mr H.B.C. English who had recently arrived in Cambridge having retired from being Headmaster of Ardvreck School in Crieff. Firwood was requisitioned by the Navy.
By the end of the war, numbers had risen considerably: 37 boarders in Ashburton, and 114 day boys in Cambridge. When the boarders returned, there was immediately an accommodation crisis, alleviated by the purchase of both Leyspring and Southfield.
In 1946 Butler stepped down, retired to Dorset, took holy orders and became vicar of Overmoigne and later vicar of Harlow. A man of some energy!
Butler was succeeded by F.M. White, author of the
Short History of St Faith's
. There was an upsurge in private education in the immediate post-war period, partly because of uncertainty regarding the effect of the 1944 Education Act. St Faith's benefited from this popularity; one fellow of Sidney Sussex wrote to put down the name of his son who was "born this afternoon".
A desirable education in Cambridge became a real scarcity, to the extent that some academics refused posts here because they could not get their sons into so-called "local schools". St Faith's started to reserve a few places for the "sons of newly-appointed University teaching officers", strengthening an already close connection with the University. About one third of the boys were the sons of dons. Not just academic subjects, but also activities such as weaving and manly sports.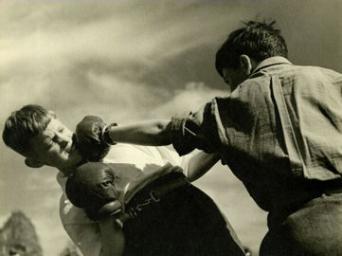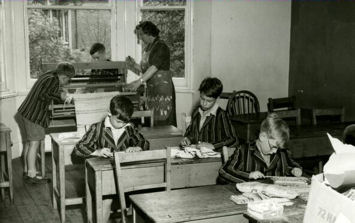 St Faith's pupils from the post-War period.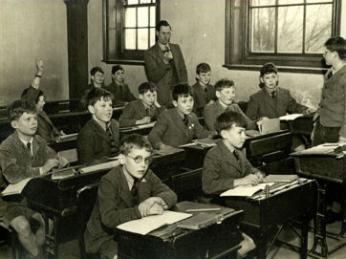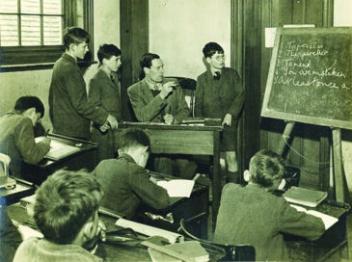 White retired in 1966, to be followed in short order by J.D. Pearce and P.B. Waterfield. Malcolm McInnes was Head from 1968 to 1989, then Richard Dyson to 2002, when the present Headmaster, Stephen Drew, arrived. I am indebted to Stephen for providing me with most of the resources that I have consulted.
Recent developments have included starting a pre-prep department in 1988, stopping boarding in 1994, the taking of girls in 1995, and the abolition of Saturday school in 2004. The Ashburton Hall was opened by the Duke of Edinburgh in 1999 and the Keynes Technology centre in 2006 with members of the Keynes and Darwin families in attendance (Maynard and Geoffrey Keynes went to the school, as well as two of Charles Darwin's grandsons). The new gates were installed in 2006 – see the letters B C L N on the oil lamps? I wonder if you can work out what those stand for?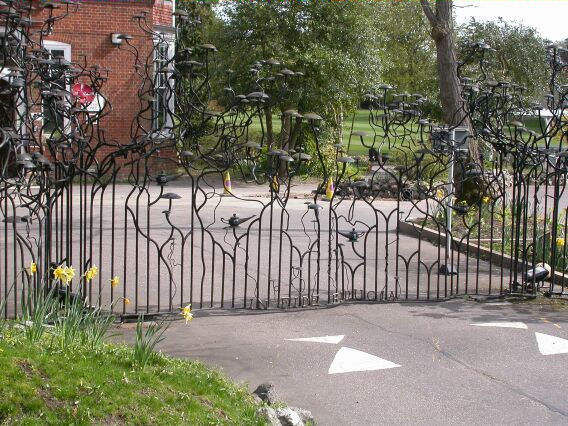 Entrance gates to St Faith's school. Photo: Howard Slatter, 2010.