This is the online version of a booklet in memory of the soldiers from Trumpington who lost their lives in the Great War. Published in October 2014, the booklet was researched and written by Ken Fletcher, with illustrations from Trumpington archives including newspapers, parish records and photos from the Trumpington Local History Group. Put in booklet form by Sheila Glasswell.
Printed copies are available from the Local History Group.
See also the Introduction to Trumpington and World War I.
This plaque can be seen in the Village Hall, Trumpington. The men from Trumpington who died in the Great War are marked with a cross and celebrated in this booklet. Photo: Trumpington Local History Group.
WE WILL REMEMBER THEM
Each Remembrance Sunday, Trumpington residents gather at the village War Memorial for a short service and the two minutes silence. But, as the two World Wars slips into history, few, if any, present have any personal memories of the men whose names are read out during the service. At the 100th anniversary of the outbreak of WWI, Trumpington Local History Group (TLHG) has produced this leaflet to keep alive the memory of those Trumpington men who died during the first of those wars.
For any investigation into the background of the WWI dead, the database of the Commonwealth War Grave Commission (CWGC) is an essential resource which gives the name, number and regiment of each casualty, the date of death and where they are buried or commemorated. Additional personal details may appear, but only if added by the family. For further personal details, many other sources are available. The census returns for Trumpington have been transcribed by TLHG, those for 1901 and 1911 being particularly helpful. The parish records (identified as PR) can provide useful information as can the parish magazines for the period 1914 – 1919. During the war years, a "Roll of Honour" was maintained in the parish church on which names of villagers were inscribed as they joined the services. At the end of the war, a list of all villagers who served was published in the magazine and this gave full names and service units. There is a memorial plaque of the Roll of Honour in Trumpington Village Hall which includes some additional names. When the first remembrance service was held on 1st November 1919, the magazine carried a list of the fallen together with their date of death. All of this local information helped identify the correct name in the CWGC records. Further personal information has been gathered from the local press and, in a few cases, from family members.
The 1911 census shows a population of Trumpington of 1,237, with 224 men aged between 10 and 35, i.e. those men of serviceable age during the war. The Roll of Honour lists 188 names of men who served during the war and there are 36 names recorded on the War Memorial.
It should be noted that all these names are men, no women are recorded. It is inconceivable that no women from Trumpington served during the war, especially with the number of hospitals in the Cambridge area which would have needed nurses. We have traced one Trumpington woman who did serve in the War. This was Beatrice Cousins, who in 1911, was living in Trumpington Road near the Tally Ho and was working as a General Servant (Domestic). Two of her brothers, Henry and Reginald, are both recorded on the Roll of Honour, as is Charles who may have been her younger brother. In spite of service in Women's (later Queen Mary's) Army Auxiliary Corps, she is not mentioned. This is surely more of a comment on attitudes of the time rather than on the spirit of Trumpington's women. Any further information on Trumpington women serving during the war will be welcomed by TLHG.
Almost all these men served in the Army, with only three in the Royal Navy and four in what was to become the Royal Air Force. The soldiers served in a wide variety of regiments and corps but with most in the local regiments. 20 men served in the Cambridgeshire Regiment which was a TA formation and a further 33 in the Suffolk Regiment. Of these, 19 were in the 11th battalion, which was a New Army formation styled the Suffolk (Cambridgeshire). Another seven men served in the Suffolk Yeomanry.
The course of the war can be traced by following the reported deaths of the Trumpington men.
In 1914, only a few weeks after war was declared, the village was shocked by the loss of Francis Pemberton, the son of Trumpington Hall, in the early fighting in Belgium. By the end of 1915, he had been joined by three more men, two of whom had died in the Gallipoli campaign. The Suffolks fought on the first day of the Somme offensive and so the losses mounted. In 1916 nine more men died, with five of these serving with the Suffolks on the Somme. In 1917, the Cambridgeshires fought in the Third Battle of Ypres and four of their men died with a further six men falling with other regiments. The fighting in the last year of the war was characterised by the German breakout at the end of March and then the gradual containment and the reversal as the allies gained control. By November 1918, a further 12 men had died, the last Trumpington man being Christopher Gowland who died of wounds after the war in December 1918.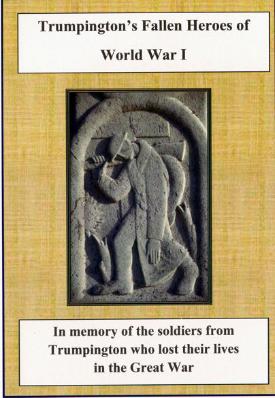 The front cover of the booklet (above, photo, Arthur Brookes 1997) shows a panel from the War Memorial, by Eric Gill. This panel on the south side shows a figure of a soldier, tired and burdened, walking towards the west, the setting sun. His arm almost touching the ground symbolises his worn out strength but his fingers remain straight conveying the idea of discipline. Broken and splintered tree stumps show the havoc of war.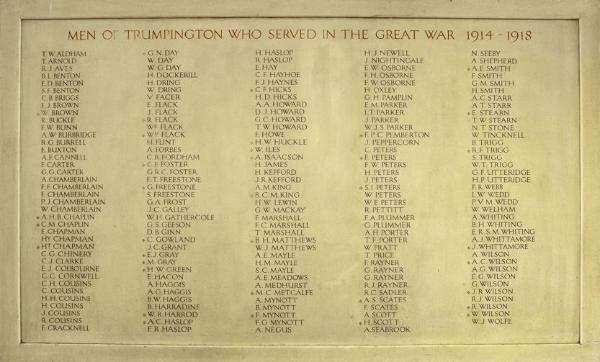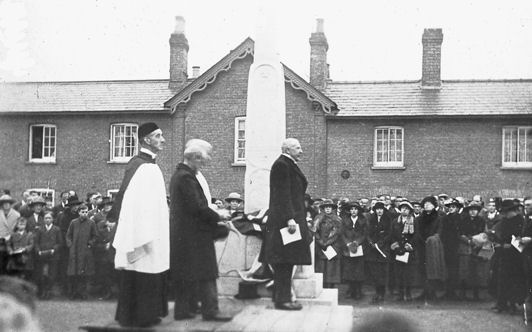 The unveiling of the War Memorial, December 1921. From a photograph used by Percy Robinson during lectures in the 1920s-1940s.
THE FALLEN MEN OF TRUMPINGTON
William James Brown
William was the son of James and Jane Brown of Cadenham Farm, Swaffham Prior. In 1911 census he is living with his grandmother Harriet Gilbey (who died 1916) in 28 Alpha Terrace.
Private (G/39450) 1st Battalion, The Queen's (Royal West Surrey Regiment),
Killed 2nd December 1917, aged 19.
Buried Dochy Farm, New British Cemetery, Poelkapelle, West V, Belgium.
Also commemorated on Swaffham Prior War Memorial.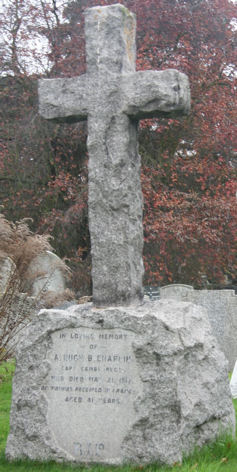 Memorial in Trumpington graveyard to Captain Arthur Hugh Ba l es Chaplin. Photo: Arthur Brookes, 2009.
Arthur Hugh Ba l es Chaplin
Captain 1st Battalion, Cambridgeshire Regiment.
Died of wounds Monday 21st May 1917, aged 41.
Buried Shelford Road Churchyard.
CWGC shows him as husband of M. Chaplin.
PR show burial 24th May. Died at Lady Ridley's Hospital, Carlton House Terrace. London.
and Charles Montague Chaplin
Second Lieutenant 1st Battalion Cambridgeshire Regiment.
Died 26th September 1917, aged 35.
He is commemorated on Tyne Cot Memorial.
Missing in the Third Battle of Ypres, Passchendaele.
CWGC shows him as son of Arthur Edward and Alice Mary and husband of Elizabeth Joan Chaplin all of Dalreagh, Chaucer Road.
Both brothers were born in Leytonstone Essex. By 1901 their Father Arthur William, a Draper, was living, with Arthur jnr, Drapers Assistant, at Leyspring, Cambridge Road, Trumpington. By 1911 he was living at Dalkeith, with wife Amelia (33) and daughter Eileen Mary (1) with General Servant and Nurse. The census shows him as Buyer Drapery at Robert Sayle, now John Lewis.
In 1901 Charles was an Auctioneer's Apprentice in Ipswich, but we are unable to find a 1891 census record for him.
Both brothers are also commemorated on Perse School War Memorial (where Arthur is shown as Major). Arthur is also on the War Memorial at St John's Church, Hills Road and at St Andrews, Cambridge (where there are other employees of Robert Sayle).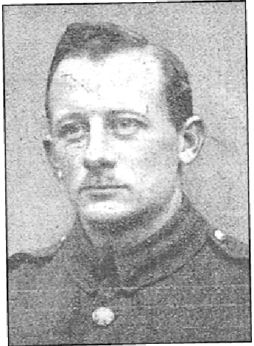 Company Sergeant Major Chapman. Photo: Cambridgeshire Collection.
Herbert Chapman
Company Sergeant Major 1st Battalion, Cambridgeshire Regiment.
CWGC shows him as son of J.H. and E.Chapman of Trumpington, and husband of Alice M. Chapman of 2, Alpha Terrace, Trumpington.
Born Chesterton, Cambridge 1882.
1901: Living with parents, two brothers and four sisters at 4 Alpha Terrace. His father is a Nursery Gardener, Henry (20) and Herbert (19) are printer's compositors.
1905: 28th Jan, he married Alice Maria John at Trumpington.
1911: Living in Victoria Road, Chesterton, with Alice, Bert (6) and Hilda May (1).
Herbert worked at Cambridge University Press as compositor. He was a Territorial at the beginning of the war, was mobilised with the Cambridgeshires and went to France in Feb 1915. A private in 1914, he quickly earned promotion and by 1917 was Company Sergeant Major. At the opening of the Third Battle of Ypres on 31st July 1917, he was severely wounded at St Julien, NE of Ypres.
He died of wounds 4th September 1917, aged 35. (War Record of Cambridge University Press) (CWGC shows died on 26th Sept). He was buried in Etaples, Military Cemetery, France.
George Newns Day

George was born in Swaffham Bulbeck (1893), but by 1901 his family is living in Ravenstone, Leicestershire. By 1911 he is recorded as a Farm Labourer living in Church Street, Trumpington with his parents Will (52, Farm Labourer) and Jane Kizah (52), with 3 brothers and sister – his mother had 14 children.
He was a Private (9905), in 2nd Battalion, Bedfordshire Regiment.
He died of wounds 7th December 1916, aged 23, and was buried in Warlincourt, Halte, British Cemetery, Saulty, Pas de Calais.
He is also commemorated on Swaffham Bulbeck War Memorial.
Robert Flack

Private (16902) A Company 11th Battalion, Suffolk Regiment.
He died of wounds on 26th March 1918, aged 24.
He is buried in Etaples Military Cemetery, France.
and William Flack

Private (16589) in the 11th Battalion Suffolk Regiment, and was "missing" on the Somme 3rd August 1916 aged 20. He is commemorated on the Thiepval Memorial.
The Flack brothers were both born in Trumpington. Their father, Thomas, was born in Hauxton and their mother, Annie (Utterage), in Trumpington, so this is a Trumpington family. In 1901, both boys were at school, but in 1911, were shown as Farm Labourers. Thomas was a Gardener in 1901 and a Farm Labourer in 1911.
There were two other brothers, John (died 1948) the eldest, served in the Army Service Corps and is on the Roll of Honour. The youngest, Arthur Charles, served, in the Notts and Derby, but does not appear in the Roll, although his name is handwritten in the archive copy of the Parish Magazine. He was wounded and died in 1925. The family appeared to have had connections with Nottinghamshire and moved back there.
The parish magazine reports that the two brothers were wounded in July 1916 in the Battle of the Somme. William had a flesh wound in his left knee, returned to his unit, and was killed in August in the continuing Battle of the Somme. Robert was wounded in the left hand and was in hospital in the UK, in Newcastle and Darlington, and convalescent in Trumpington in September 1916. He was wounded again in 1918, when the German attack broke through the Allied lines.
Charles Finch Foster

Charles was born in Great Shelford.
In 1911 he is shown living with family as schoolboy, only son and one sister and nine servants, son of George Ralph Cuncliffe Foster and Grace Harriot Foster of Anstey Hall.
Lieutenant in 9th Queen's Royal Lancers.
He was killed during German advance 27th March 1918 aged 20 and buried in Crucifix Corner Cemetery, Villers–Bretonneux.
George Freestone

George was born in Trumpington in 1881 at Nightingale Cottages, Trumpington Rd (south of Perse Prep School). His father was John Freestone, an Agricultural Labourer, and his mother was Rebecca. In 1891 he was still living in Nightingale Cottages and, in 1901, North Cottages, when George is shown as an Agricultural Labourer. By 1911 he had married Annie and was living in Colon, Panama Villa, High Street, Trumpington, His occupation now is shown as a Gardener. CWGC also shows him as the husband of Annie Freestone of Colon.
Gunner (93169) 138th Heavy Battery, Royal Garrison Artillery.
He died of wounds 3rd May 1918, aged 38 and is buried at Mont Huon Cemetery,
Le Treport, Seine-Maritime, France.
Christopher Gowland

Does not appear in 1901 or 1911 census for Trumpington or in Parish Records.
He could be Christopher Gowland (born London) an apprentice to cycle works aged 16, living at 57 Russell St, Cambridge, with Edgar Atkinson, Cycle Maker.
Most likely, Lance Corporal (12450) 1st Battalion, Cambridgeshire Regiment,
who died of wounds 2nd December 1918 and was buried in Denain Communal Cemetery, Pas de Calais, Nord France. Other records show him as resident of Cambridge.
Edward Jasper Gray

2nd Lieutenant, 6th Battalion, Rifle Brigade.
Killed 31st March 1918, aged 20.
Buried Fampoux British Cemetery, Pas de Calais, France.
and Maurice Gray

CWGC indicates both are sons of Alan and Maude Gray of York House, Chaucer Rd.
Alan Gray was a Professional Musician (born 1856 Wales). The CWGC citation shows him as D. Music with his wife Maude (born 1865 Sheffield). In 1901, the Gray family were living in Brancaster, Norfolk. Only three-year-old Edward, (born 1898 Cambridge) was there together with three servants. The census also shows a local woman as the caretaker – was this a holiday home? Maurice, together with an elder brother Basil (born 1889 Kensington London), appears at a prep school in Egham.
In 1911, the family were at York House, Chaucer Road, still with three servants, but not the same people. Maurice (born 1890) is shown as an Art Student, but neither Basil nor Edward are recorded in Trumpington.
Maurice was commissioned into the Queen's Bays in August 1914.
Captain, 7th Squadron, Machine Gun Corps (Cavalry).
Killed 8th August 1918 aged 28.
He is buried in Caix British Cemetery, Somme.
Both brothers were killed in the fighting following the German breakout in 1918.
They were at the Perse School and are commemorated on the War Memorial there.
Herbert William Green

Not identified for certain.
There were no Greens living in Trumpington in 1911. There was a Green family in Hills Road in 1901, but no son of this name. The CWGC record shows a number of Herbert or H. W. Greens but no reference to Cambridge.
The parish magazine reports a man called Green joining in August 1914, and at the end of the war identified him as Herbert William Green who served in the Suffolks.
There are many Herbert Greens in the 1911 census, but only two Herbert William, one a dyer in Yorkshire and the other a private in the Royal West Kents, neither have any obvious connection with Trumpington or Dorset.
The CWGC record shows a number of soldiers named Green serving in the Suffolk Regiment of whom only one H.W. and he is recorded elsewhere as living in Cambridge.
Could be Herbert William Green
Son of Mr & Mrs William Green, of Blandford, Dorset.
Lance Corporal 12563 Suffolk Regiment.
He died of wounds 22nd July 1915, aged 24.
Buried at Bailleul Communal Cemetery, Nord France, where there was a hospital centre.
William Rhodes Harrod
No Harrods are recorded in Trumpington census, but the PR records the baptism 1914 and burial 1915 of William Harrod, son of William Rhodes (publican of the Tally Ho) and Laura Violet Harrod (married 1911).
William Rhodes Harrold was the son of William and Sarah E Harrod of 5, Pepys Road, New Cross, London, and a native of Camberwell, London. (CWGC).
Clearly William Rhodes had moved from London to Trumpington after the 1911 census.
William Rhodes Harrod, Sergeant M2/034502 Army Service Corps.
(717th Mechanical Transport Company attached IX Corps) Heavy Artillery.
Died of wounds 30th September 1917 aged 34, and buried Locre Hospice Cemetery, Heuvelland, West-Vlaanderen, Belgium – used by field ambulances from June 1917.
Arthur Charles Haslop

CWGC has him as son of Henry James and Ellen Joanna Haslop of 47, Alpha Terrace, Trumpington. Arthur was born in Brighton, but the Haslops are an old Trumpington family and his father was born in Trumpington. Henry was a coachman and in 1891 and 1901 was living in the Anstey Hall Coachman's Cottage, although by 1911 the family had moved to Alpha Terrace. In 1911 Arthur (then aged 23) is shown as a Domestic Gardener.
Private (73) 54th (East Anglian) Casualty Clearing Station, Royal Army Medical Corps.
He died 13th August 1915 aged 27, and is commemorated on Helles Memorial, Turkey. During the campaign against Germany's ally Turkey the major attacks at Gallipoli were in early August and those commemorated on the Helles Memorial have no known grave.



The south, north and east faces of the War Memorial. Photos: Arthur Brookes 1997.
Charles Frederick Hicks

There is no obvious connection with Trumpington, but in the book of dedication of the war memorial he is named as Charles Frederick. The CWGC shows him as son of Daniel and Harriet Hicks and the 1901 and 1911 census show the family in Camberwell, SE London.
Our parish records show a Harriett Hicks aged 82 of High Street buried in 1940.
Possibly, Gunner (61561) 105 Battery 22nd Brigade, Royal Field Artillery. Died 10th Oct 1917, aged 25.
Commemorated on Tyne Cot Memorial.
Hicks appears to have been killed in the Third Battle of Ypres. He was a regular and the 1911 census shows him as a gunner in the 105 Battery RFA based in Sheffield.
Henry William Huckle

Henry was born in 1886 in Hitchin and in 1911 was working as a teacher in Cardiff. In 1914 he married Mary Ann Elizabeth Porter in Trumpington. Mary Porter, born Cambridge 1881, was the daughter of Thomas Porter, a solicitor living in Quy Villas (Trumpington Rd by Long Rd). CWGC shows Henry as son of Henry & Emma Elizabeth Huckle of Hitchin and husband of M. A.E Huckle of Tourmaline, Shelford Rd, Trumpington. The Parish Records show his two children, Minnie born 1915 and Betty born 1917, and burial of Mary A.E. Huckle in 1965 when she would have been 84.
Second Lieutenant 1st Battalion, Cambridgeshire Regiment.
He was killed in action at Nurlu, 5th September 1918, aged 32, and buried in Peronne Communal Cemetery, Somme.
He is also commemorated on Hitchin War Memorial.
William Robert Iles
There is no census or PR record in Trumpington for Iles, but it is an unusual name and the Roll of Honour shows him serving in the Manchester Regiment, and he is recorded in other records as born in Kensington but as a Trumpington resident.
Private (52649) 12th Battalion, Manchester Regiment.
He died of wounds 1st April 1918, aged 32, and is buried in Doullens Communal Cemetery, Somme. Parents William Robert & Elizabeth Iles of Walham Green London.
Anthony Isaacson

Anthony was born 1892 in London and in 1911 was a boarder with the Attlesey family in Wood End, Grantchester Road, Trumpington. He was employed as a flour miller.
Lance Corporal (16601) 11th Battalion, Suffolk Regiment.
He was killed 23rd May 1916 aged 24, and is buried in Becourt Military Cemetery, Somme.
His death is reported in the parish magazine of July 1916 which states, "We tender our most sincere sympathy to those who mourn his loss. May it be some consolation to them to know he died a death to be proud of – for England and for duty, hit by a German shell".
Bertie Charles Marshall King

Bertie was born 1892 in Trumpington. His father, Arthur Webb King, was born in Ipswich and was a Draper (1901) or Draper's Assistant (1911), CWGC shows Bertie as son of Arthur Webb King and Julia King of North House, Trumpington.
Bertie is shown as a Draper's Clerk in 1911 and his brother Arthur (4 years older) as a Draper's Assistant. The note in the Cambridge Chronicle states he was a Higher Grade scholar and on leaving school was engaged as a clerk at Robert Sayles.
Bombardier (38828) C Battery 85th Brigade, Royal Field Artillery.
Died 27th September 1916 aged 22 and is buried at Sunken Road Cemetery, Somme.
The Parish Magazine of October 1916 reports a wound to his brother, Private A. King, and notes that he, Bombardier B.C.M. King, was killed in action on 27th September. Arthur was wounded in the face, chest and shoulder in 1916 and was retired from service in August 1918.
Bertie was killed during the Somme Offensive. The Cambridge Chronicle reporting his death says he was on sentry duty when a shell exploded close to him. It states he was hit in the leg, lost consciousness and died 2 minutes later. He was assumed to have died from concussion.
Bertie Harry Matthews

Bertie was born in Trumpington, the son of Ellis Matthews, a shepherd. In 1911 he is shown as a House Boy domestic, living with widowed mother and his family in the High Street. His parents came from Fen Ditton and Littleport.
He served as Corporal (40291) in 2nd Battalion, Lincolnshire Regiment.
Older brother William also served, in Cambridgeshire Regiment, was awarded the Military Medal and commissioned in 1918.
Bertie was killed in Third Battle of Ypres, 15th August 1917 aged 22.
Commemorated on the Menin Gate, Ypres Memorial.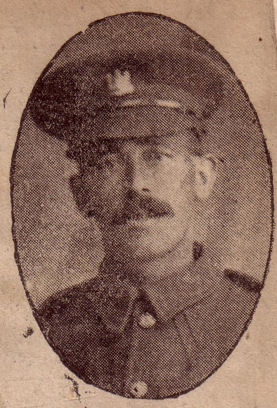 Newspaper cutting of "Private M.C. Metcalfe, Lewis gunner, killed in action 1917". Source: Trumpington Local History Group.
Michael Charles Metcalfe
[Metcalf in the printed version]
Michael was born 1887 in Cambridge, known as Charles and recorded on the War Memorial as such. In 1911 he is shown as a Gardener Domestic living with his wife and two daughters Ivy (4) and Mercy (3) and son Charles M (1). CWGC records he was the husband of Mercy Chamberlain (formerly Metcalf) of 6 North Cottages, Trumpington.
Private (327867) 1st Battalion, Cambridgeshire Regiment.
Died 26th September 1917, aged 32.
He was killed in Third Battle of Ypres and commemorated on Tyne Cot Memorial, Belgium.
Frank Mynott

Frank was born in Trumpington (1899) and lived in Trumpington Road. His parents were born in Essex and Hertfordshire but had lived in Trumpington since at least 1880. His father was a coalman and his two elder brothers were milkmen.
CWGC have him as son of Mrs E Mynott, London Road, Trumpington.
Private (G/52102) 12th Battalion, Middlesex Regiment.
He died 16th October 1917 and is buried in Cement House Cemetery, Belgium.
He was killed during the third Battle of Ypres. In 1917, the main fighting around Langermark was on 16th – 18th August. Some graves at Cement House Cemetery are of soldiers killed in August but later graves are re-burials from the Ypres battlefields.
Both his elder brothers served: Fred (1890) and Albert (1896) both in the Cambridgeshire Regiment. Fred Mynott survived the war and sounded the last post when our memorial was dedicated in 1921. Albert was a sergeant in early 1917, was awarded the Military Medal in June 1917 and was trying for a commission at the end of the war. One younger brother, Bernard (1901), also served.
Photos from Josephine Kitson: Frank Mynott and his grave in Belgium before the CWGC headstone was in place.
Francis Percy Campbell Pemberton

Francis was the only son of Canon and Mrs Pemberton of Trumpington Hall, and husband of Winifred Mary Colegate (formerly Pemberton) of 16 Prince's Gate, London. (CWGC).
He was born in April 1885 and was educated at St Faiths, Ludgrove and Trinity College Cambridge. He was a Second Lieutenant in the Life Guards and in 1912 was serving as Cavalry Instructor to the Oxford and Cambridge OCT. In April 1912 he married Winifred Mary Worsley. He was a keen sportsman and a playing member of the MCC Cambridgeshire Cricket Club and vice president of the Trumpington Cricket Club.
At the outbreak of war he was recalled to his regiment and promoted Captain "C" Squadron 2nd Life Guards. The regiment landed in France on 6th October 1914 as part of the 3rd Cavalry Brigade which advanced into Belgium. Captain Pemberton was killed when the British Expeditionary Force met the advancing German force in fierce fighting which became known as the First Battle of Ypres.
He is also commemorated by a plaque in Trumpington Church and on other war memorials, at school, college and at the MCC.
He died 19th October 1914 aged 29 and is buried in Dadizeele New British Cemetery, West Vlaanderen, Belgium.
Frank Peters

CWGC has him as son of Henry and Ann E Peters of Church Lane, Trumpington.
Private (12313) 4th Battalion, Suffolk Regiment.
Frank Peters is shown in the parish magazine as volunteering in response to Lord Kitchener's appeal in Sept 1914 and survived until almost the end of the war.
He died of wounds on 23rd September 1918 aged 32 and is buried at the Doingt Communal Cemetery Extension, Somme.
and Sidney Ilet Peters

A well-established Trumpington family. Parents, Henry and Ann, were born in Trumpington, as were the brothers. Father Henry was a labourer. In 1901 Frank (born 1888) appears as a Gardener Domestic and in 1911 as a Groom Cab Service, whilst in 1911 Sidney (born 1891) was working as a Gardener. Sidney was Private (10815), 4th Battalion, Royal Welsh Fusiliers. He was killed in the fighting around Ypres on 9th November 1916 aged 25 and is buried Bedford House Cemetery, Ieper, Belgium.
A number of Peters appear on the Roll of Honour and it is probable that three of these were brothers to Frank and Sidney – Harry (born 1875, served 3rd Suffolk Regiment), Frederick (born 1877, served 13th Queens) and Charles (born 1879, served Army Vet Corps). All three elder brothers left Trumpington before 1901.
Arthur Scates

Arthur (1891) was born in Chippenham, but by 1911 the family had moved from Suffolk and were living in Alpha Terrace. Arthur was not with them, and census returns show him as a Journeyman Baker and boarding in Brampton, Hunts. By 1916 his parents had moved to Chesterton. His elder brother Frank served in the Suffolk Regiment from 1915 – 1918.
Private (17690) 2nd Battalion, Coldstream Guards, enlisted in Hove. Died of Wounds 19th November 1916 and is buried in Grove Town Cemetery, Meaulte, Somme.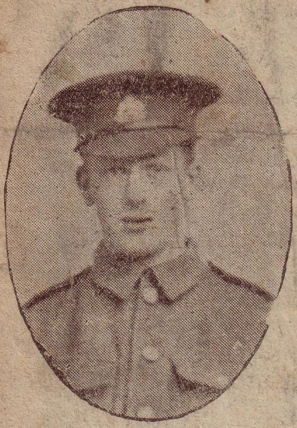 Harold Scott

A Harold Scott (born 1896) appears in the 1911 census living with his family in Alpha Terrace. Like his father, Nathan, he was born in Trumpington and he is shown as working as a Houseboy Domestic. The family appears in the 1891 census, in Alpha Terrace, but in 1901 the family were in Cherry Hinton.
The CWGC certificate does not show an age, but the Roll of Honour published in the Parish Magazine does show Harold Scott serving in the 8th Battalion, Suffolk Regiment and other records show him born and living in Trumpington.
Private (23750) 8th Battalion Suffolk Regiment.
Killed 26th September 1916, and is commemorated on the Thiepval Memorial, Somme.
Newspaper commemoration of "Private H. Scott killed in action." Source: Trumpington Local History Group.
Arthur Edward Smith

A well-established Trumpington family, both his parents were born here. Arthur was born in Trumpington in 1883, the eldest of three sons and a distant cousin to the Wilson brothers shown below. He worked on the railways and in 1911 was an Acting Fireman, having been an Engine Cleaner in 1901. He joined the Army at the end of 1914.
Sergeant (46129) A Battery, 92nd Brigade, Royal Field Artillery.
Died of Wounds Sept 1917 aged 35.
Buried in Canada Farm Cemetery, Ieper, Belgium. Most of the burials at Canada Farm are of men who died at the dressing station there during the 1917 allied offensive.
CWGC shows he is the son of Frederick and Maud Mary Smith, Church Lane, Trumpington. He is also commemorated on the family memorial in the Shelford Road, churchyard.
His younger brother, Frederick, was also in the Royal Field Artillery and was a POW whose release was reported in the Parish Magazine in Feb 1919.
Ernest Stearn

CWGC shows him as the son of James and Emma Stearn, and husband of May Seeley (formerly Stearn) Church St, Trumpington.
Ernest Stearn (1888) was born in Trumpington as was his father James (1841). His mother Emma (1851) was born in West Wratting. By 1880, the family were living in Whitlocks and so Ernest was brought up here. At the age of 13 he was an Agricultural Labourer. His father died in 1897 and in 1901 Ernest was living with his widowed mother and rest of the family. By 1911 the family had left Trumpington but he was boarding with the Steggles family in Alpha Terrace and was working as a Cowman.
Private (42279) 2nd Battalion Suffolk Regiment.
He died of wounds 28th September 1918 aged 33 and is buried in the Grevillers British Cemetery, Pas de Calais.
During September 1918 a number of Casualty Clearing Stations were located at the village of Grevillers and used this cemetery.
Raymond Frank Trigg

The family originally came from Essex and census returns show Raymond was born (1896) in Littlebury and they moved to Trumpington in 1897/98. The father, William, is variously described as a Farm Foreman and as Horse Keeper on a farm, whilst Raymond is described as a House and Garden Boy. CWGC says he is son of Georgina Clark (formerly Trigg), of 83 Weedington Rd, Kentish Town, London, and the late William Trigg and states he was born in Trumpington.
Driver (68887) 29th Division, Ammunition Col., Royal Field Artillery.
Lost at sea 23rd October 1915 aged 19, and commemorated on Mikra Memoria Greece.
The HT "Marquette" was torpedoed and sunk by U35 on 23rd October 1915 in the Aegean Sea, south of Salonika Bay, carrying the 29th Division Ammunition Column and the New Zealand stationary hospital to support the allied landings in Salonika.
Three of his brothers also served. William Thomas (1892) was in the Royal Engineers, Bertram (1898), who volunteered in Aug 1914, was in 3rd Suffolks and Stanley (1900) was in a training battalion at the end of the war.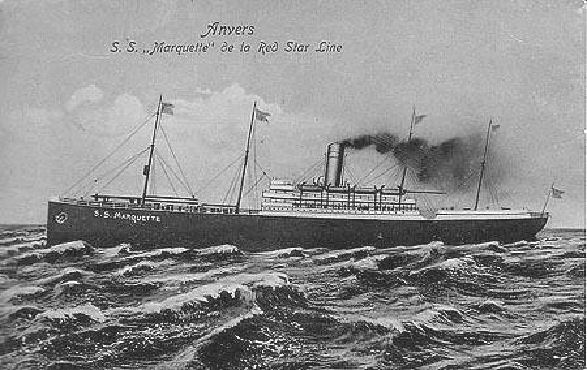 The torpedoed "S.S. Marquette." Photo, with permission, Jean-Marc Van Ravels.
John Whittamore

The identification of this man is uncertain. The Roll of Honour shows two Whittamores, Alfred who served in 11th Suffolks and survived, and J (or John) Whittamore who served in the Buffs and is recorded on the memorial. In the Parish Record there are a number of entries for the family of Alfred James, a postman, and his wife Lucy Whittamore, who lived at 51 Alpha Terrace. In the Baptism record for a son Percy in 1917, Alfred is shown as a sergeant in the Suffolks, so he is the first of the Whittamores on the roll.
Identification of John has proved more difficult. There is only one soldier called Whittamore recorded in the CWGC records and this is Joseph Whittamore serving in the Queens (Royal East Kent). Searching on the alternative spelling of Whitmore gives a number of J and Johns, but none that seem likely to be the Trumpington man.
There is evidence that Joseph Whitamore is the man recorded on the memorial. In the 1911 census, Joseph is shown as married to Rose and living in Chesterton, Cambridge and the CWGC records his wife as R Whittamore but living in Bedfordshire. He appears in the War Records of the Cambridge University Press, where he worked as a compositor and is shown as joining the Buffs and transferring to the Queen's.
His recorded date of death is the same as that shown in a list of the fallen in the Parish Magazine for February 1919 and other army records show his residence as Trumpington.
In spite of the confusion about his first name and his regiment, it does seem probable that this man is:
Joseph Whittamore
Joseph was the son of William & Emma Whittamore of Stanbridge, Beds, and husband of R Whittamore of Ramridge End, Stopsley, Luton, Beds.
Private 40007 1st Battalion,. the Queen's (Royal West Surrey Regiment)
Died of Wounds 8th February 1918.
He is buried at Mont Huon Military Cemetery, Le Treport, France. Mont Huon was a cemetery for the Le Treport hospital centre.
Whittamore is an unusual name and both Joseph and Alfred appear to have roots in Bedfordshire but there is no obvious connection between them, although it is likely they are related. Any further information will be welcomed by TLHG.
The Wilsons are a well-established Trumpington family with a number of branches. For this family, the father Joseph was born in Trumpington, whilst the mother, Emma was born in Great Shelford. They lived in Whitlocks Yard. In 1881 and 1891 Joseph is described as an Agricultural Labourer. In 1901 he was a Road Labourer and in 1911 was a Roadman working for the County Council. There was a family of four boys and one girl (two other children died in infancy), all born in Trumpington.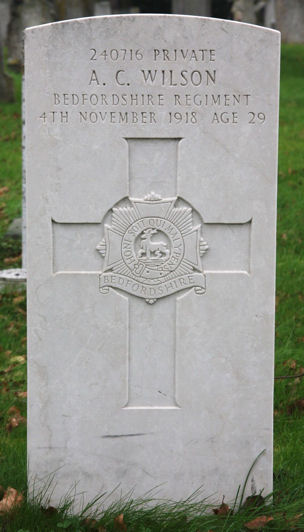 Albert Charles Wilson

CWGC: Albert was the son of Joseph & Emma Wilson, 7 Whitlocks Yard, Trumpington. The second Wilson brother, Albert (born 1890), was living with a widowed aunt in 1911 and he is then described as a Gardener.
Private (240716) 11th Battalion, Bedfordshire Regiment.
Transferred to (465546) 660th Agricultural Company, Labour Corps.
Albert died 4th November 1918. He is buried in Shelford Road Churchyard, Trumpington.
Tombstone of Private A.C. Wilson, in Trumpington Graveyard. Photo: Arthur Brookes. 2009.
In March 1916, the Parish Magazine reported "We were glad to see Private Wilson home again for a short while ago after his long and trying illness from an accidental wound in France. Though still lame, he was looking wonderfully well and we all hope that in time he will make a complete recovery."
After passing through two battles and charges, he had especially hard luck in being hit "in the house of his friends".
The Cambridge Chronicle reports in October 1916 that "Private A C Wilson has been admitted to hospital suffering from shell shock, contused right elbow and a wound in the back".
In April 1917, there is a further report that "We much regret to learn that Private Albert Wilson has been reported wounded and in hospital; and we trust he will soon make a good recovery."
In December 1918 "We offer special sympathy to Mr and Mrs Joseph Wilson who, only a few days before the death of their son Albert in hospital in Norwich, had heard that another son, William had been killed in action on September 21st".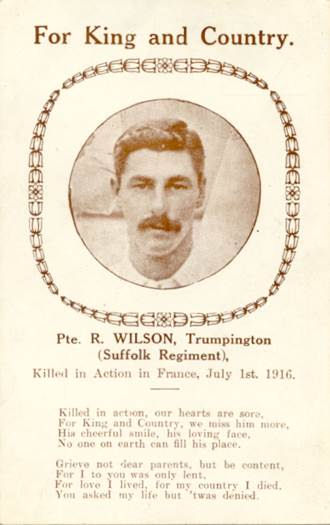 Memorial to Private R Wilson. Cambridgeshire Collection.
and Robert Wilson

CWGC: Son of Joseph & Emma Wilson, Whitlock Building, Trumpington and husband of Lizzie Wilson of 49 Chapel Rd, Weston Colville, Cambs.
The eldest son, Robert (born 1885), started work as a Houseboy and in 1911 was working as a General Carter and was living, still in Whitlocks, but with a widowed aunt.
When his death was reported in the press, he was described as "a well-known cricketer, being a member of the Trumpington Institute Cricket Club, and one of the best amateur bowlers in the county".
Private (13649) 11th Battalion, Suffolk Regiment.
He died 1st July 1916, aged 32; the first day of the Somme.
Robert is buried in Serre Road Cemetery, Somme.
and William Wilson

On leaving school he worked for a family in Chaucer Road, gardening and driving the pony trap. In 1911 he appears as a Farm Labourer living with his parents.
Private (204534) 5th/6th Combined Battalion, Cameronian (Scottish Rifles).
William died 21st September 1918, and is buried at Meath Cemetery, Villers Guislain, France.
The service career of William Wilson has been researched by Caroline Burkitt who examined the names on the Grantchester War Memorial where William is also commemorated.
He enlisted with the Cambridgeshire Regiment with the service No 2596 but was later transferred to the Cameronians. In 1916 he was serving in France and was badly wounded in the hip. He was brought home to hospital in Cheltenham, and whilst on sick leave, on 27th January 1917, he married Constance, daughter of Robert and Cecilia Fuller of Poplar End, Grantchester. At the time of her marriage, Constance was in service at Byron's Lodge working for Mr & Mrs Marsh. After the wedding William and Constance moved into Lodge Cottage at the entrance to Manor Lodge in Grantchester.
William's hip had been so badly shattered, leaving him with one leg shorter than the other, that his family were sure he would be able to leave the army, but he was called back again to France.
On 21st September 1918 the 5/6th Scottish Rifles attacked an enemy strongpoint called "Meath Post" one mile south of the village of Villers-Guislain, after two battalions had failed to capture it. The post was taken, but 14 men died in the attack, one of them being William, 132 men were wounded. Nine days later the Germans abandoned the position.
The youngest Wilson brother, Arthur (born 1897), was living with his parents in 1911 and worked as a Bakers' Helper. He served in the Cambridgeshire Regiment during the war but survived.
The only Wilson daughter, May R (born 1888), sometimes known as Mary R, was also widowed during the war. She lived with her parents in 1891, was a Domestic Helper in 1901 still living in Whitlocks, but by 1911 was employed as a Cook with a well-to-do family in Gresham Road, Cambridge. In 1913 she married Horace James Jeffery , from Great Shelford, in Trumpington church. Horace served in the London Regiment (Royal Fusiliers) and was killed on 1st November 1918, during the "Battle of Sambre," at the very end of the war, as the allied armies advanced into Belgium. Whilst not on Trumpington's memorial, he is remembered at Great Shelford, where he is named as James Jeffery.
Private James Richard Wilson, "killed in action August 30th, aged 23". Photo: Cambridge Chronicle.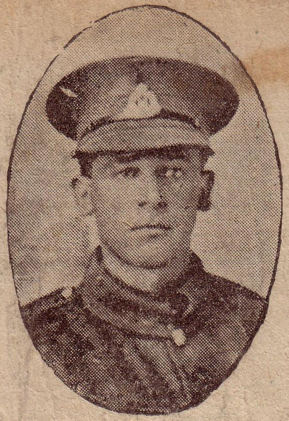 James Richard Wilson

James was born (1893) in Cherry Hinton, his father was born in Trumpington and his mother in Cherry Hinton. He was a distant cousin to the Wilson brothers above and also to Albert Smith. Both he and his father were working in 1911 as Farm Labourers and James is the only surviving child.
Private (3894) 4th Battalion, Suffolk Regiment.
Died 30th August 1916, aged 20.
He is buried in Caterpillar Valley Cemetery, Somme.
CWGC shows he is the son of George Samuel and Elizabeth Wilson, of Swan's Yard, Trumpington.
James died during the Battle of the Somme. Caterpillar Cemetery contains 5,569 burials most of which are reburials from smaller cemeteries around the Somme battlefields.
Most of the men who are commemorated on the Trumpington War Memorial are buried where they fell, or if they have no known grave, are recorded on one of the Commonwealth War Graves Commission memorials. There are, however, three graves of fallen men in the Shelford Road cemetery, two of which are family memorials and only one, Albert Wilson, is a CWGC headstone. Of the three men, Arthur Chaplin and Albert Wilson are also recorded on our memorial, but the third is not, and for completeness his details are shown below.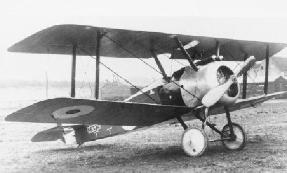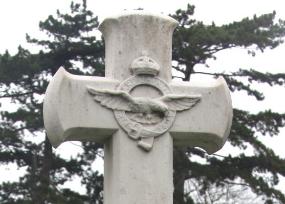 The Sopwith Camel. Photo: author unknown.
Early RAF badge on grave of Gerald Hugh Smyth. Photo, Arthur Brookes. 2009.
Gerald Hugh Smyth

He was born in Baldock in 1899 and in 1901 was living in Chesterton Road, Chesterton and his father was a land agent. By 1911, the family had moved to The Laurels, Cavendish Rd, Cherry Hinton.
Second Lieutenant No 2 Fighting School, Royal Air Force. At 16 he joined the Royal Navy armoured cars and served in Belgium, France, Russia, Turkey, Galicia and the Caucasus. After the 1917 Russian revolution he obtained a commission in the Royal Naval Air Service and got his wings in August 1918. He crashed six hours before he was due to leave for France.
He was killed in a flying accident when his Sopwith Camel stalled and spun from 700 ft.
Gerald died on Thursday 5th September 1918. He is buried in the Trumpington Churchyard, Shelford Road.
The RAF was formed in April 1918 by the merger of the RFC and the RNAS, Smyth's grave bears a very early representation of the badge of the RAF. He is also commemorated on the war memorials at the Perse School and in St. John's, Hills Road.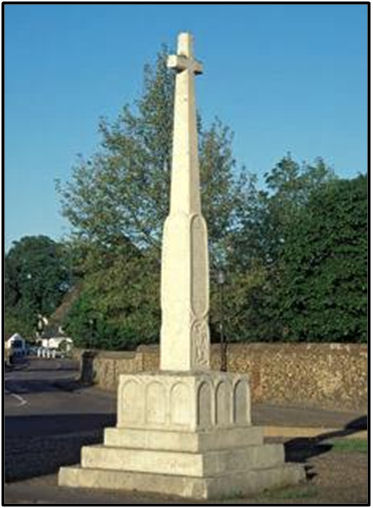 Trumpington War Memorial from the south east. Photo: Arthur Brookes, 1997.