Andrew Roberts
This is the first of three pages about the agricultural revolution and the enclosure of Trumpington. See also the introductory page and the background to farms and farming .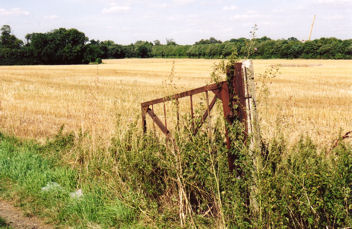 At the beginning of the 18th century, Britain was dominated by agriculture and domestic industries, particularly cloth manufacturing based on wool. Most agricultural production was for local consumption, with extensive areas operating the open field system. The typical rural landlord was an aristocrat or squire who owned a large estate. The proportion of the population working in agriculture was already a minority and London was the dominate centre of population.
In the first part of the 18th century, there was an expansion of the wool trade and the development of metal trades. There was a shift of industrial and commercial activity from London to the north and west.
The conventional model of agricultural development was that there were revolutionary changes between 1760 and 1850. It is now thought that the changes were long-term and gradual and the term "revolution" is a misnomer, although the period from the 1760s was undoubtedly one of innovation and experiment.
Whether evolutionary or revolutionary, the cumulative effect of the changes affected every person and every aspect of life. There was an expansion of industry, commerce and political power, with a dramatic increase in population (particularly the urban population) and prosperity.
Sources
Beckett, John V. (1990). The Agricultural Revolution . Oxford: Blackwell. ISBN 0-631-16287-9.
Evans, Eric J. (2001). The Forging of the Modern State: Early Industrial Britain, 1783-1870
Continue with the agricultural revolution.