One of the Italian prisoners in Trumpington Camp was Vittorio Prati, whose son and granddaughter, Deni Prati and Cristina Prati, have been carrying out research into his wartime experiences. We are grateful to Deni and Cristina Prati for information, initially in 2016, updated in 2022.
This is one of a number of pages about Trumpington PoW Camp.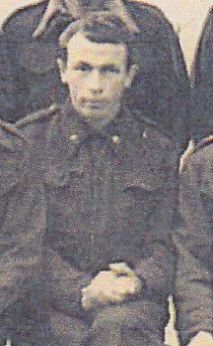 Vittorio Prati was born on 8 January 1919. He served in the Italian army during the War and was captured at El Alamein in July 1942. Cristina writes that Vittorio Prati was a prisoner in the Trumpington Camp between 1942 and 1946. During this period, he worked on a farm, looking after horses and land.
The family have photographs understood to have been taken while Vittorio Prati was in Trumpington Camp and also a camp pass which was issued to Vittorio on 15 September 1944, allowing him to be absent until 22:00 hours.
Vittorio made some close friends within the community, including Dennis Taylor and Mary … Vittorio's son, Deni Prati, adds that he and his sister were named after Dennis and Mary, with the names 'converted' to the Italian form of Deni and Meri. Deni and Cristina ask if anyone can help identify these people (see photographs below)?
On 4 December 2013, Deni and Cristina Prati visited Brother Herbert Kaden, and Cristina writes that it was very emotional talking with Brother Herbert. See also the page about Brother Herbert Kaden.