Helen Christy and Juliet Mather organised a celebration of the Royal Wedding of Prince William and Catherine Middleton on Friday 29 April 2011. This was held at Trumpington Pavilion, with activities in the hall and the surrounding playing field. The Mayor of Cambridge, Councillor Sheila Stuart, took part in the events, while being interviewed for her views on the designation of the new Duke and Duchess of Cambridge which had only been announced that morning.
All photos: Andrew Roberts, 29 April 2011.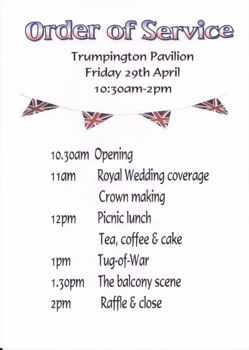 Flyer designed by Juliet Mather, April 2011.