Sheila Glasswell
The row of shops in Anstey Way (The Parade) was planned in the 1940s and built by the council in the 1950s. This article traces the history of the shops to 2012. It is one of a series about traders , based on a presentation given at a Group meeting on 11 October 2012.
The shops in The Parade, Anstey Way, 14 November 2012. Andrew Roberts.
The Anstey Way shops 1-6 are first recorded in photographs in the Cambridgeshire Collection in June 1956. The shops had uniform lettering above them; F.W. Truelove, G.A. Fuller, B.D.H. Smith, a shrouded front, the Cooperative Society and Ward, Cox and Son. These newsagents, fishmongers, greengrocers, butchers and bakers supplied all the basic needs of the locals.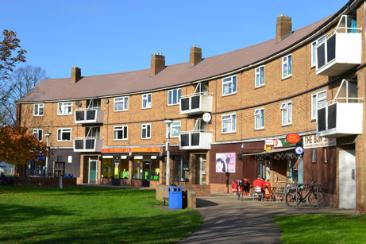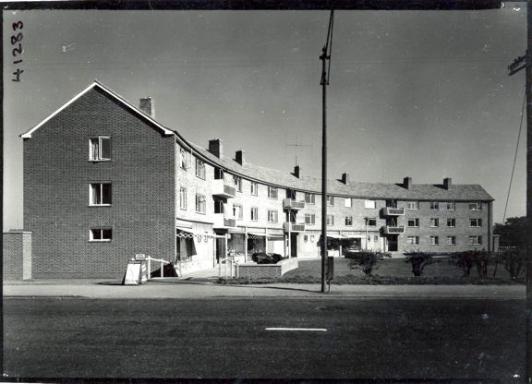 The Anstey Way shops, 1956. Cambridgeshire Collection.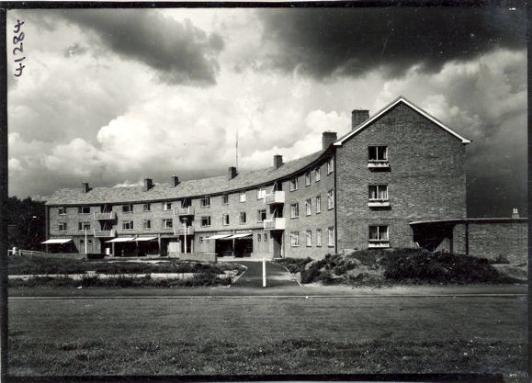 While preparing this paper, many local residents were asked about the shops and the people working in them, and gave many conflicting stories! Returning to the Cambridgeshire Collection and searching the Kelly's directories, I compiled a good record of who worked where and when. The gaps were filled by searching the Yellow Pages.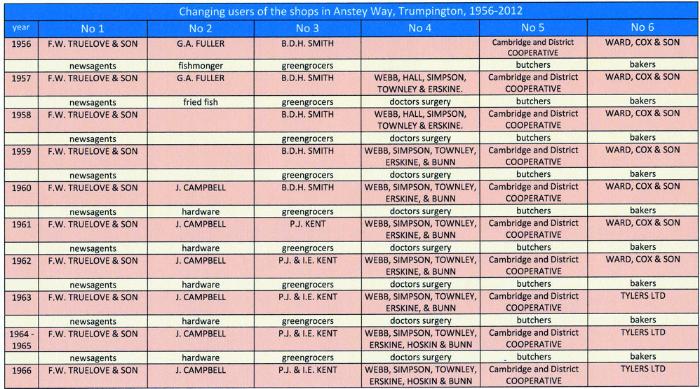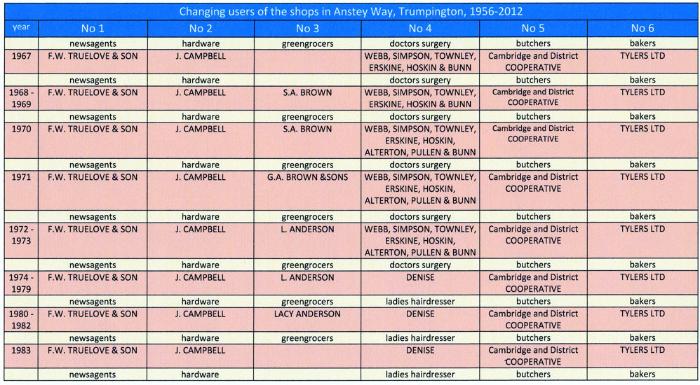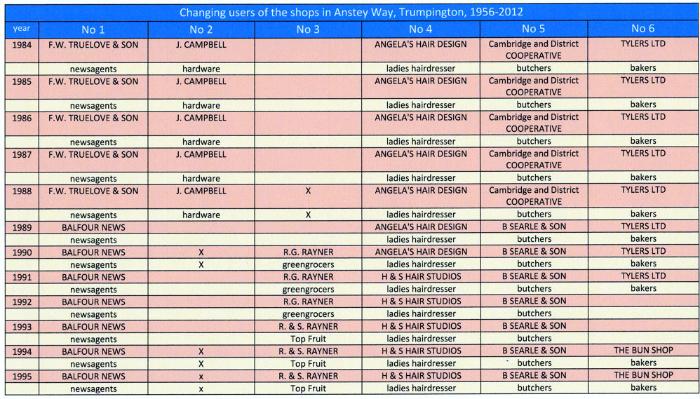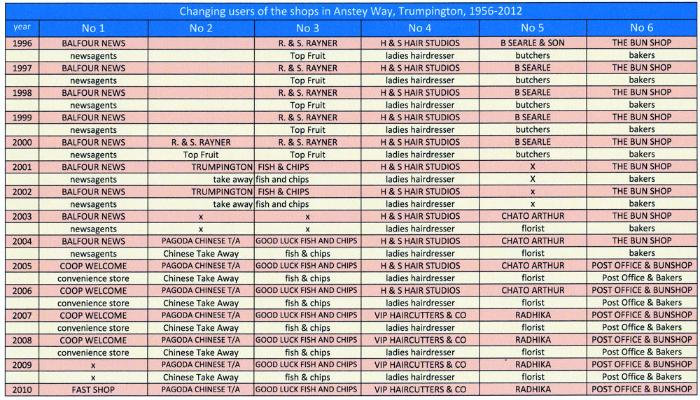 Many people remember Bert and Ian Truelove having a newsagents' in the High Street, where the Granite Kitchen shop is now. When the new parade of shop opened however, the Trueloves were proudly at No. 1. And there they stayed for almost 30 years! Peter Dawson remembered that Trueloves' was a great meeting place. In the
Cambridge News
, in a report on Bert`s award of the OBE, he was described as "bubbly Bert". When he and his wife Brenda retired, the shop continued to trade as a newsagents; Balfour News for 15 years. Balfour's sold a few groceries and drinks, and had an alcove selling Chinese spices.
Within 4 years, the fishmonger, at No. 2, was replaced by Mrs Campbell's hardware shop, which traded for 28 years until Mrs Campbell retired to be nearer her married daughter. Hiltrud Hall remembered that Mrs Campbell was a Danish nurse, who came to England after the war, working with refugees. She met her husband here, who was a professional footballer. She ran her fantastic hardware shop for many years and lived with her family (she had one daughter) in one of the flats above the shop. Mrs Campbell eventually sold her flat above the shop (after being burgled twice) and moved to Huntingdon. It was Roger Rayner, who bought Mrs Campbell's hardware shop.
Number 3 was a greengrocer under firstly B.D.H. Smith (5 years), secondly P.J. Kent (also 5 years), thirdly S.A. Brown (3 years), fourthly L. Anderson (at least 3 years). He was followed by Roger Rayner (11 years). When Mrs Campbell's at no 2 became vacant, Roger Rayner took it over to extend his shop at no. 3, to include frozen goods. Peter Dawson said that Roger Rayner`s shop was always something of a social club where local gossip was exchanged. Roger sourced much of his produce locally but also drove his van to Covent Garden at some unearthly hour in the early morning most days to buy stock. Peter remembers the clutter at the back of the shop in the cul-de-sac where he used a garage for storage.
In Kelly's Directories and the Yellow Pages, the shrouded premises at no. 4 appear to be a doctor's practice. Drs Webb, Simpson, Townley & Erskin were joined by Dr Bunn in 1959, Dr Hoskin in 1964 and Drs Alterton and Pullen in 1970. In 1974 this shop was converted into a hairdressers', when the Doctors' Surgery at 12 Anstey Way began. There was another doctor's surgery was in the house on the High Street now used by Home Affairs. Shirley Brown assumed the reason for moving to Anstey Way was that the High Street house was sold. Since 1974 there have been hairdressers here; Denise's (8 years), Angela's (7 years), Hayley and Stella's (16 years) and now VIP Haircutters.
At No. 5 there were butchers for 45 years! Shirley Brown wrote that the Co-op butcher was a very pleasant man called Mr Brown who was a talented artist. His replacement was dreadful. There were so many complaints and a reduction in trade that the Co-op decided to close the shop. In 1989 Barry Searle extended his Sawston butchers shop to include Trumpington, where they stayed until 2001. Peter Dawson has a memory of Yvonne Pryor working in the butcher`s shop incessantly washing her hands between serving red meats and other foods.
No. 6 has always been a bakers; Ward Cox and Son (6 years), Tylers' (almost 30 years) and The Bun Shop, which the Yellow Pages indicate had added the Post Office to its services since 2005.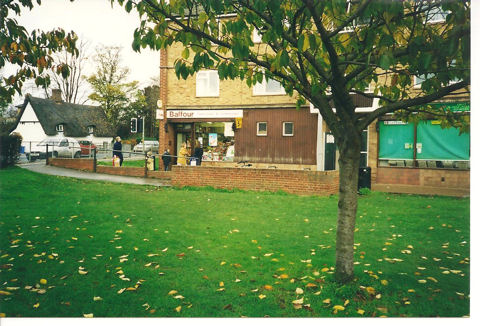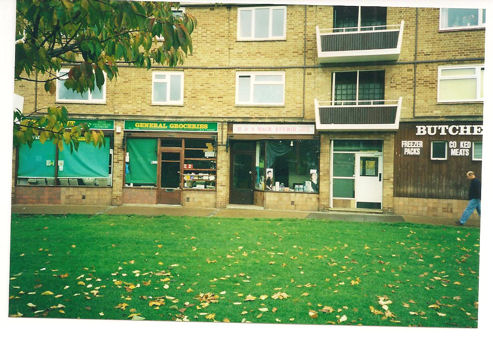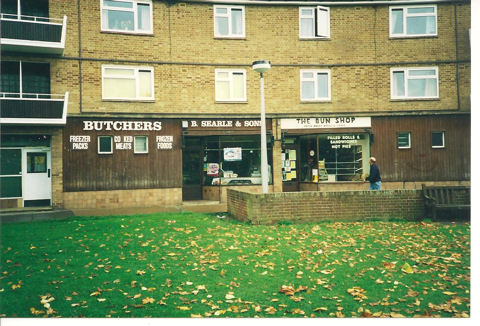 The Anstey Way shops in 2000. Ken Fletcher.
Big changes were about to take place around the time of Waitrose's go ahead. May 1999;
No. 1, Balfour News, sold to the Coop Welcome, a convenience store. This only lasted 4 years and then it was briefly a Fast Shop general store. So Fast it appears to have lasted 2 years, closing on 1 October 2011! Neither appeared to be able to compete with Waitrose. Eventually the shop did not sell papers at all. For a short period from June 2012 to early 2013, it became a bike shop, 'Pedalberg!'
At No. 2 and 3, there were changes, because Waitrose also sold frozen goods, fruit and vegetables. Hiltrud Hall said that Roger Rayner left when Waitrose came, very much to the local residents' regret. He and his shop were very much missed. For three years it became a Fish and Chip shop before it branched out to become a Chinese take away and Fish and Chip shop.
No. 4 hairdressers was unaffected by Waitrose, although it has changed hands.
No. 5 had always been a butchers shop. Barry Searle held out valiantly but could not compete with Waitrose's diversity and prices. In 2001 he was no longer listed here. He went back to Sawston. The premises have been a florists' since then.
No. 6 has continued to operate as a bakers'. Since it incorporates the local Post Office and makes fresh sandwiches to order, it offers the locals services that Waitrose cannot!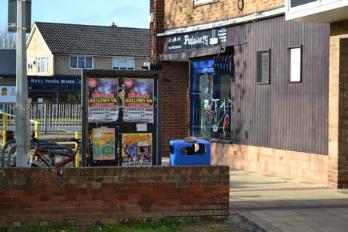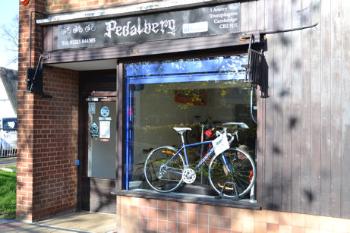 Pedalberg (cycle shop), The Parade, Anstey Way, 14 November 2012. Andrew Roberts.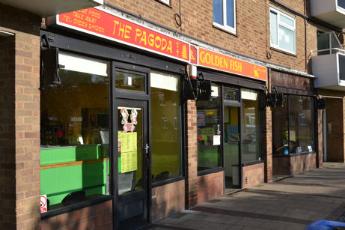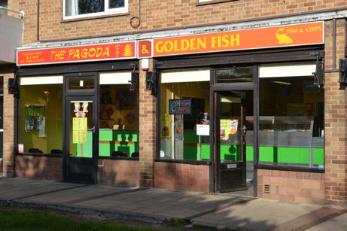 The Pagoda & Golden Fish (Chinese take away and fish & chip shop), The Parade, Anstey Way, 14 November 2012. Andrew Roberts.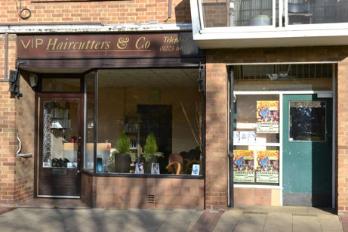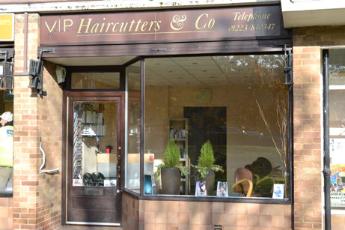 VIP Hair Cutters (hairdresser), The Parade, Anstey Way, 14 November 2012. Andrew Roberts.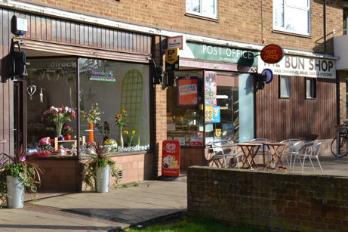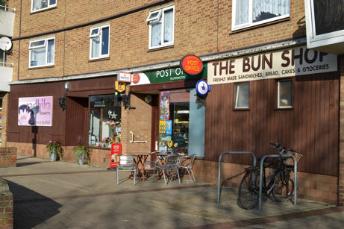 Radhika Flowers (florist) and the Post Office/The Bun Shop, The Parade, Anstey Way, 14 November 2012. Andrew Roberts.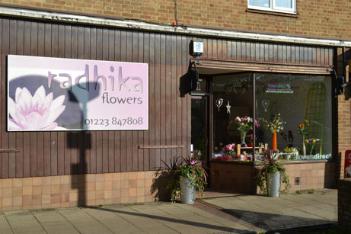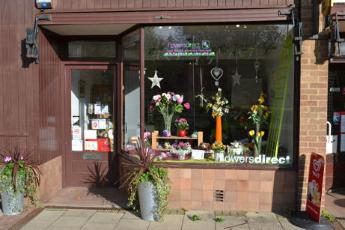 Radhika Flowers (florist), The Parade, Anstey Way, 14 November 2012. Andrew Roberts.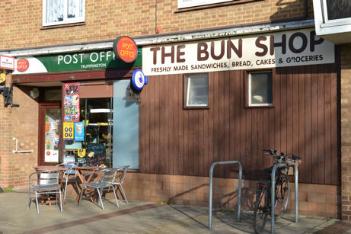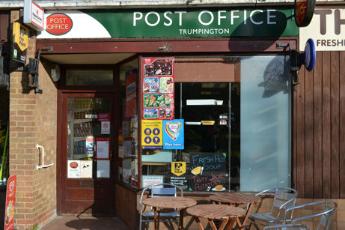 The Post Office/The Bun Shop, The Parade, Anstey Way, 14 November 2012. Andrew Roberts.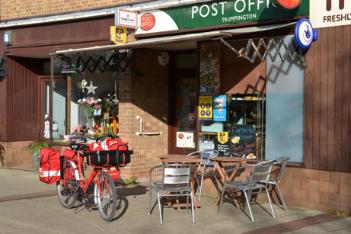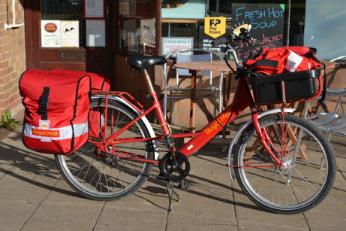 Post office bike outside the Post Office, The Parade, Anstey Way, 14 November 2012. Andrew Roberts.