Peter Dawson
For a relatively small and compact area, the Shell site on Trumpington High Street has seen a surprisingly wide range of services provided by traders and entrepreneurs from the early 20th century. This article is one of a series about traders based on a presentation given at a Group meeting on 11 October 2012.
The Shell filling station after renovation. Photo: Andrew Roberts, 13 May 2012.
The Woodyard
The woodyard was at the site where the Shell petrol station now stands; a somewhat inadequate name for an important establishment which operated in deceptively ramshackle premises with its great tree standing at the front. From the early 1900s, Edwin Smith with, later, his sons Gordon and Cliff, both County cricketers of note, demonstrated great skill and resourcefulness in their business.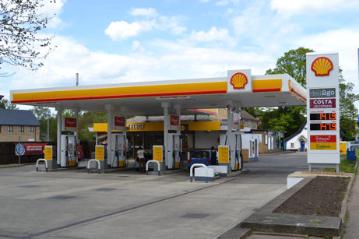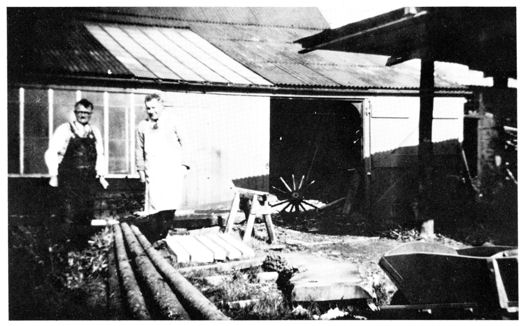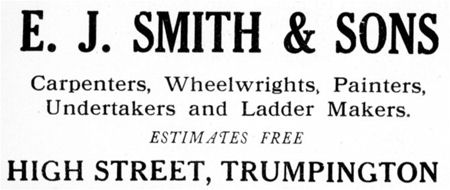 The woodyard, Trumpington. Source: Trumpington in Old Picture Postcards .
Advertisement for E.J. Smith & Sons, 1952-53. Trumpington Parish Magazine .
They were, amongst other things, fencers, carpenters, wheelwrights, cart builders and coffin makers and undertakers. Their World War One effort included the manufacture of munitions boxes. Those were the days before specialized power tools and machinery, so they would invent and improvise certain tools of their trade.
The photograph below shows ladders with rungs crafted from old cartwheel wooden spokes – an early example of recycling. The ends of the rungs would be shaped to a point using a machine invented by them, like a huge pencil sharpener.
The quality of their products was evident when Selfridges in London sold their wheelbarrows, and the gate at the churchyard remains today as further testimony to their skills.
The Woodyard closed down in the 1950s, with its carpentry business moving to the Smithy at the junction with Church Lane.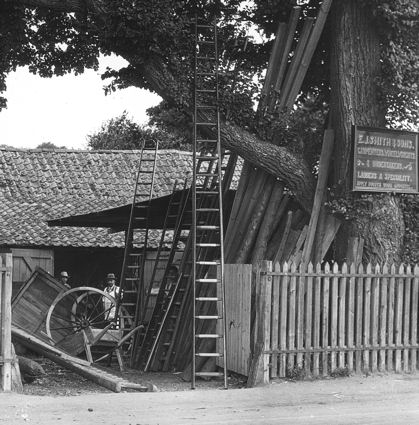 E.I. Smith & Sons, Carpenters, Wheelwrights and Undertakers, Trumpington High Street, 1920s. From a photograph used by Percy Robinson during lectures in the 1920s-1940s.
Harry Newell & Sons
Another stalwart Trumpington entrepreneur was Harry Newell, whose original shop stood on the High Street in front of the building now occupied by Noel Young's and the Pharmacy. From the 1900s, Harry ran a business every bit as versatile and inventive as the Smiths'.
In the early days, H.J. Newell & Sons was a cycle shop, described in advertisements as The Old Pound Cycle Depot, a reference to a previous use of this area. This old postcard picture shows Harry proudly posing with his pet dog in the doorway of the modest brick and wood built premises, its windows chock-a-block with cycling accessories. Next door, on the left, is the old lock-up, a rare example of its kind.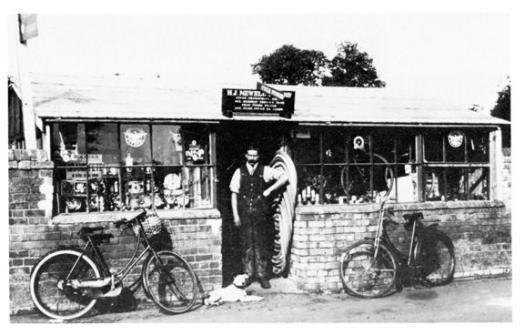 Harry Newell in front of his shop. Source: Trumpington in Old Picture Postcards .
In the 1920s, the shop had expanded upwards and outwards to become a garage, complete with petrol pumps and adorned with signs advertising both Shell and BP as well as oil, tyres and cigarettes. My favourite sign is "Michelin Zig- Zag Tyres", perhaps an indication of the product's efficiency! Harry's press advertisements loudly proclaimed "Bowser Petrol Pumps", presumably to distinguish them from the somewhat primitive hand-pumps of that era.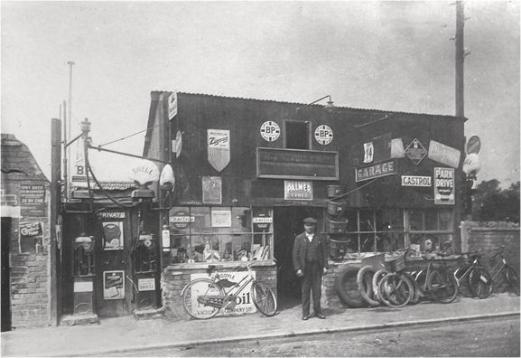 The extended Newell's shop, 1925. Cambridgeshire Collection.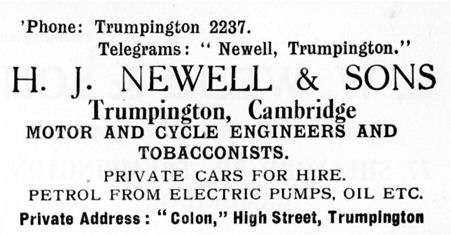 Advertisement for H.J. Newell & Sons, 1952-53. Trumpington Parish Magazine .
All this justified Harry elevating his title to 'Motor Engineer and Cycle Agent'. Nevertheless, he still sold paraffin which he stored in the adjacent old lock-up.
An important part of Harry's enterprise was a taxi hire service. His preference was for large, versatile cars – for example, one that, by temporarily removing seats, could be converted into a hearse. By arrangement with his neighbour in the Woodyard, a coffin would be transferred from the car to a hand-cart which was then pushed by Mr Smith to the church.
In this photograph, a young Frank, later Sir Frank, Whittle, the aeronautical engineer, is topping up his petrol tank. He, of course, went on to invent the turbo-jet engine, perhaps inspired by the impressive exhaust system on the sporty car! The photograph was probably taken in the 1930s when Frank Whittle was reading Science at Cambridge University. Prior to that, he was a fighter pilot and test pilot in the RAF.
In 1957, the whole area was demolished, woodyard, garage, old lock-up and all, to make way for the modern Shell station. The building which now comprises Noel Young's and the Pharmacy was built and Harry Newell's business re-housed in its southern half. Again, Harry demonstrated his versatility by setting up his new shop to sell an impressive array of goods including, in addition to cycles and spares, hardware, ironmongery, stains, paints, polishes, garden tools and seeds. How far from Trumpington must we travel today to buy such essentials?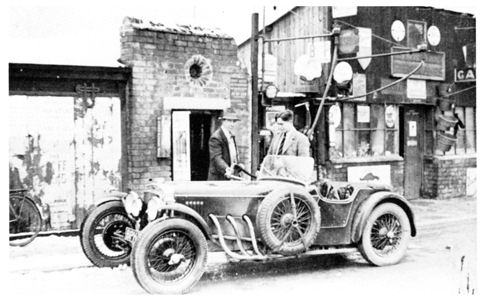 Frank Whittle at Newell's store, 1930s. Cambridgeshire Collection.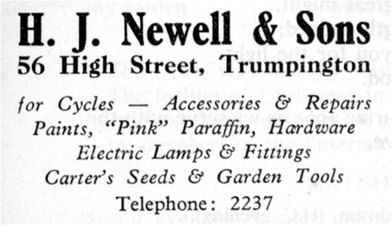 Updated advertisement for H.J. Newell & Sons, 1965. Trumpington Parish Magazine .
Noel Young Wines, Gregory's Pharmacy and the Thatched Cottage
After Harry Newell began his well-earned retirement, the shop at number 54 High Street accommodated a disparate string of trades including electrical contractor, haberdasher, auctioneers and leisurewear outlet. Things stabilised in 1992, when fine wine retailer and wholesaler, Noel Young established his acclaimed business. Among the many awards won by Noel Young is International Wine Challenge's title "Merchant of the Year 2003". He also became their "East of England Merchant of the Year" no fewer than eleven times.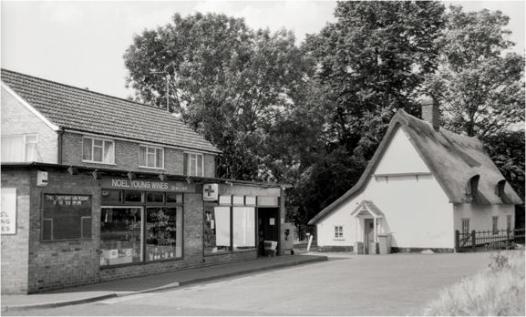 Noel Young Wines, Gregory's Pharmacy and the thatched cottage. Jo Elliot.
Next door, number 56, became Trumpington's first Pharmacy, the first chemist being Harold Moore seen here on the right with the young-looking pair Jeff and Karen Gregory who took over the business on Harold's retirement in 1986. The Gregorys have re-designed the interior and enhanced the Pharmacy by installing patients' computerised medication records with a direct link to the Trumpington Surgery. After Jeff gained further qualification, an Optician's service was installed, complete with state-of-the-art testing and diagnostic equipment resembling something out of 'StarWars'!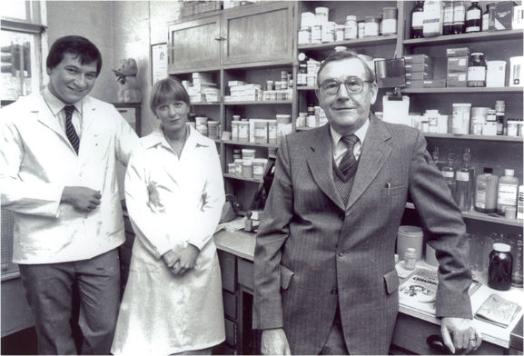 Jeff Gregory, Karen Gregory and Harold Moore on Harold Moore's retirement, 1986. Cambridge Evening News .
The only remaining historic building on the Shell site is the late 18th or early 19th century thatched cottage to the right of the pharmacy. In the 1930s, Herbert Gentle was tenant and, as a tailor, may have conducted his business there. For many years the house was known as Gentle's Cottage. In 1977, the cottage was converted into an art gallery and picture framers, the business moving to Mitcham's Corner in Chesterton, east Cambridge, in 1993 where it still trades as 'Trumpington Gallery', perhaps as a tribute to our village.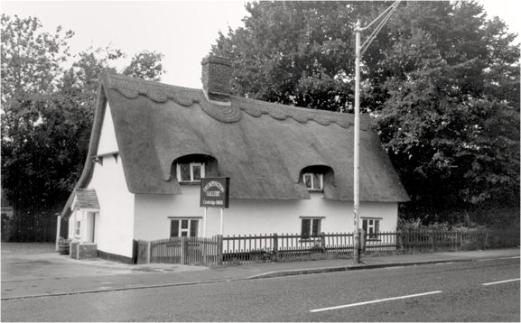 Trumpington Gallery. Florence Jones.