An Enthusiast's View
Barry Clarke, 2008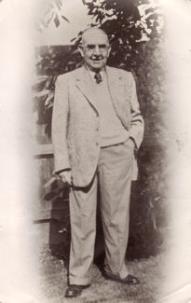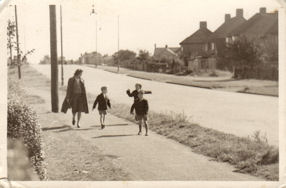 I was born in Trumpington on New Year's Day, 1942, and spent my childhood and formative years living at 51 Shelford Road. My maternal grandfather, Reuben Ellwood, had moved to this new house in 1933, when he had retired from the post of accountant at the Bradford Dyers' Association.
One of my earliest memories of Trumpington is walking with my mother, Nancy Clarke, along Maris Lane towards what we used to refer to as the Church School. I was extremely unhappy the first morning of school and kicked the leaves as we walked. We moved to Chesterton for a few years and I went to Milton Road Primary School. When my grandfather died in November 1950, we returned to 51 Shelford Road, and I attended the new Fawcett School for three years.
The house on Shelford Road was only 100 yards from the summit of a road bridge over the former London and North Western Railway Line (LNWR), which connected Cambridge with Oxford, via Sandy, Bedford and Bletchley. A further 100 yards brought you to Bishop's Road bus stop. Fawcett School was excellently sited for train observation. These accidents of geography were instrumental in an enduring interest in railways and buses.
Railway services
I was entranced by the trains and loved to watch the steam drift across the gardens on a still evening, when the 6:15 pm to Bletchley passed through the cutting. I would charge up to the north east parapet of the bridge on my tricycle when a train was due – my grandfather kept me informed of this. One of the distinguishing features of these trains was that they were often hauled by Stanier Black Five locomotives, which were fitted with a hooter which would be sounded as they approached the crossing from the allotments. When there were few movements on the line, I would cycle through the allotments, skirting the new housing estate, taking the path over the LNWR line towards Red Cross Lane and waiting beside the main line for trains to and from London.
If the weather was wet, I would head for the bridges on Long Road which afforded a great view of passing trains. Sunday mornings were particularly enjoyable, as the trains working the route included some of the premier locomotives from the King's Cross depot, doing a trial run after regular maintenance, a 'running-in turn'. This left King's Cross as 6:50 am and returned from Cambridge at 10:05 am, so I had two viewing opportunities. These elegant locomotives were fitted with distinctive and melodic chime whistles, which would fill the flatlands around Hobson's Brook with noise, a sound once heard, never forgotten. The locomotives used on this turn were invariably Gresley A4s, streamlined engines known to us as 'streaks'. We saw named trains such as 'Sir Nigel Gresley' and 'Dwight D. Eisenhower' and the record-breaking 'Mallard'.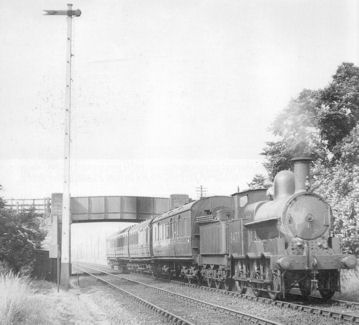 Another of my favourite locomotives was the Britannia class, used on the lines between Liverpool Street and Norwich. Some of the trains were sent on the alternative route through Cambridge rather than Colchester. Colchester itself was linked to Cambridge via the Stour Valley and Colne Valley lines. For many years, there was a Sunday Special service to Clacton, which stopped at practically every intermediate station and took over two hours to reach the seaside. If you loved trains, this was a child's equivalent of one of the Great Railway Journeys of the world!
I remember that I persuaded my mother into allowing me to make my first train journey in one of the school holidays, from Cambridge to Bishops Stortford. Soon after, I made a trip with a school friend, on the Bedford line to Sandy. The East Coast main line passed through that station and if you walked to Sandy Warren there was grandstand view of the main line.
See the Railways page for other recollections of railways in Trumpington.
Bus services
In the 1950s and 1960s, Bishop's Road was the terminal point of Eastern Counties Omnibus Company Ltd. (ECOC) City Service 115. The stop was also served towards town by Service 103 (Cambridge – Sawston or Cambridge – Pampisford via Great Shelford and Stapleford) and Service 112 (Cambridge – Saffron Walden via Duxford). Service 103 ran approximately hourly through Trumpington on the way to Great Shelford, whilst Service 112 ran irregularly but approximately every two hours between Cambridge and Saffron Walden.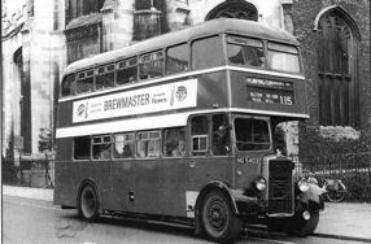 Late in the evening, I would listen with interest to hear how long the last bus on the 103 service took to return from the White Horse at Sawston (the 10:45 pm from Drummer Street on Tuesday and Friday). I reckoned that 20 minutes was good going! That time of night seemed outrageously late to a 1950s teenager, like listening to Radio Luxembourg at 11 pm.
As I am still a resident of Cambridge, I have been able to observe the sweeping changes to the bus network since Stagecoach UK took over and set up a number of 10-minute interval services which ECOC could only have dreamed of! Bishop's Road, Trumpington, is now served by the Citi Service 7, which traverses High Street, Trumpington and Shelford Road every 10 minutes (daytime), with extensions hourly to Duxford and Saffron Walden ('plus ce change… plus c'est la meme chose!').
One of my favourite outings as a young child was to go with my mother on Service 103 to Great Shelford, where a Mrs Mott kept a wonderful shop, which sold sweets and toys, next to Robinson Bros. dairy, where my wife-to-be lived. Indeed, my father-in-law-to-be bought items from this same shop for his extensive Hornby railway layout. I would usually come out of the shop clutching the latest Dinky Toy model.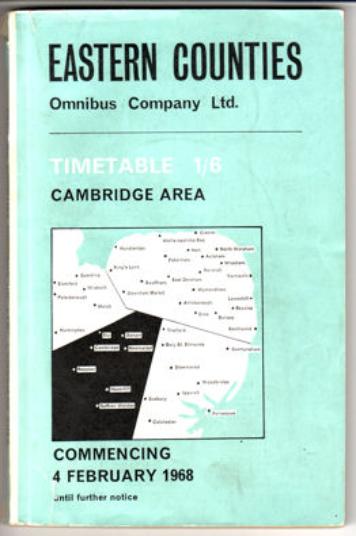 In the 1950s, ECOC provided Service 108 (Cambridge – Royston) two-hourly via Barrington Green and two-hourly via 'Main Road' (the A10) and Foxton. Today Stagecoach Service 26 provides an hourly Cambridge – Royston service via the A10 and Foxton. While I was busy misspending my youth, I would also try to catch the last 'country bus' home. An additional attraction of catching the last 103 was that I used to see an attractive young lady who would prompt me to leave the bus when we reached Bishop's Road. This lady would become my sister-in-law in years to come. She has recently moved to Bognor Regis and I have sampled the delights of Stagecoach UK's Service 700 from Bognor to Portsmouth.
In Cambridge in the 1950s, I used to ride all the way to bus termini, which appealed to me. Meadowlands Service 102 (St Thomas Road via City Centre) was one such route, which to my child's mind was a bit of a disappointment, as was Green End Road Service 101 (Railway Station via City Centre) – I had high hopes of Elysian Fields at both destinations, but my hopes were dashed!
In 2008, the scene is about to change yet again in quite a major way, with the arrival of the Cambridgeshire Guided Bus which will use the track bed of the old LNWR to reach Trumpington Park & Ride site from Huntingdon and St. Ives, via the projected new village of Northstowe.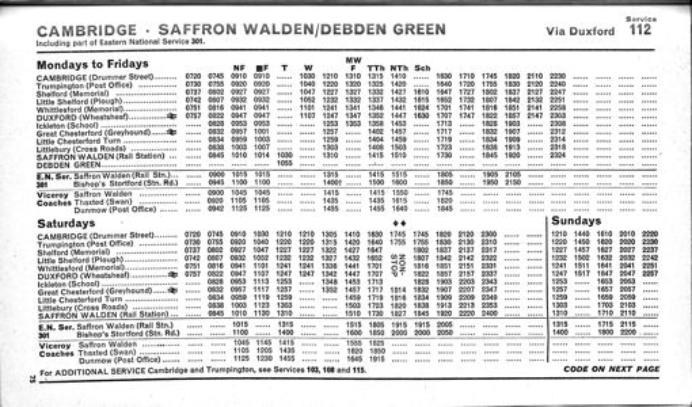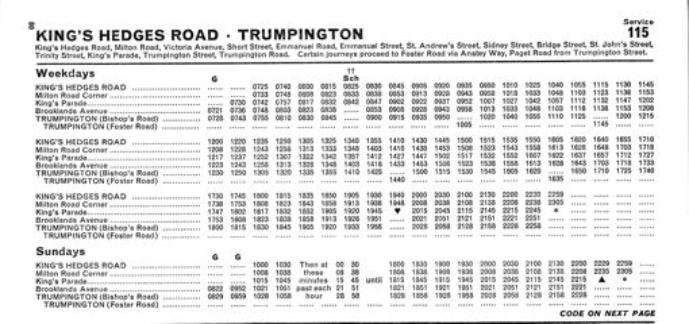 Local roads
Another pursuit in my Trumpington childhood was to stand with the AA man (Mr Pike of Pampisford) outside the AA box. Mr Pike had a rather smart Hillman Minx in an avant-garde metallic silver. The box was on the former A10, opposite today's entrance into the Waitrose store. I would watch the passing traffic in the hope of spotting newly-registered cars. In the case of goods lorries, there was a series of booklets listing the depots and vehicles belonging to British Road Services. I've certainly earned my anorak!