Continue with the
next part
of the history of Trumpington Village Hall.
Display panel about the history of the Village Hall, Centenary Exhibition, October 2008. Photo: Stephen Brown.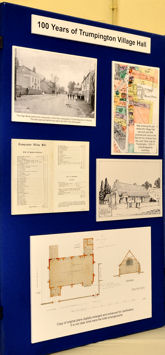 The High Street before the construction of the Hall. The Hall was built behind the wall to the left of the photograph. Source: Cambridgeshire Collection, Cambridge Central Library. Reproduced in Trumpington Past & Present , p. 16.
In the early 1900s, Trumpington was still a separate village on the outskirts of Cambridge. In an article in the
Cambridge Evening News
, 20 October 2008, Mike Petty recorded that the idea for a hall started to take shape when a parishioner, Mrs Mansfield, left money in her will for the benefit of the village.
The York architect Walter Brierley was chosen and consented to design the village hall, through his connection with Canon Pemberton, who donated the land and started the subscription list for the hall with a donation of £100, followed by £200 from E.B. Foster and various sums from others including the Archbishop of Sydney. Canon Pemberton was a regular visitor to York music festivals and the father-in-law of Winifred Pemberton (née Worsley), who hailed from Hovingham near York.
Walter Brierley was a noted architect based in York, known as the Yorkshire Lutyens , responsible for over 300 buildings in the north between 1885 and 1926 (schools, churches, houses, etc.). There was an exhibition of his work at the University of York in 2007, where his archive is at the Borthwick Institute .
There was a page in the Property section of the Daily Telegraph , 27 September 2008, about Walter Brierley, whose own 1905 home was on the market in York. Clive Aslet wrote that Brierley was said to be an ardent advocate of local style, but in Edwardian architecture that was a code for an Arts & Crafts influence. He wrote that the York house is not flamboyant, but the craftsmanship and attention to detail are outstanding.
In Trumpington, the original building consisted of the current main hall, with a scullery, broom cupboard and coal store to the rear right. There were no internal toilets.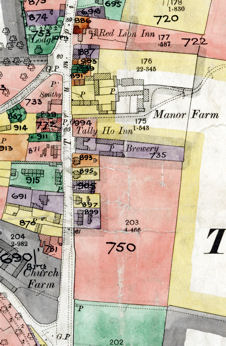 Map showing the plot where the Village Hall was built (plot 994, coloured pink, next to the Tally Ho Inn). The base is the 1903 Ordnance Survey map, showing the plot before the Hall was built. This was annotated in 1910 after the Hall was built, when the national Land Value survey was carried out. Extract from the Inland Revenue Land Value map for Trumpington, 1910-11 , reproduced by permission of Cambridgeshire Archives, file 470/047, sheet XLVII.10.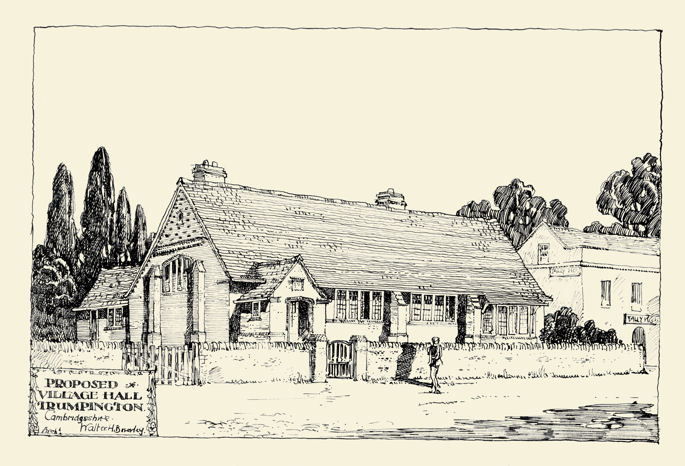 Sketch of the proposed design of the Village Hall, April 1907, drawn by Walter Brierley. Source: Village Hall archive.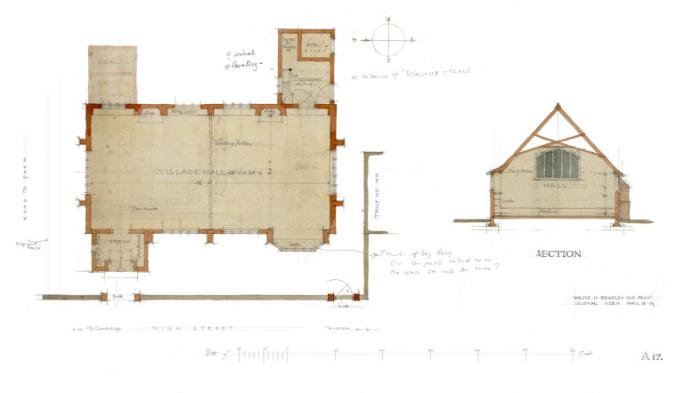 Plan and section of the original building, Walter Brierley. Source: Village Hall archive.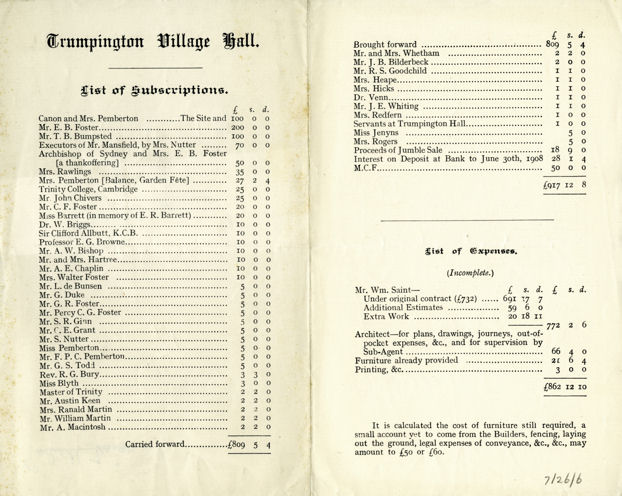 The subscribers who supported the building of the Village Hall, 1907. Source: Village Hall archive.