Continue with the
next part
of the history of Trumpington Village Hall.
Display panel about the history of the Village Hall, Centenary Exhibition, October 2008. Photo: Stephen Brown.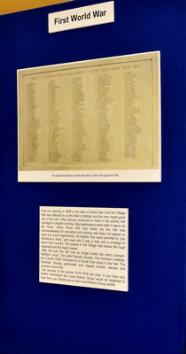 From its opening in 1908 to the start of World War I, the Village Hall was referred to as the Men's Institute and the men made good use of the hall. Other groups continued to meet in the school, the vicarage or people's homes. Big celebrations were held in barns on the farms. When World War I broke out, the hall was commandeered for recruiting and training and does not appear to have had any social significance. All eligible men were exhorted to "join Kitchener's Army" and were told it was a duty and a privilege to serve their country. The plaque in the Village Hall shows the huge response and the tragic losses.
After the war, the hall was no longer solely the men's domain. The Mothers' Union, The Girls Friendly Society, The Women's Institute, and the Church AGM (followed by a social) took place in the hall. The Dramatic Society performed and regular socials, dances and concerts were held.
The records of the period 1914-1918 are poor. If you have any further information, we would be pleased to hear from you.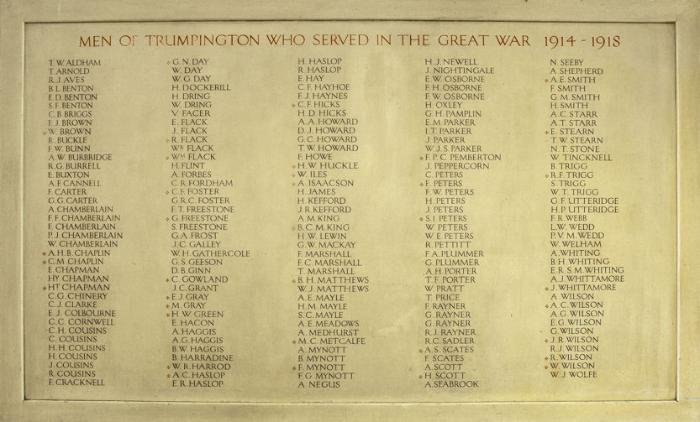 The War Memorial in the Hall, dedicated to 'Men of Trumpington who served in the Great War 1914-1918'. Photo: Stephen Brown.