Continue with the
next part
of the history of Trumpington Village Hall.
Display panel about the history of the Village Hall, Centenary Exhibition, October 2008. Photo: Stephen Brown.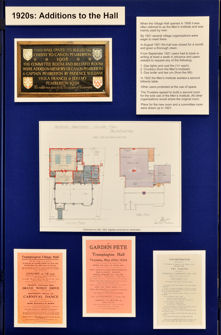 By 1921, the Hall was in heavy demand, with a number of village organisations eager to meet there and a pressure on bookings. In August 1921, the hall was closed for a month and given a thorough clean. From September 1921, users had to book in writing at least a week in advance and needed to request any of the following:
gas lights and coal fire (1/= each)
crockery (from the Men's Institute)
gas boiler and tea urn (from the WI)
In 1922, the Men's Institute wanted a second billiard table. Other users protested at the use of space. The Trustees agreed to build a second room for the sole use of the Men's Institute. All other organisations would share the original room. Plans for the new room and a committee room were drawn up in 1923. The additions were made in memory of Canon and Captain Pemberton. They more than doubled the size of the original building, including a Card or Committee Room, Billiard Room, Kitchen, Ladies and Gents toilets and a new coal store.
The new rooms were opened on 28 February 1924 by Sir Clifford Allbutt, followed by a Concert, then a Whist Drive on 29 February 1924 and a Carnival Dance on 1 March 1924. There were further fundraising events during 1924 and 1925, including a Garden Fete held at Trumpington Hall, 29 May 1924, in aid of the Village Hall Extension Fund.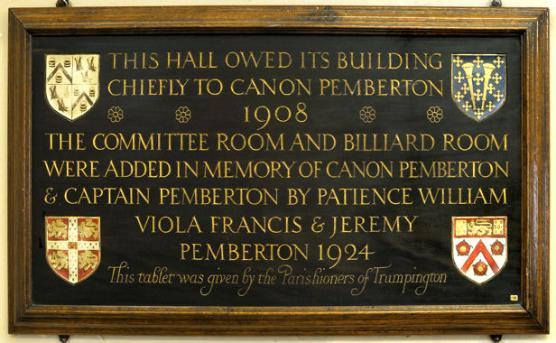 Memorial plaque commemorating the additions, referring to Patience, William, Viola, Francis and Jeremy Pemberton. Photo: Stephen Brown.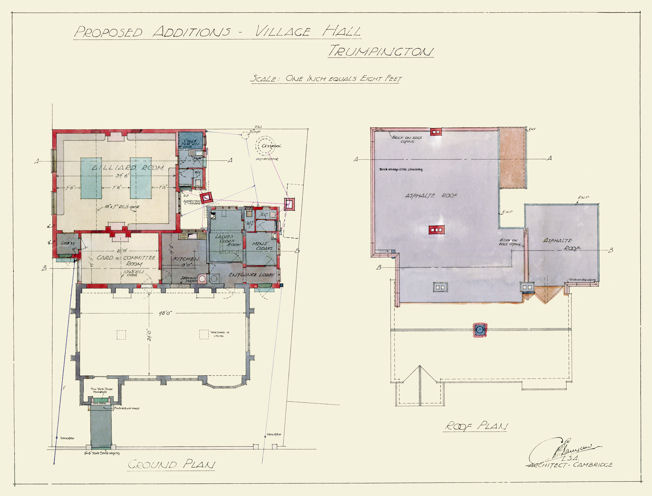 Plan of the Proposed Additions to the Village Hall, by a Cambridge architect (name not clear), c. 1924. Source: Village Hall archive.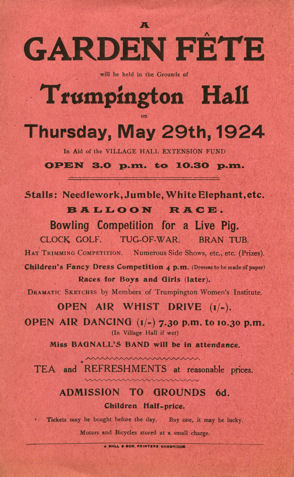 Flyer for the fundraising garden féte, May 1924. Source: Village Hall archive.
Flyer for the opening and concerts, February-March 1924. Source: Village Hall archive.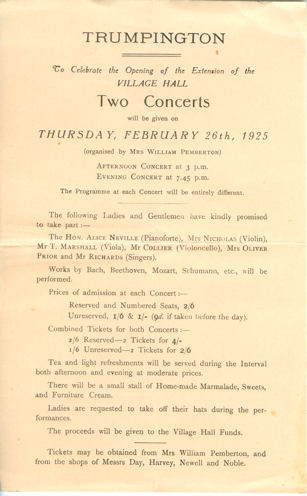 Flyer for the 1925 Concerts. Source: Village Hall archive.