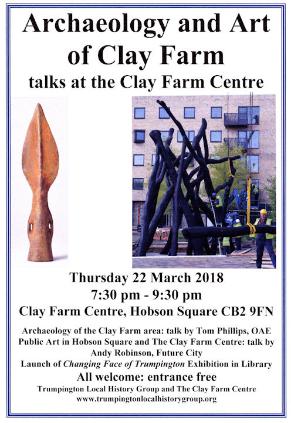 This was the first Trumpington Local History Group meeting to be held at The Clay Farm Centre, one of a handful of pre-launch events in the Centre, before it opened to the public on 4 April 2018. We were very grateful to the Centre for its support in organising this meeting.
Tom Phillips, Oxford Archaeology East (OAE), gave an update about the archaeology of Clay Farm and the surrounding area, based on the excavation carried out by OAE on Clay Farm and Fawcett Primary School. These excavations revealed evidence of the occupation and farming of the land during the Bronze Age. The research influenced the layout of Hobson Square and The Clay Farm Centre, including the rill which runs diagonally across the square and the orientation of the entrance into the Centre, which respect a Bronze Age field boundary. See the report on Excavations at Clay Farm, 2010-15.
The artists, Heather and Ivan Morrison, have created the 'Bronze House' sculpture in Hobson Square and the reception desk and spiral staircase within The Clay Farm Centre, and Andy Robinson, Future City, gave the second talk about the public art.
The talks were preceded by an opportunity to look around the Centre, including the new Clay Farm Library. The Local History Group has worked with the Centre to create a history display about The Changing Face of Trumpington, which was launched at this meeting.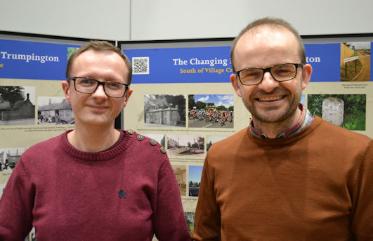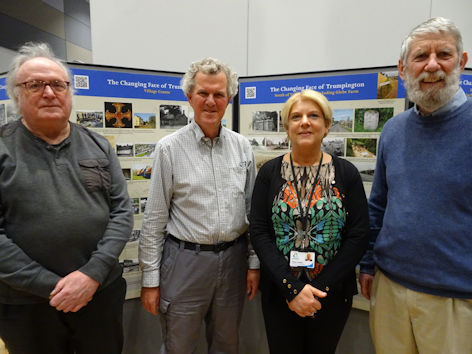 There is information on the Local History and TRA websites about:
• a site visit we made to see the Clay Farm excavation (April 2011);
• previous talks by Richard Mortimer and Tom Phillips (March 2012, March 2015);
• and public art.