Welcome to this resource about the story of the development of Trumpington from 1851 to the present, as told through maps. The Trumpington Maps: Decade by Decade resource is based on the Streets, Houses and People and the People in Trumpington resources. The resources have been developed by Howard Slatter.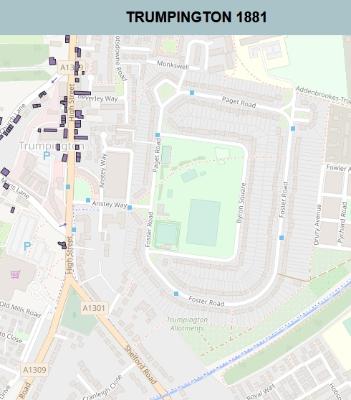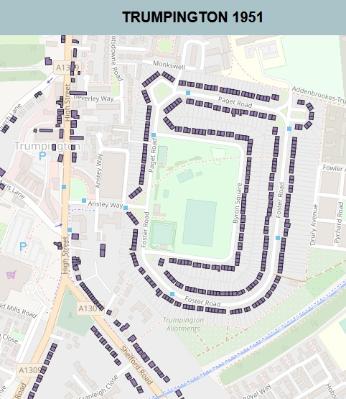 These maps show the 'ancient' parish of Trumpington at intervals of ten years from 1851 up to 2011. These years have been chosen to correspond to those of the regular censuses, from which much information is available about the people who lived in the parish, and where they lived.
On each map you will see, marked in purple, all those buildings where people are known to have been living. Those buildings are superimposed on a modern map of Trumpington, from OpenStreetMap data.
You can zoom in and out on each map to see finer or coarser detail as desired. If you click on a building, you will then see a dialogue box. In most cases, if there is information available, a link will appear to the relevant page in the Streets, Houses and People resource lists, where you will see who has lived there over time. You can then click again to link to the corresponding entry in the People in Trumpington database.
These maps have been compiled from a variety of sources. These include the 25 inch Ordnance Survey maps available on the National Library of Scotland website and older maps of the parish, including that from the Inclosure Award (1804) and Baker's map of Cambridge (1830).
For more about the historical mapping of Trumpington, see the report of the Group meeting held in May 2017.
Access the Trumpington Maps: Decade by Decade resource.