Sheila Glasswell

December 2011
The Local History Group meeting on 24 November 2011 included presentations about Trumpington stories revealed by the censuses. This page is based on one of the presentations.
There is also an introduction to the series and an overview of the Trumpington censuses for 1841-1911.
Extract from 1891 census, 1 Alpha Terrace.
In March 2011, the Local History Group presented a history of some of the local streets including
Alpha Terrace
. I supported Shirley Brown with data from the censuses which I helped transcribe.
The first census mentioning Alpha Terrace/Road was in 1891, which collated information on houses to number 22. As I was comparing three censuses from 1891-1911, there was no need to collect any data other than that for numbers 1 to 22. The house numbers were more or less the same in 1901 and 1911, although of course many more houses were built.
I coloured 1891 black, 1901 red, and 1911 blue. I removed all addresses that were not Alpha Terrace/Road then rearranged the data in numerical order (Figures 1-3).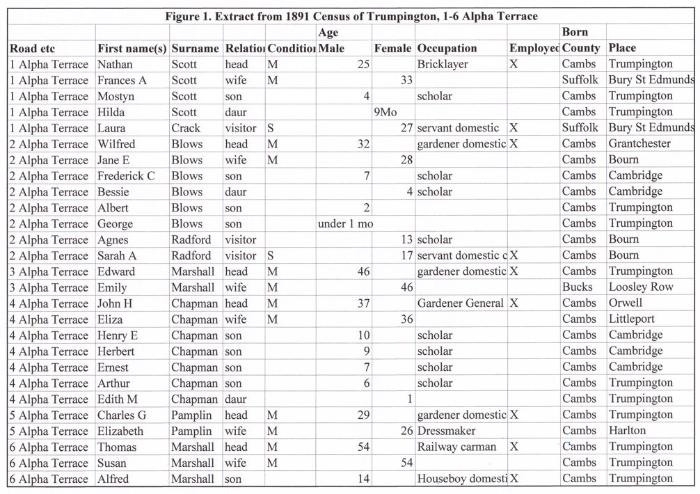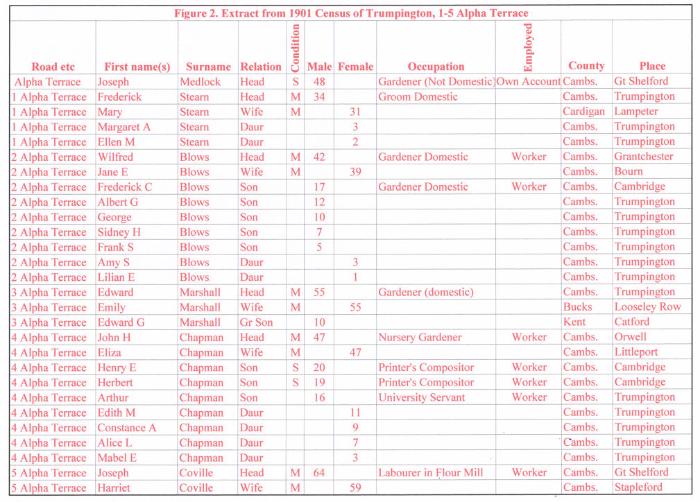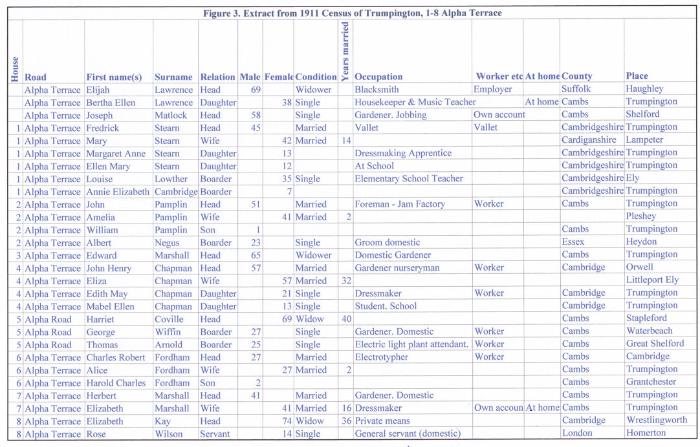 People who were in the houses since they were built become obvious (Figure 4). They were:
the Chapman family at number 4
the Marshalls at number 3
the Keffords at number 14
the Rayners at number 19/20
and the Browns at number 11/12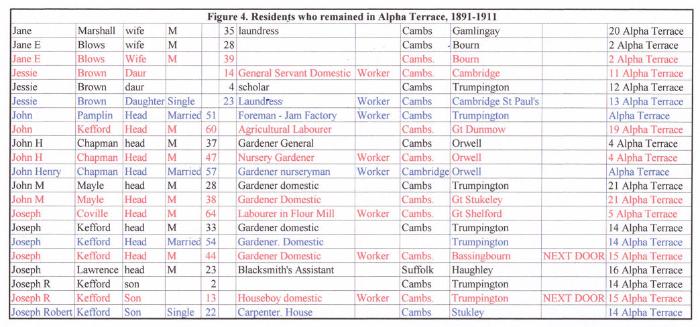 Finally by rearranging the data, I was able to see which occupations the residents of Alpha Terrace 1-22 had up to 1911 (Figure 5). The highest numbers were laundresses, agricultural labourers, scholars (i.e. school children) and highest of all gardeners. Apart from moving on from scholar to worker, no-one changed jobs in those days; bootmakers remained bootmakers, blacksmiths remained blacksmiths.