Colin Gedge
February 2016
Colin Gedge has very generously contributed this paper with his memories of a childhood growing up in Trumpington from 1948 to 1959, when the Gedge family lived at 165 Foster Road.
Colin Gedge outside the entrance to the original Central School for Boys on Parkside, with Parkers Piece in the background, 2009.
How it all started
I was born in Rochester, Kent, during 1943, and by March 1948 my father, having left the Royal Air Force, had relocated to Cambridge to work for Pest Control Ltd at Bourn Airfield. My mother, my younger brother and I then followed him to Trumpington from Kent in the spring of 1948. My father said he became aware of the Estate whilst working at Short Brothers/SEBRO in their Madingley Road factory, repairing Stirling bombers during the early part of the war or just after.
165 Foster Road and its surroundings
Based on my mother's wartime Identification Card, we moved to 165 Foster Road between the 7th January and the 9th March 1948. Our house was probably in Phase 3 of properties completed in 1947/8 (see Howard Slatter's interesting article Building the Estate ). It was barely finished when we moved-in, since I remember playing on large piles of sand dumped in the front garden whilst building work continued on nearby houses in Foster Road. Beyond next door (No. 167), a passageway led from Foster Road to Byron Square and the recreation ground beyond.
Our house was painted white, was in a terrace of 4, had 3 bedrooms, a separated upstairs lavatory and bathroom and an outside building housing a lavatory, coal shed and storeroom/workshop…. and the occasional family of mice! I remember my mother chasing mice around the back-yard wielding a broom until we adopted a cat from the Eversons (?) in Byron Square which quickly solved the problem.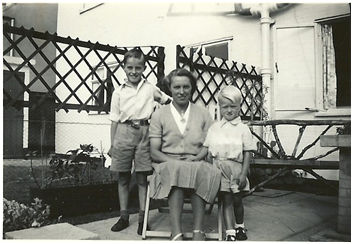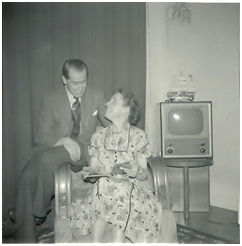 My mother, younger brother and I on the patio outside the dining room window of 165 Foster Road in 1952/3. Source: Colin Gedge.
My mother and father in the late 1950s. Source: Colin Gedge.
With just a coal fire/back boiler in the 'front room' and an electric heater in the dining room, our house was often cold enough in winter for condensation to freeze on the inside surface of the steel framed windows; my father prevented the outside lavatory from freezing by hanging a paraffin lamp beneath the cistern. We also had an open gas fire in the back bedroom and a coal fire in my parent's front bedroom but neither was used on safety grounds, except the coal fire, which for a few days was lit to aid my father's recovery at home following a serious operation in the old Addenbrooke's Hospital in Cambridge.
The kitchen sported a pantry with a concrete 'cold slab'; a deep white glazed earthenware sink with wooden draining board and a gas heated 'copper' for boiling the weekly wash.
My father laid out the back garden with a patio, grass and borders near the house, plus fruit and vegetables beyond. At the far end he built a chicken house and pen, my mother storing surplus eggs in an earthenware jar filled with 'Water Glass' preserving fluid.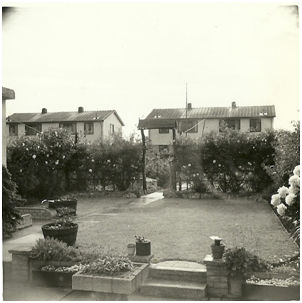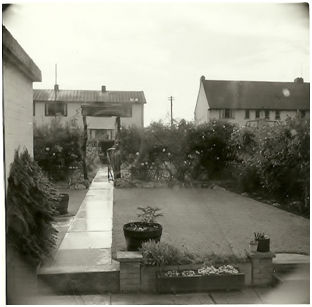 Houses in Byron Square seen from the back garden of 165 Foster Road. The patio, grass and trellis with vegetable patch and chicken pens beyond. Source: Colin Gedge.
The nearest red telephone box was close to No 141? Foster Road. Few families had a domestic 'phone of course, and it was from this telephone box that my mother, armed with a handful of small change, was able to contact her relatives in Kent via the 'trunk line operator', provided she remembered to press button A or B at the appropriate time.
I think the most obvious difference in the appearance of Foster Road 'then to now' lies in the number of parked cars. In the early 1950s, only a handful of vehicles populated the entire visible length of Foster Road, but today, a visit to 'Google Map Street View' shows an almost nose to tail parade of vehicles parked kerbside and in what were once attractive front gardens. In the mid 1950s, my father kept his company car in a block of garages behind houses in Paget Square over towards Anstey Way.
Friends, neighbours and acquaintances
My parents' closest friends were the Nugents at 25 Byron Square; i.e. through the passageway to the 'Square' then 2nd on the right. Mrs Nugent's youngest children were younger than my brother and me, but close enough in age for our respective mothers to form a close friendship, have a good chat over a cup of tea and arrange local outings together. In summer we would occasionally walk from the estate to Byron's Pool for a picnic, swim or to fish; and in the early 1950s our two families (less husbands) had a joint summer holiday on a caravan site near Lowestoft. Mrs Nugent maintained we journeyed both ways in the back of her husband's decorators van, and that the 'caravan' at Pakefield was just a converted single decker bus. In the mid 1950s, much to my mother's sadness, the Nugent family left Trumpington and moved to the Peterborough area. However, they kept in touch for life and I visited the Nugents in the late 1950s for a train-spotting holiday, vis. the King's Cross to Edinburgh main line ran past the bottom of their garden!
The Stepney family lived next door at 163 and remained friends of my parents after they (the Stepneys) moved to Ditton Walk in Cambridge. Mr and Mrs Stepney had a garage business which passed to their sons (of similar age to my brother and me) and is now run by their grandsons I believe.
Next-door-but-one at 161 lived the Abrams. Mr Abrams worked as the village cleaner and was often to be seen pushing his hand cart through the village armed with broom and shovel, come rain or shine. They had one son who was called-up for National Service in the mid 1950s. I recollect walking home along Anstey Way with him one afternoon after school, me in my Central School uniform and him on first home leave, proud and resplendent in his army uniform.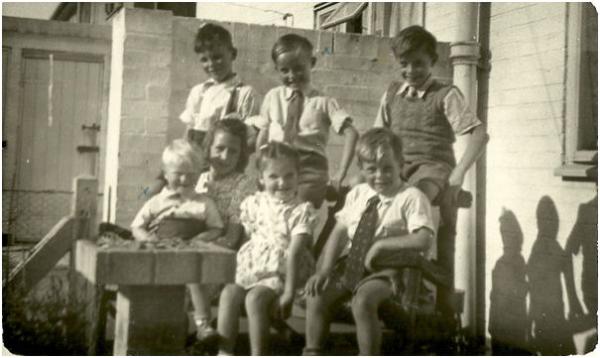 Friends on the back garden patio of 165 Foster Road in 1951/2. Back row left to right: Graham Aylett; Colin Gedge (author); Graham Stepney. Front row left to right: Geoffrey Gedge; Lena Nugent; Carol Nugent; Keith Aylett. Source: Colin Gedge.
Several more Fawcett and Central School friends and their families also come to mind. The Barkers lived next to the allotment entrance in Foster Road; the Ayletts (Graham and Keith) at 169 on the far side of the passage; the Hulks by the telephone box and the Aves in the corner of Byron Square beside the original site of the 'swings'. The Amps lived in Paget Road near the corner of Anstey Way with their son John who was the accomplished pianist I could only dream of being! The Turners at 173? owned a Hornby clockwork train-set that had enough track to run around all bedrooms in their house; we ended up buying and using it for many years.
Tradesmen
My mother patronised the Co-op store in the village for most food items we needed, however several independent traders spotted the opportunity to supply other items direct to the Estate on set days of the week. The Corona man called weekly with his re-sealable clip-top bottles; we didn't often buy, my parents said it was cheaper to get cordial and dilute, but it lacked the bubbles! Most Sundays in the summer the chimes of an ice cream van sounded around lunchtime, it was Walls or Lyons Maid I think. I was often sent to buy a 1/- (5 pence) vanilla block to accompany the tinned fruit-salad we had for lunch as a Sunday treat. Several times each week the baker called. Customers chose from a large wicker basket and paid on the spot for a freshly baked crusty loaf, no 'additive-rich-white-and-sliced-that-remains-moist-for-a-week' type bread in those days; and it tasted great when toasted over a coal fire in winter. A wet fish trader heralded his traditional Friday round with a hand-bell; also a mobile fish and chip van travelled the Estate some evenings advertising its presence with a blast on the horn and the 'bang-clunk' sound of a hand-operated chip maker that converted a large peeled potato into a handful of raw chips at a single stroke. I believe a fruit and vegetable man also toured the estate on a regular basis. His van had rear steps leading up from street level into a narrow gangway between the shelf displays; he also carried Christmas trees in December.
Our 'front room' was heated by an open fire, so we had coal delivered to the house in hundredweight sacks humped from the back of a lorry. My mother made sure she counted the bags as they were tipped, just in case she ended up with only 9 bags to the ½ ton! For a few years in the early 1950s a rag and bone man, complete with horse drawn cart occasionally toured the Estate announcing his arrival with the traditional 'rag-a-bone' shout and bell.
Activities and pastimes
Railways
In the early 1950s the Trumpington allotments, including my father's patch, were sited on ground overlooking the railway tracks. As such, trains were easily seen and heard, and the sound of a whistle often betrayed the locomotive class or type; cue the Gresley A4 and Britannia classes. To get up close we often walked down the farm track that started near the entrance to the Fawcett School playing field, climbed the gates to cross the first track by the brook (good for tadpoles, sticklebacks and listening to the roar of the Bedford trains as they crossed the steel bridge whilst we crouched beneath it), then on again to the next set of gates. This was the main line to London, and armed with an Ian Allen Loco Spotters book we would wait, then observe and underline the engine number in the Loco Spotters book as each new-to-us engine passed by. The railway bridges in Long Road were also good vantage points (and close to the best 'conker' trees in the area), as was the market entrance that overlooked Cambridge railway station. As a family we occasionally cycled to this market, my parents leaving me outside to watch the trains with other boys whilst they looked around the market stalls inside.
I had a few trips by train to London myself, once with my father to The Festival of Britain in 1951; another as part of the annual Trumpington Church Choir outing, and finally a return trip back to Trumpington to see friends after moving to Surrey in July 1959. On one occasion I travelled by bus to stay a few days with the Nugent's following their move to Peterborough. Bus to Drummer Street, bus to Huntingdon, bus to Peterborough and bus to their village, it took all day! Reason for trip – the main line from Kings Cross to Scotland passed by the end of their garden, a train spotter's paradise! After that, trains around Cambridge seemed a bit tame and I gradually became more interested in fishing, model aircraft and riding my 'bike; with aircraft my yet to be discovered long term future.
Paper round
To earn pocket money I delivered newspapers six mornings a week, come rain or shine for the newsagent F.W. Truelove in Anstey Way. It was an early start, 6.45am at the shop with a ticking-off if persistently late. My round was in two parts: 'long and sparse' i.e. Church Lane- Granchester Road-Trumpington Hall followed by 'short and concentrated' i.e. Alpha Terrace both sides end to end, but both parts of this round had their particular (tongue in cheek) hazards for the inexperienced paperboy! The 'long and sparse' bit of the round included invisible electric fences in Trumpington Park. They always appeared overnight without warning and stretched across the park road on dark mornings to catch out the unfortunate paperboy, tip him off his bike and sometimes give him an electric shock for good measure. Alpha Terrace on the other hand presented a quite different challenge; demon letter boxes! Now the aim of any paper-round was quite simple i.e. 'to deliver newspapers and/or magazines safely into houses via the letter box in a dry and undamaged condition', the USA excepted of course. There, newspapers are frequently shown on television and film as arriving somewhere near the front porch via airmail direct from the hand of a boy on a bicycle. Back to letter boxes, consider first the 'low-line' letter box positioned at the bottom of the door so close to the pavement it caught all the rain; it used the newspaper as a blotter as it was pushed through the door. Consider next the special 'slim line' version. It had an opening so narrow and sharp it would tear the outer pages unless the newspaper was pushed through in thin sections. The 'Mr Universe' model incorporated a closing spring so strong it really needed a stick to hold the flap open. Here the choice for the paper boy was simple; to force the newspaper through the slot and in the process destroy the front page headlines and back page football results, or risk crushed fingers. However, my least favourite letter box was the one that came complete with its own guard dog! Here you are in your own world delivering newspapers on a lovely sunny morning in spring when ………, the dog suddenly pounces and attempts to break through the door to remove a hand as it bites the intruding newspaper and engages in a frantic tug-of-war with the paperboy. As a bonus however, we paperboys could scan the various magazines and newspapers for free. One headline in particular sticks in my mind, the launch of the very first space satellite, (Russian) Sputnik 1, on 4th October 1957. I remember stopping to read the newspaper article that morning whilst standing outside the old village school at the bottom of Church Lane.
Piano lessons
I don't know whether my parents saw signs in my behaviour that led them to believe I could be the next piano prodigy; it seems strange because I was more interested in practical/engineering type hobbies such as Meccano, catapults and riding my bike. However, I was 'put to the piano' as they say and took lessons from William Pamplin of 80 Shelford Road near to the corner with Bishops Road. Unfortunately for me the downside of playing the piano was the time needed for practise, I wasn't keen enough to put in the effort so didn't progress very far. William Pamplin was kind and always encouraged me to continue and as an inducement his mother occasionally gave me just-baked sponge cake to eat on the way home from lessons! My parents kept in touch with him for many years each Christmas and received a last letter in 1974 from an address at 5 Bishops Road. When the cakes no longer worked their magic I was sent to Mrs Fordham in Westfield Road? but that didn't work either. One useful outcome did follow however; I could now read music and pick out 'middle C' and other notes on a piano or organ keyboard. This helped when I joined the church choir and was asked to play a cord on the church organ for Mr Youngs who on that occasion was conducting the senior choir from the nave.
Schools
When we moved to Trumpington in spring 1948 I was nearly 5 years old, so I assume school started for me in September 1948. I was fortunate to go from five to sixteen years without a house move so I attended only three schools in all i.e. Church, Fawcett and Central. When I recall memories of these schools they usually include: – Old Lobb and outside toilets at the Church school; Keil Kraft and Enid Blyton at Fawcett, and finally Mechanics and metalwork at the Central on Parkside and Cherry Hinton.
Church School
I must have walked to the Church School from Foster Road twice each day via the passage to Byron Square, the recreation ground, Anstey Way, the main road, Maris Lane and on to the school; I can't imagine children doing it today. I don't remember the name of my teacher (Miss Lister?) but the headmaster Mr Youngs lived in the school house next door. I knew him in later years as church organist and choirmaster. Based on the memoirs of Margot Andrews and Ken Fletcher, I probably attended the Church School for two years before transferring to Fawcett in September 1950. In the Church School the best place to stand on winter mornings was close to the coke fired room heater, its guard rails often hung with damp coats drying on rainy days. Not so warm were the outside toilets in the playground, they were very basic and often froze solid in winter. An easel supporting a number of religious prints stood in the classroom, for example William Holman Hunt's 'The Light of the World', the prints were turned periodically to show a different image. We learnt to read using the 'Old Lobb' reading books. He was a fictitious farmer who featured in a set of reading scheme stories used by the school at that time. In summer a few lessons took place in the garden/orchard beyond the rear wall of the playground. I remember wishing our class would go there, but for some reason it didn't happen. After the school closed in 1950, I attended Sunday school in the large room at the front, and on Monday evenings Mr Youngs the church choirmaster used the small back room for choir practise. Finally, wasn't a small lending library set up in the large front classroom? I remember borrowing books using small cardboard envelopes issued to me by the librarian into which a slip of card taken from the borrowed book was inserted and retained by the librarian in a card index.
Fawcett School
Unlike the Church School, the walk to Fawcett School took just a few minutes from home passing through gates at the end of Foster Road into the playing field and on to the School. Mr Walker was the headmaster of the Junior School and Mr Freestone the caretaker. I spent a year in the Infants School where birthdays were marked on the actual day by a badge presented during morning assembly (my 8th birthday fell on Sunday 24th June, so no badge!); and school dinners ended with the issue of a blanket and compulsory rest on the floor of the hall. A move to the juniors followed in September 1951 where I joined 'Yellow' house for three years, other children were in Red, Green and Blue. We used a large climbing frame in the playground beside the Hall, dug and planted an allotment patch and pranced around inside the Hall to the sound of a radio program called 'Music and movement '. This often involved moving with a strange gait to rather peculiar music, then stopping dead and pretending to be some strange creature or other, a bit like today's modern ballet! In a more traditional vein we celebrated May Day with a pageant and maypole dancing; performed plays at Christmas on our 'proper' stage; and held a sports day in the school grounds where all events were keenly contested between Yellow, Green, Blue and Red teams in front of our parents.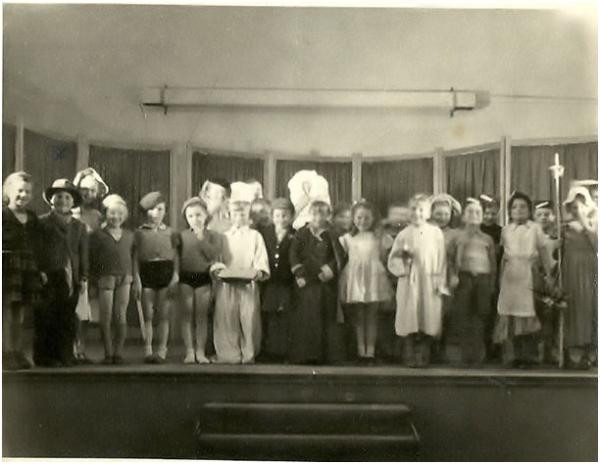 Cast of an unknown play in Fawcett Junior School in 1952/3, author seen as 'Little old man', 2nd from left, other members of the cast unknown. Source: Colin Gedge.
Occasionally in the summer term we travelled by coach to an open air swimming pool in Cambridge where we did our best to drown each other and not succumb to the cold, but I can't remember anyone actually learning to swim. As we approached our final year we heard dire rumours from the top class regarding Mr Mackay and his reputation for strictness and punishment, but for me he turned out to be an inspirational teacher. He was strict and assiduously taught the '3 Rs' right enough, but he also introduced us to many other topics, for example, the weather and the significance of cloud formations. We kept weather records and made notes, sometimes even interrupting lessons to run outside and observe an unusual cloud formation. He encouraged us to read novels and poetry at home, also to read aloud to the whole class and then discuss the story or poem; I still remember 'The Faraway Tree' by Enid Blyton which he read to the whole class, and 'Night Mail', a poem by W.H. Auden. We modelled with clay, made papier-mache' puppets, learned to play the recorder, entered writing competitions and performed singing concerts in Cambridge Guildhall. But for me, the most enjoyable afternoon each week was spent constructing a Keil Kraft 'Playboy' balsa wood model aircraft. We boys (and Mr. Mackay) each purchased a kit and built our aircraft concurrently over several weeks. It involved reading plans and following building instructions, cutting, gluing, sanding and then covering with tissue paper. Finally we applied water to shrink the tissue, then 'dope' (a type of paint) in a colour of our choice before retiring to the Hall to test-fly our aircraft. I was hooked and went on to build many more model aircraft before girls came along in my early teens. I didn't realise at the time but this interest in aircraft was a sign of my future career, since I ended up working as an engineer in the aerospace industry for the whole of my working life. In the summer of 1954, I sat the 11-plus examination and passed for the Central School in Cambridge. I left behind a modern school with indoor corridors, enjoyable school meals and thankfully, the dread of the annual visit to the school dentist in Auckland Road, so vividly described by Brian Goodliffe .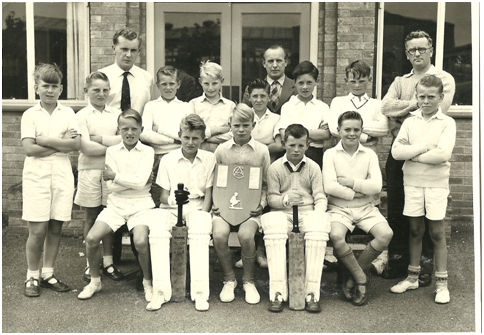 Fawcett Junior School Cricket Team in 1958/9. Back row centre: Mr F N Walker (Headmaster); Right; Mr Jenkins? Front row: 1st from left, Geoffrey Gedge; 4th from left;? Aves? Others unknown. Source: Colin Gedge.
The Central Technical School for Boys / The Cambridge Grammar School for Boys
Each weekday, I caught the normal service bus to Drummer Street from a bus stop opposite the end of Anstey Way, I clearly remember 'Super Shell' petrol in the nearby garage reaching the unbelievably high price of 5/- (25 pence) per gallon! A walk from Drummer Street to the school entrance on Parkside found prefects standing guard to record the name of any latecomer, also those not correctly dressed in full school uniform including shirt hanging out, missing cap or loose tie! Such reports would earn the boy an audience with his form-master, as would any similar infringement spotted by a member of staff during our journeys to and from school.
We were issued with a term-time bus pass for the journey into Cambridge and back, I think it restricted time of travel to morning and late afternoon, and service routes to 130, 133 and 115A. The older boys knew which conductors would turn a blind eye on the 115 bus travelling at lunchtime, but other conductors were not so lenient so it was wise to have the bus fare just in case.
The Central School on Parkside was built in 1912 to a special format designed to develop a race of hardy young men! The toilets were housed in a block in the playground a la Church School in Marris Lane. The classrooms were very lofty and draughty with doors that led to corridors open to the elements. In winter the school caretaker would occasionally flood part of the playground overnight to give us the best of all 'ice slides' the following morning.
In September 1954, the Central School headmaster Mr Livingstone was in his final years of service and retired in summer 1956 at the end of my second year I believe. He was very much a headmaster of the old school and often stated that 'cleanliness was next to godliness'; also that every pupil should have 'good' handwriting. To check our progress towards 'godliness' he would occasionally nominate a class during morning assembly for a 'neck and finger nail' inspection. He checked each boy in turn and those failing to pass muster were given a good ticking off and a lecture about personal hygiene in front of the class. In September 1956 the replacement headmaster Mr. Scarisbrick arrived. Rumoured to be an ex army commando, he was stern, had a no nonsense approach to discipline and set the tone for my remaining years at the Central. No more 'godliness' inspections, but instead an emphasis on discipline and good behaviour in class together with hard work on and off the sports field.
The Central girls occupied the other half of the Parkside buildings and shared use of the hall with the boys for P.E. and separate assemblies. Segregation of the sexes was almost total, but one exception I do remember took place in our 2nd or 3rd year when the music master decided to hold a Friday evening dance with the girls in the hall, preceded by a couple of embarrassing combined dance lessons earlier that week.
Our sports field was Parker's Piece. We played cricket in view of Hobbs Pavilion, the great man no doubt turning in his grave at the sight of our stroke play, and in winter played football on the adjacent pitches, we also ran around the outside of the park as a cross country route. On moving from Fawcett to Central I switched allegiance from 'Yellow' to 'Blue', i.e. I was now in Clarendon House, named after a street bordering the school; the other Houses being Park, Paradise and Melbourne. Inter-house rivalry was strong, especially on Sports Day when events were held on one of the Cambridge University college sports grounds, some 'old boy' arrangement with the grounds-man I believe. Parents were invited to attend the event, to applaud loudly and be impressed by sporting prowess and the sight of a few officiating school staff who entered into the spirit of the event by emulating today's Henley Regatta garb of 'whites, boater and a loud blazer'!
I liked the fact that our timetable included several practical subjects along with the standard academic range; we experienced metalwork, woodwork, technical drawing, art, pottery and were able to take some of these subjects to GCE level.
School dinners were taken in a separate building a short distance from the school on Parkside. We stood in silence for the Grace, spoken by the duty master, before sitting, eating and talking quietly. The long term aim however, was to become a table monitor and get first go at any 'seconds'. When school meals didn't fit the bill we patronized a local sweet shop and bakery in the side streets nearby. There was generally time in the lunch break to walk into town, and Miller's music shop was a favourite venue. We would request to hear a particular record, then after the sales assistant had loaded the turntable we stood in a booth to hear the 78rpm disc through ear phones, but I can't remember anyone making a purchase, we just got to listen for free.
About this time I took up cycling and in good weather cycled to school instead of taking the bus, even returning home for lunch some days. In September 1957, the Central school became Cambridge Grammar School for Boys and moved to new buildings in Queen Edith's Way, Cherry Hinton. I cycled each day to the new school via Long Road, passing the best 'conker' trees in the area, over 2 railway bridges where I'd train spotted in former years, crossed Hills Road into Queen Edith's Way and on to school. We were back to modern classrooms and inside corridors just like Fawcett, we even had a tuck-shop and tennis courts.
The beginning of the 4th year signalled the start of the 2 year GCE syllabus, and our Form (4P) was aiming for success in 7 subjects with a good mix of academic and practical i.e. Maths, English Language, English Literature, History, Technical Drawing, Mechanics (a branch of Physics) and Metalwork or Woodwork. By the middle of July 1959, having sat the examinations, I cycled home with friends for the last time. I remember feeling strange knowing I wouldn't return to the school, especially as my family and I were due to leave Trumpington for Surrey within a few days. But I did return however, this time with my parents on 26th November to pick up the school prize for Mechanics GCE.
Sunday school and the Church Choir
Sunday school
I don't recollect why or when I started Sunday school, neither of my parents was particularly religious but I guess it happened as a result of mothers chatting and me having attended the Church school. Sunday school took place each Sunday morning in the old Church School building at the bottom of Maris Lane, and finished in time for the attendees to walk to church for the first part of Morning Prayer. Prizes were given annually for progress and attendance; I have a junior version of The Pilgrim's Progress by John Bunyan dated 1954 and signed Rev. Youngs, Vicar. In later years we older boys had our own meeting in the 'Bakehouse' before going to the morning service.
One event eagerly anticipated by all was the annual Sunday school outing to the coast. For some families this was the only visit to the sea all year, so early on the appointed Saturday morning we would check the sky hoping for good weather and set off from home carrying bucket, spade, picnic lunch and swimming gear, heading for Maris Lane where a line of coaches awaited to take us to the coast. I remember one trip to Walton-on-the-Naze; excitement increased as we approached the coast, all hoping to catch the first glimpse of the sea in the distance as we crested each rise in the road.
For the more studious members of the church congregation a small selection of booklets were available for private study from the Scripture Union and Bible Reading Fellowship (BRF). I believe Miss Wiltshire championed the BRF; she was a disabled lady who travelled to church in a 3 wheeled battery powered invalid tricycle with tiller steering. I'm afraid we boys would gather round her conveyance talking excitedly and then chase alongside her vehicle trying to keep up when she turned for home along Maris Lane. A coincidence it may be, but when my father left Pest Control at Bourn Airfield to take up a new position in Surrey, it was as director of an engineering company engaged in the repair and manufacture of those very same invalid type vehicles and their more modern successors.
Church choir
I believe I came to the choir through Sunday school and a church choir recruitment drive, but certainly not for any innate ability to sing. Mr Youngs was organist and choirmaster, his son was head chorister and I believe we numbered about twelve at full strength. Monday evening was the main practice session each week and took place in the rear classroom of the old Church School for about an hour. We also had a thirty minute run through of hymns and psalms for Sunday in church on Friday evening just before the senior choir met for practice. There were normally two services each Sunday so we ended up sitting through a good many sermons; they could be long and tedious so we were always pleased to recognise a visiting preacher as a 'short sermon' man, never longer than 10 minutes!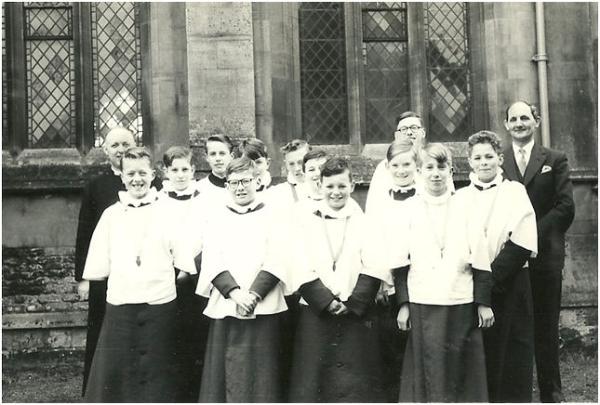 Trumpington Church Choir in about 1956. Back row: Rev. D.M. Maddox; Colin Gedge (author); — ; Ivan Seekings; Mr. E.G. Youngs (Organist and Choirmaster); Centre row: 5 not known; Front row: Geoffrey Gedge (author's brother); — ; ? Aves?; — . Source: Colin Gedge.
Choristers were paid for weddings but not for other services, so as reward for our efforts throughout the year we were treated (by the PCC?) to an annual choir outing led by Mr Youngs. I remember going to London on two occasions, once by train to Liverpool Street Station, then Underground to the Science Museum, Madame Tussauds (including the Chamber of Horrors), followed by a boat trip on the Thames during which we consumed our packed lunches. Another year we travelled by car to London Airport (now Heathrow), and were let loose in the recently completed Queen's Building to visit the roof-top area where crowds of plane spotters witnessed the comings and goings of aircraft from all over the world. On that occasion some of us travelled to London Airport in Mr Youngs' Ford V8 Pilot car, no Underground link with central London in those days! At that time London Airport had a ground level grassed enclosure where visitors could take joy-rides in a Dragon Rapide aircraft, things have certainly changed!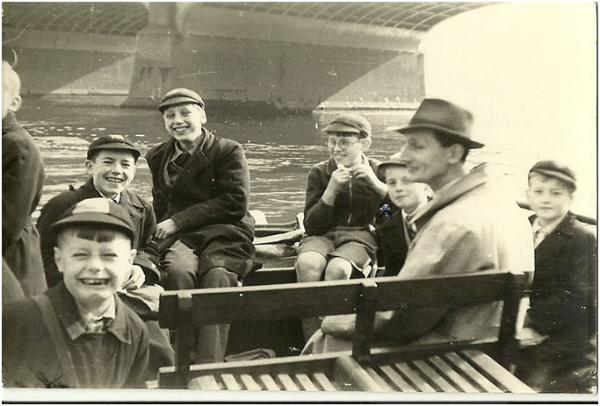 Trumpington Church Choir outing to London in 1952/3. Thames river trip between visits to the Science Museum and Madam Tuassaud's, we seem to be in school uniform! Key from left: 3rd Michael Youngs?; 4th Ivan Seekings; 5th Colin Gedge (author); 6th Mr. E G Youngs. Source: Colin Gedge.
During the church year we attended choir festivals in Ely Cathedral, this involved learning new anthems and choral music to sing in company with other choirs from the diocese. The sound of choir, orchestra and organ performing together was very memorable especially when performed in a building with the acoustics of Ely Cathedral. However, the best of all coral events was the Festival of Nine Lessons and Carols from Kings College Chapel, Cambridge on Christmas Eve. I think I remember Trumpington being part of a supporting choir one year (or it may have been in Ely Cathedral), the chapel was candle lit, the music was beautiful and the singing unforgettable.
Each Remembrance Sunday we donned our choir clothes and paraded from church to the war memorial at the top of Church Lane led by churchwardens and followed by clergy. Here we observed two minutes of silence, stood as the last post was sounded, and listened whilst the names of the fallen from two world wars were read out. I have memories of feeling cold in the November weather and also sad as the names were called, and do so to this day.
Mr Youngs was a fine organist, and since I was a struggling pianist I would climb to the organ loft at the end of Morning Prayer to watch him play to the end of service. It was impressive to see him play upper and lower manuals and both feet at the same time, especially since the pedalboard was not even visible, and on top of that, find time to change the stops!
Places
Allotments
My father cultivated two plots on a site overlooking the railway tracks to Bedford and London, but I think these particular allotments reverted to farmland some time ago? By his own admission my father was no Percy Thrower and picked up tips as he went along, especially from Foster Road neighbour Mr Northrop at No 159. According to my father, Mr Northrop had the best allotment on the site, arrow straight rows of healthy vegetables and not a stone or weed in sight. In 1948 my dad purchased a small book from Heffer's in Cambridge entitled 'Amateur Gardening', I have it still. He maintained that all he ever needed to know about growing fruit, flowers and vegetables could be found between its covers, obviously a good book!
There was however, a downside to 'grow-your-own'; one could end up sick of the site of runner beans or salad crops when they were in season, no home freezers in the 1950s. My maternal grandparents had a different approach however, every autumn their kitchen took on the appearance of an old fashioned chemist shop by sporting rows of Kilner jars containing all manner of bottled produce stored for Christmas, winter and beyond.
At about this time my father was finding his job at Pest Control quite demanding and I believe he found relaxation in gardening and working on the allotment at weekends, so it was my task on Sunday morning after church choir to take him a flask of tea. We would sit on a couple of old chairs in the doorway of his allotment shed for a break before walking home for lunch. During this period he became the proud owner of a hand powered cultivator called a JALO. It had numerous attachments for shallow ploughing, raking and drilling etc.; good in theory, but it often needed him to push, plus me to pull on a rope attached to the front to propel it through the soil! Weeding was an ongoing chore, as was watering, but I can't recollect where the allotment water supply was sited.
In the 1950s when weed-killer was used less freely, the fields and borders around the allotments were red with poppies and the sound of skylarks. The birds were difficult to spot as they hovered and sang high up before swooping down to their ground level nests built in gullies alongside the allotment paths. At one time a very large pile of paper-waste appeared nearby; it remained for a while then disappeared, possibly burned by the fire brigade?
Recreation Field
We reached the 'rec.' from Foster Road via the alleyway between Nos. 167 and 169. It emerged in the north-east corner of Byron Square; the 'swings' at that time were in the adjacent corner to the left. I remember flying home-made kites, firing bows and arrows, watching senior football matches and walking across to Anstey Way to reach the shops and the bus stop for Cambridge. My mother told me of a sports day held on the playing field in the early 1950s when she won a set of padded clothes hangers for winning a running race, also that a small fun fair pitched annually for a few days in an area near Anstey Way following the Midsummer Fair held in Cambridge.
Byron's Pool
Living as we did so far from the coast, Byron's Pool was a favourite retreat on hot summer days for swimming, fishing and the occasional picnic outing with my mother's friend Mrs Nugent and her family. The entrance in the early 1950s led through a roadside gate from Granchester Road and across a field before entering woods that led to the river, pool and weir. In those days we would sometimes leave our bicycles unattended on a grass bank opposite the entrance gate, and never once had a problem with damage or theft. Before learning to swim we used a car tyre inner tube for support when floundering about in the water, Mr Newell would inflate it on request in the back of his workshop before we set off. My mother would usually swim across the pool and up to the weir, we had no worries about water pollution in those days, but I believe bathing in the river is now not recommended for health and safety reasons! Making tea for the picnic was normally down to Mrs Nugent. Her husband was a painter and decorator so she initially used a blowlamp (carefully) to heat the kettle in a hollow in the bank, we later upgraded to a Primus stove once we got the knack of lighting it with small strips of paraffin soaked cloth and careful use of the air pump.
I often fished in Byron's Pool beside the railings at the end of the weir as it was rumoured large pike lurked close by. I never saw a pike, but my father, who joined me just once on a fishing trip, hooked an eel from that spot whilst I cycled home to fetch milk for his flask of tea. Being somewhat squeamish he couldn't remove the hook and return the fish to the water, so the poor thing became hopelessly entangled in fishing line as it thrashed around on the ground. By the time I arrived back with the milk the eel had died, but so had my float, hook, weights and a considerable length of fishing line!
I see Byron's Pool is now a preservation area complete with nature trails and a car park sited in the field that once lay between the road and the woods. The whole area has obviously been tidied up, and on the day I visited was extremely busy with cars and families. I must say it reminded me of a scene from George Orwell's novel 'Coming up for air' when the hero George Bowling returned to the countryside and fishing pool of his childhood.
Post Office
I remember the Post Office counter being in the dimly lit small front-room of a house on the main road near to the Village Hall. My mother and I visited weekly to collect 'Family Allowance' for my brother and me, plus postage stamps and the odd postal order for a birthday gift. It must have been in Lyme Cottage opposite the War Memorial, ref Howard Slatter and his 'Trumpington Traders' article. The Post Office occasionally smelt of candle smoke when we entered, and this was a mystery to me until one day I spotted the postmaster sealing string knots on a parcel with melted red wax before impressing a stamp as the wax hardened.
The Co-op
The weekly food and household shop meant a walk from Foster Road to the Co-op store opposite the Village Hall. I think the store was accessed by steps leading from the pavement into a wooden floored room with grocery counters to the left, and a butchery area in the far right- hand corner. My lasting memory is of queuing for what seemed ages whilst counter staff chatted to each customer at length whilst they dispensed items one at a time from shelves behind the grocery counter.
A large red bacon slicer at the end of the counter did relieve my boredom though. A white- coated male assistant would appear to rise up through the floor from the cellar beneath the shop carrying a large side of bacon on his shoulder, then proceed to clamp the bacon to the bed of the machine. Following a few deft adjustments to the control knobs on the machine he would turn a large handle to rotate a fearsome looking circular blade whilst the side of bacon passed to and fro beside it. At each pass a perfectly sliced rasher fell to the platen to form a growing pile of green back bacon cut to the exact thickness demanded by the customer…magic!
Tinned food was quickly and easily served, but loose items such as dried fruit and sugar were weighed on balance scales using brass weights, then tipped into thick brown/blue paper bags which the assistant closed by folding in a special way to prevent the contents from escaping during the walk home. We had one 'dirty' shopping bag for loose vegetables and a couple of clean bags for everything else, it's no wonder we stayed slim!
The final stage in this shopping experience required my mother to present our ration books and coupons for cancellation, followed by payment of the bill. The shop assistant totalled the bill from pencilled jottings on a scrap paper bag. This was impressive to watch as very rapidly, pounds- shillings and pence were mentally totalled moving down the shopping list, followed by a repeat performance going back up the list as a check, and the totals nearly always agreed at the first attempt. Finally, and most importantly we gave our membership number to claim our 'divi.' money paid at the end of the Co-op year.
Cambridge
Although most day-to-day items and services were available in the village, my father went to Cambridge by bus every Saturday morning to get his weekly haircut at Joshua Taylor. One bus service stopped in the market square outside the Milk Bar; we didn't patronize it, our favourite cafe was 'Lyons' in (then cobbled) Petty Cury; crusty cheese rolls and a cup of Camp 'coffee'.
For a good browse on a wet day, you couldn't beat Heffer's bookshop and stationers, my father bought his copy of 'Amateur Gardening' there in 1948. The shops also stocked all manner of drawing instruments and slide rules (fore-runner of the calculator), some of which I bought for GCE Technical Drawing and Mathematics at school, and still use to this day.
The Dorothy Cafe held ballroom dancing classes in an upstairs room. My parents joined for a time until my father's two left feet and total lack of natural rhythm (his words, not mine) scuppered any real progress; they soon gave up to stop the arguments as to who was doing the steps correctly.
If Heffer's was best for books, etc., then two shops in East Road (or Mill Road?) were best for toys and chicken feed! The toy shop had a window display guaranteed to make most boys stop and stare; Hornby trains, metal Meccano, Matchbox vehicles and model aircraft kits. For me, having built my first model aircraft at Fawcett, this was the shop from which I bought all my model aircraft kits and engines. Regarding the chicken feed; on entering the said farm shop one's sense of smell was immediately assaulted by the aroma of animal feed and cereal emanating from open hessian sacks and bins. Here we purchased products to supplement the kitchen scraps we fed to our chickens before heading home with grain and other ingredients that promised to encourage egg-laying and shell formation. In winter, my mother cooked potato peelings in an old saucepan, added ingredients from the farm shop, mixed well and served to the chickens piping hot, they fought over it, and I quite liked the smell of it myself!
To return home to Trumpington, we normally caught a bus on King's Parade outside Great St Mary's Church or in Peas Hill opposite a second-hand bookstall. I remember this bookstall near the Arts Theatre lit by hurricane lamps on winter evenings; it was popular with undergraduates and those with a few minutes to fill whilst waiting for the bus home.
In the 1950s most undergraduates wore gowns in term time when walking and cycling in town, but on Rag Day a good few dressed-up and performed crazy stunts and antics as a way of collecting money for charity. I witnessed one such stunt when a group of students, dressed very convincingly as policemen started directing traffic at the junctions of Lensfield Road and Fen Causeway with Trumpington Street. Chaos quickly ensued with 'policemen' blowing whistles and franticly waving their arms until both road junctions were gridlocked with traffic stationary in all four directions.
Events
The Royal Show
In July 1951 our house in Foster Road became a B & B when we took in a representative from Massy-Harris Ltd., an agricultural machinery manufacturer exhibiting at the Royal Show. He occupied my small bedroom overlooking Foster Road, but blotted his copy book with my parents when he stained the wallpaper with his 'Brylcreemed' hair whilst sitting and smoking in bed. When the show closed he gave my parents two large wooden tubs containing miniature trees that previously formed part of the Massey-Harris stand, I think it was a peace offering!
Hospitals and Doctors
I believe Dr Robson? (or Robinson?) held his surgery in a house near the AA box on the east side of Trumpington High Street. My mother saw him several times for treatment to painful finger nail infections caused, she thought, by imbedded wire splinters from old style Brillo pads. If my memory is right, at some time in the 1950s, the children of Trumpington had a small but very valuable treat, a sugar lump with a difference. The difference was the addition of a drop of polio vaccine, but not before a small number of children had contracted that terrible illness. Any mention of the Brookfields Isolation Hospital in Cambridge brings back painful memories to me of twice daily injections of Penicillin in my derriere for about twelve days. The injections were designed to speed my recovery from Scarlet Fever which I contracted when I was six or seven years old, along with several other children on the estate.
The Coronation and television
Like many other people in England I daresay, we crowded around a small black and white television set to watch the Coronation of Queen Elizabeth II on 2nd June 1953. In our case we joined the Nugent family in Byron Square for a day-long broadcast punctuated by cups of tea and sandwiches brought from home. In the run-up to the big day we saved cardboard silhouettes of soldiers, horses and the state coach from the backs of cereal packets, then assembled same to form a model of the state procession in our classroom at school. When all arrangements for the great day were in place, anticipation increased, excitement grew, street parties were organised, and then it rained!
My parents were obviously much impressed by the coverage of the Coronation as they purchased their own television set not long after, a 14 inch black and white Pye, perhaps because it was manufactured in Cambridge? However, two things were essential for trouble-free viewing of a television set in 1950s Trumpington; i.e. a strong chimney and forward planning. Firstly, because Trumpington was at the outer limit of the reception range, a special aerial was required to collect the TV signal. Our aerial was a large and heavy double X that required a substantial chimney to support it; there were cases on the Estate of chimneys with aerials falling to the ground in storm force winds. Secondly, if a programme was due to start at 8pm, we would turn the TV on by 7.50pm, then leave the room to make a cup of tea whilst the television warmed up and the picture stabilised itself in 'vertical and horizontal hold' followed by numerous adjustments to the 'contrast' and 'brightness' controls!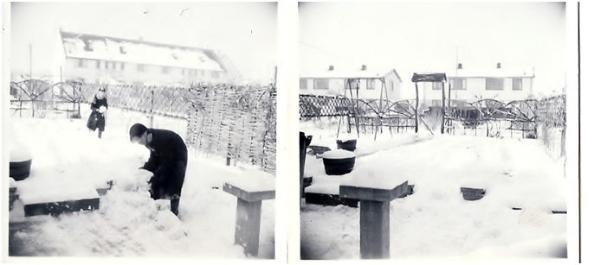 Heavy snowfall in winter 1955? Views of our back garden at 165 Foster Road with houses in Byron Square in the distance. Source: Colin Gedge.
After Trumpington
We moved to Surrey after I finished school at the Central in July 1959, and shortly after that I started a 5 year engineering apprenticeship with Fairey Aviation Ltd at Hayes in Middlesex, with day release to Twickenham Technical College. My parents moved again in 1963, this time from Surrey to Devon, and I relocated to Westland Helicopters in Somerset (Westland having taken over Fairey Aviation in 1960/61). I met my future wife whilst living in Surrey; we married in 1966, have two sons and have lived in Dorset since that time.
Appendix of additional photographs: Central School for Boys: 1954: Parkside, Cambridge