Michael Neale has provided information about his mother, Nora Grace Neale (née Rivett), who was the NAAFI Manageress at the PoW Camp in 1943-44.
Text and photographs, © Michael Neale 2020, not to be reproduced without his permission.
This is one of a number of pages about Trumpington PoW Camp.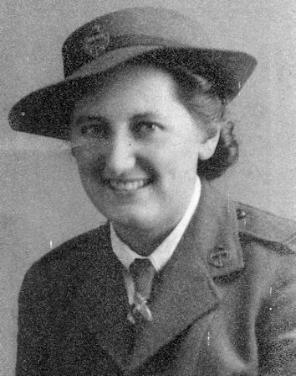 Michael Neale writes that his mother was Nora Grace Neale. Her maiden name was Rivett and she came from Gt Yarmouth/Gorleston on Sea. She volunteered, and was in the Navy, Army and Air Force Institutes (NAAFI) from 2 October 1941 until 19 May 1945.
Nora Grace Rivett met her husband at Lord's Bridge where he was stationed and they married on 6 October 1944. In addition to Trumpington, she was also at Sawston twice, Whittlesford, Royston, Lord's Bridge, and 6 weeks stretching to 19 weeks at Childerditch near Brentwood in Essex for the D-Day camp. Michael remembered that the Commanding Officer at Lord's Bridge was Squadron Leader J.R. Pocock, the father of later Surrey and England cricketer Pat Pocock. Michael went with his parents to several of the yearly Lords Bridge reunions in the 1970s-80s.
Michael writes that she has a short document in the Imperial War Museum Archives, as her cousin was Honorary Chaplain to the Imperial War Museum and he told her there were no records of anyone in the NAAFI during WW2, and asked her to write something. The following is taken from her document which relates to Trumpington.
"My next move was a hutted camp in a wood at Whittlesford and I went as charge-hand with 8 in staff and that was an Army unit. While there something happened to the water supply so we had to take buckets and go to the village pump until tanks were taken into the camp. After a few months the Supervisor came and said she wanted me to know the work of a manageress, as I was to have a weekend in charge of the canteen while my manageress went away. Fortunately, I knew a bit about booking and ordering, but that was done under supervision. I must have passed the test, because soon I was asked to go as Charge-hand manageress (saved paying the full wages) to an Italian prisoner of war camp in Trumpington. There were only three of us and a small contingent of Pioneer Corps, Every year there was a Group Efficiency Competition so we went all out for this and it was with joy we got the silver cup and £2 each as a bonus."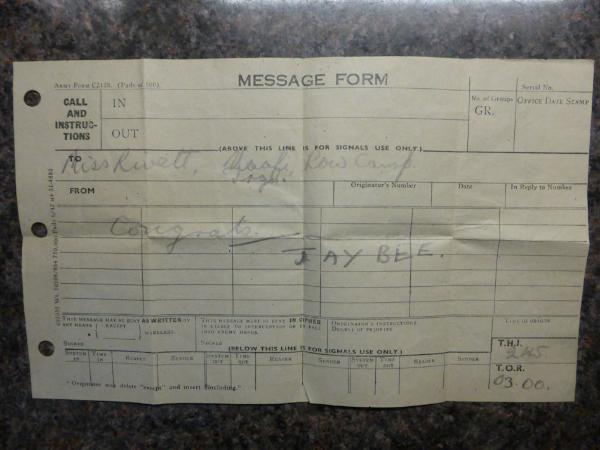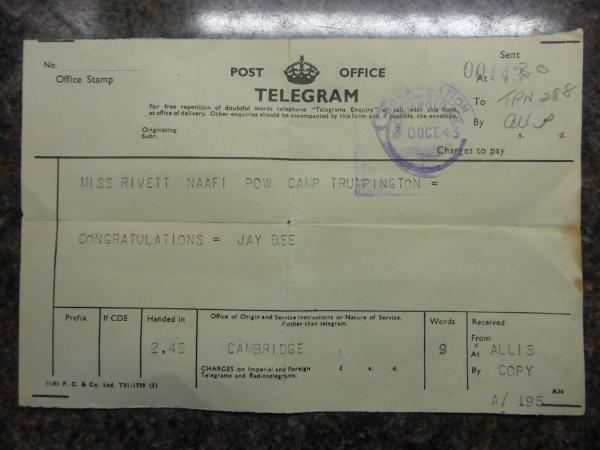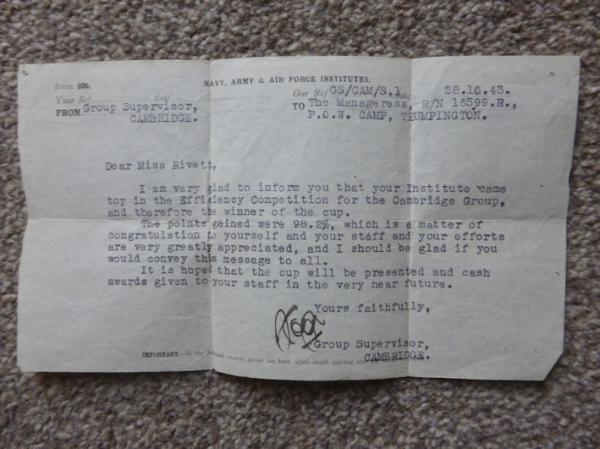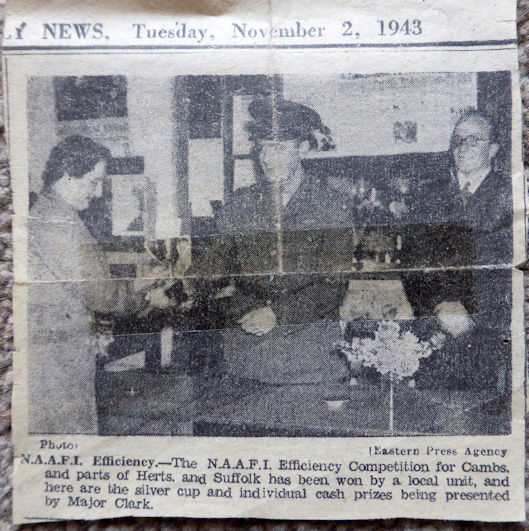 "The Italian P.o.W.s at Trumpington used to keep the ground (I can't say gardens) round the NAAFI tidy, although we used to chivvy them up when they leant on their spades to look in our windows. Some fellows were quite nice and one was allowed to give a hand in the quarters if necessary. Lifting heavy things. Once he saw me on a ladder cleaning the pipes near the ceiling and took over from me. That was when we were all out to win the cup. One lad altered a great-coat of the counter-hand so it didn't look like a sack. He somehow made an inverted pleat in the back, with a half belt. For that job he asked for perfume!"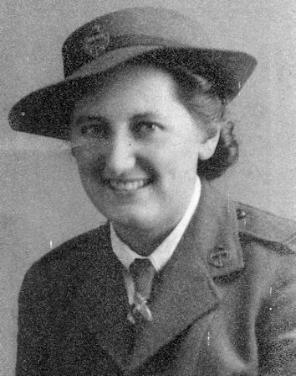 Michael Neale writes: "When she was a fully fledged Manageress, she was told to go to Hector Powe, 165 Regent Street, London, to have her uniform fitted, but had to pay for it herself!"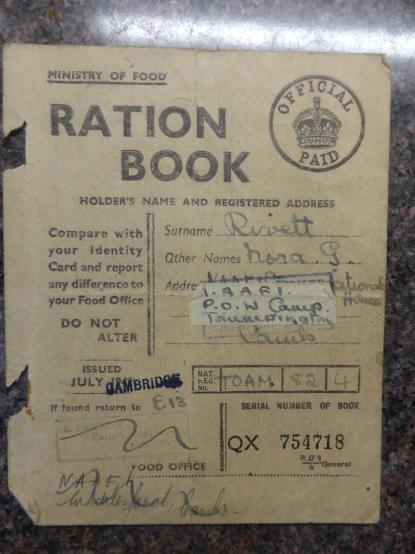 Nora Rivett married William Neale on 6 October 1944. She left the NAAFI on 19 May 1945, to return to her peacetime job as a chemist's assistant.
Michael adds that Nora's document was picked up by Kate Adie's researchers when she published a book "Corsets to Camouflage, Women and War", in conjunction with the Imperial War Museum's major exhibition "Women and War" in 2003. Nora and guest were invited to the official opening by the Queen on 14 October 2003 at the Imperial War Museum. Michael was lucky enough to accompany her to this as her guest. Michael says "We talked to Kate Adie and my Mother said she was disappointed that the NAAFI was not represented anywhere in the Exhibition. Kate Adie said, "never mind, at least we got you in the book." She had her complimentary book signed by Kate Adie and I took a photo of them together."