The Trumpington Prisoner of War (PoW) Camp held German and Italian prisoners during and after World War 2. The site was then used as a National Service Hostel until the early 1950s. This page is an introduction to Camp 45, linked to pages with recollections and further details.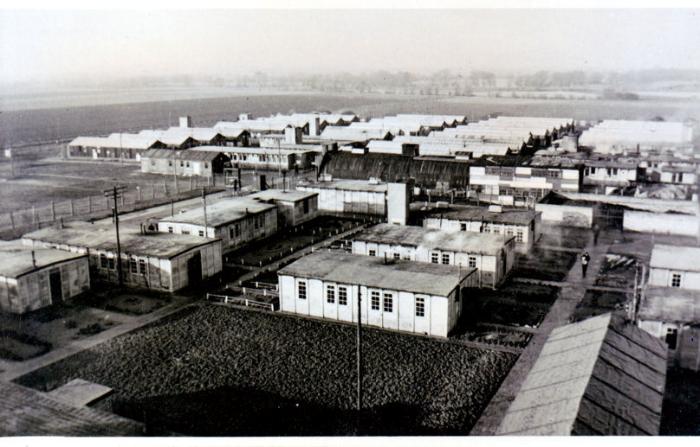 There were hundreds of PoW camps across the country. The Trumpington site was Camp 45, described by English Heritage as a 'standard type'. At the time of an International Red Cross inspection on 9 February 1943, there were Italian prisoners, with a capacity of 750. In early 1945, it was described as a German working camp. By the end of 1945, it was an Austrian camp, with Germans there from May 1946. A number of the prisoners worked on surrounding farms and were lodged with local farmers after the War. After the PoW camp closed in 1948, it became a National Service Hostel for the accommodation of men employed in the post-war construction industry. The site finally closed in about 1954.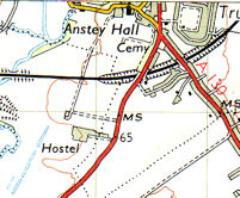 Camp 45 was on the west side of Hauxton Road, to the south of a farm track between the road and a shepherd's cottage (NGR 441 541).
In the 1950s, the area became part of the Plant Breeding Institute (PBI). The buildings were removed and the area reverted to farmland. In 2020, the site of the Camp continues to be used as farmland, now on the edge of the Trumpington Meadows housing development, south west of the Hauxton Road/Addenbrooke's Road junction, south of the cycle path from Harston to Trumpington.
Archival material and recollections about the Trumpington Prisoner of War Camp
Recollections published in Hauxton in Times Past , c. 1993, and an interview on Radio Cambridgshire , 2000 (Ken Fletcher).
The Camp Altar, 1942 (Angela Walker).
Recollections of Brother Herbert Kaden (Hiltrud Hall).
Recollections of Rudi Tecklenberg's family (Hitrud Hall).
Recollections of Vittorio Prati's family (Cristina Prati).
Letter sent by Sgd. Laricchia Tommaso to Major Harris, February 1943 (Ian Hollingsbee).
Notes about Giuseppe and Walter Pellicciari, Italian prisoners, May 1944- (Andrea Sabattini).
Camp Pass issued to Giovanni Gemma, Italian prisoner, September 1944 (R. Morelli).
Christmas Card sent from the Italian prisoners at Camp 61 to Major Harris, December 1944 (Ian Hollingsbee).
Cigarette case made by an unidentified German prisoner, 1945 (Andrew Martin).
The NAAFI at the Trumpington PoW Camp, Nora Grace Rivett's experience as Manageress, 1943-44 (Michael Neale).
Family stories about experiences involving the Trumpington PoW Camp: Frank and Joan Edwards (information from Jo Speak) and Henryk and Tania Zmura (information from Alex Giasemidis and Tania Zmura) (Andrew Roberts).
Letter sent by Josef Viehauser to his wife, Anny, 1946 (Arthur Brookes).
Notes about Josef Bibracher, German prisoner in the Youth Camp, 1945-1948 (Cathy Vanner).
Newspaper cuttings, reproductions of items from 1946-48 (Arthur Brookes).
Polish Community at Trumpington Camp, 1948- (notes from article by Christopher Jackson).
Lectures for German Prisoners of War at Cambridge University, 1948 (Cambridgeshire Collection).
The history of the camp was discussed at the Local History Group meeting on 20 October 1998. There is an aerial photograph of the area in Trumpington Past & Present, page 51.
Other sources:
Prisoner of War Camps, 1939-1948. Twentieth Century Military Recording Project. Roger J.C. Thomas, 2003, English Heritage (PDF file).
Prisoner of War camps mapped and listed. Datablog in The Guardian.
Repatriated Landscapes web site: PoW Camp 45, Trumpington.
If you have additional information or recollections about the PoW Camp, please let us know.