Giuseppe and Walter Pellicciari were Italian prisoners held in the Trumpington Prisoner of War Camp from May 1944. In 2015, Giuseppe's granddaughter, Andrea Sabattini, sent information about their experiences.
This is one of a number of pages about the Trumpington Prisoner of War Camp.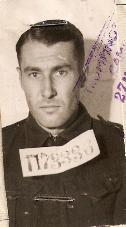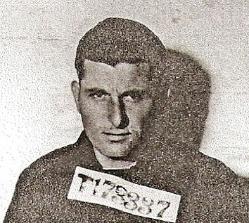 Andrea Sabattini has provided information about her grandfather and uncle who were Italian prisoners at the Trumpington Camp.
Andrea Sabattini lives in Budrio, Bologna, Italy. Her grandfather was Giuseppe Pellicciari, born in Monfestino, Modena, on 23 December 1911, and her uncle was Walter Pellicciari, born in San Cesario sul Panaro, Modena, in 1915. They were settlers in Libya from 1938.
In the War, Giuseppe Pellicciari was in the 86th Motorized Infantry Battalion, Division Trieste, and his brother, Walter Pellicciari, was in the VI Battalion Assault M. Both fought from 10 June 1940, often escaping capture, especially in Bede Fomm in 1941 [Battle of Beda Fomm, Libya, 6-7 February 1941].
Giuseppe and Walter Pellicciari were both captured in Takrouna, Tunisia, on 13 May 1943 [Tunisian Campaign]. The convoy of ships that would take them from Algiers to America was bombed by the Germans just past the Strait of Gibraltar and made a stop in Scotland.
They were processed on 15 August 1943 at No. 2 Prisoners of War Camp, which was a base camp: Toft Hall Camp, Knutsford, Cheshire.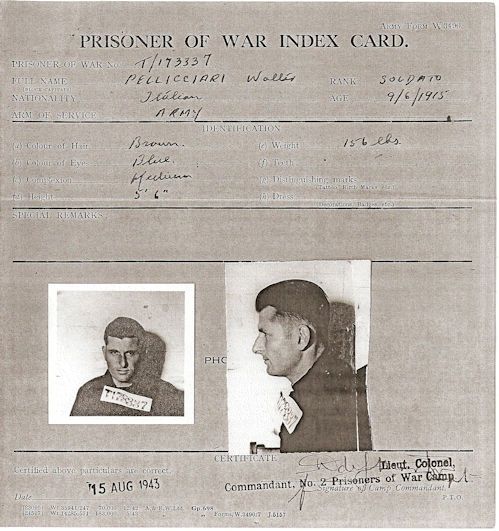 They were subsequently transferred to the Trumpington Camp, arriving there on 14 May 1944.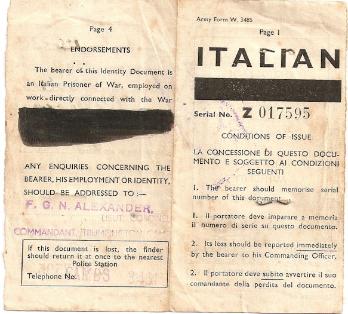 Giuseppe Pellicciari was issued with an Identity Document, Serial number Z017595, Prisoner T173336, issued 14 May 1944, stamped 'F.G.N. Alexander, Lieut. Colonel, Commandant, Trumpington Camp'. This was signed by Giuseppe Pellicciari, with a photograph stamped 'Trumpington Camp 27 May 1944 Cambridge'. It was endorsed 'The bearer of this Identify Document is an Italian Prisoner of War, employed on work directly connected with the War …'.
Andrea said that Giuseppe Pellicciari was known as Goofy. He had been a carpenter, but preferred to be categorised as a farmer and work on the land while he was a prisoner at the Camp, so that he was not separated from his brother.
Giuseppe and Walter told Andrea that they worked as farmers for a 'female officer' in the area. Andrea understood that this was Viola Pemberton, who sometimes invited Giuseppe to have a meal with her family. Andrea added that her grandfather remained in touch with Mrs Pemberton after the War. Andrea knew another camp prisoner, Leonello Pelosi, who was a great friend of her grandfather.