Anstey Hall Farm: 2000 Years of History, Archaeology and Farming
29 September 2016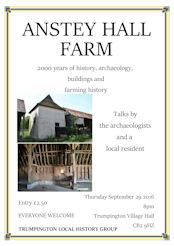 The meeting included a talk by Stuart Ladd, Oxford Archaeology East, about the recent archaeological project which investigated the history of the land around Anstey Hall Farm that is currently being developed as a number of houses. Michael Hendy then talked about the farming history of Anstey Hall Farm.
The meeting was followed by a brief AGM, when Howard Slatter reported on the events of the last year, including meetings on Addenbrooke's Archaeology and a number of individuals buried in the Trumpington Churchyard Extension. Ongoing research included recording details of the Churchyard Extension, adding information about Trumpington individuals to the Lives of the First World War database, finalising the set of Trumpington History Trails, adding to the People in Trumpington database, developing the web site and responding to enquiries.