Two shorts items from the Cambridge Evening News referring to the Trumpington PoW Camp. These were in the newspaper in the 2000s.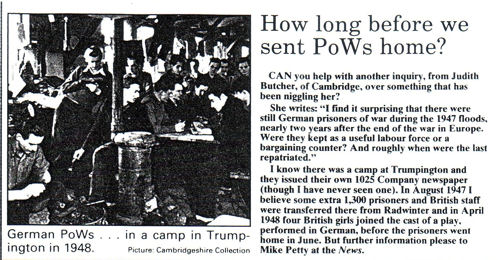 Photograph in the Cambridge Evening News about German Prisoners-of-war, 1948, with enquiry from a member of the public. For details about the photograph, see the page about University Lectures, 1948. The correlation between the Trumpington Camp and '1025 Company' is a mistake: English Heritage describes Camp 1025 as being at Histon Camp, Milton Road, which is on the north side of Cambridge.
News item from December 1946:
The spirit of goodwill did not forget the German prisoners of war at Trumpington. At this traditional season of peace, many in Cambridge and district invited a prisoner from the camp to share the Christmas Day festivities with them in their homes, and a large number of men sampled a real English Christmas. They too did not forget the spirit of the festival; among the gifts to Addenbrooke's Hospital was a collection of toys made by prisoners at the camp.