Extract from the Inland Revenue Land Value map for Trumpington, 1910-11, showing the Green Man, the Coach & Horses, the Red Lion, the Tally Ho and the Unicorn. Reproduced by permission of Cambridgeshire Archives, file 470/047, sheet XLVII.10.
There is evidence of the Ram's Head, the White Lion and the Black Swan in the 16th-18th centuries, but they appear to have closed before the late 18th century.
The only inns recorded in the 1790s were the Green Man and the Coach & Horses, opposite each other on the High Street.
By the 1840s, the Red Lion and the Tally Ho had also opened, a short distance to the south along the High Street. The Red Lion was rebuilt in the 1930s and eventually closed in the 1970s.
The Unicorn opened in Church Lane in the 1850s and the Volunteer on Trumpington Road also in the 1850s.
Three of the pubs were converted into restaurants: the Coach & Horses (Sole and Duck) , the Green Man and the Volunteer ( Zahza Grill ) (closed 2015).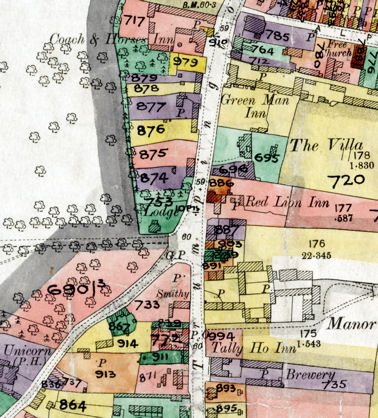 Sources
The Royal Commission on Historical Monuments (1959) describes the Green Man and the Coach & Horses, p. 390-91.
The Victoria County History (VCH) (1982) includes a summary of the different pubs, p. 250-51.
See the bibliography for full details.