March 2009 and later updates
This history of Trumpington public houses is based on a presentation given by Peter Dawson at the meeting titled Along the High Street , 26 March 2009. It has been updated with later changes.
There have been nine public houses or inns in Trumpington over the last 500 years. Four of these pubs remain in use as pubs or restaurants:
The Green Man
The Coach & Horses (redeveloped as the Sole & Duck, late 2020)
The Tally Ho (renamed Hudson's Ale House, October 2015, and The Duchess of Cambridge, October 2022)
The Unicorn (renamed The Lord Byron Inn, May 2012)
while five of the pubs no longer exist:
The Volunteer (closed 2015, demolished and the site used for a housing development, 2021-22)
The Red Lion (closed in the 1970s)
The Black Swan
The Ram's Head
The White Lion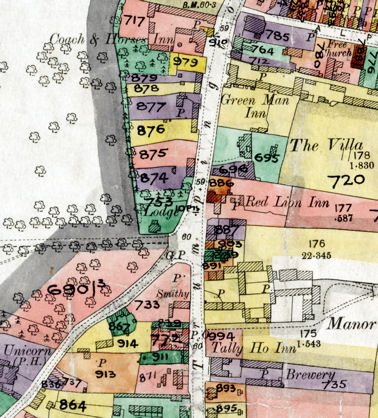 There is evidence of the Ram's Head, the White Lion and the Black Swan in the 16th-18th centuries, but they appear to have closed before the late 18th century.
The only inns recorded in the 1790s were the Green Man and the Coach & Horses, opposite each other on the High Street.
By the 1840s, the Red Lion and the Tally Ho had also opened, a short distance to the south along the High Street. The Red Lion was rebuilt in the 1930s and eventually closed in the 1970s.
The Unicorn opened in Church Lane in the 1850s and the Volunteer on Trumpington Road also in the 1850s.
Three of the pubs were converted into restaurants: the Coach & Horses (Sole and Duck), the Green Man and the Volunteer (Zahza Grill, closed 2015).
Sources
The Royal Commission on Historical Monuments (1959) describes the Green Man and the Coach & Horses, p. 390-91.
The Victoria County History (VCH) (1982) includes a summary of the different pubs, p. 250-51.
See the bibliography for full details.